THE WORLD'S BEST TOP GOAL SCORER at 30 September 2019 : Ali Almoez leads always the ranking, Cristiano Ronaldo takes place two !
Leader of the ranking since the beginning of the year, Ali Almoez became increasingly threatened by the recordman of this category, Portuguese Cristiano Ronaldo, already winner of this Award of The World's Best Top Goal Scorer in 2013, 2014, 2016 and 2017 ! Ronaldo scored 5 goals in september for his country and came to a total of 13 goals, one goal less than Ali Almoez.
Behind the duo, Olivier Giroud has joined Kaltack and Allen with 11 goals and Raheem Sterling continued his way with 10 goals like Feni , "Bienve", Al Somah and Canadian David.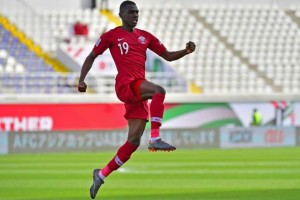 Leader Ali Almoez
RANKING TOP 25 at 30 September 2019
| | | | | | | | | |
| --- | --- | --- | --- | --- | --- | --- | --- | --- |
| | Player | Country | Conf | Club | Country | Country | Club | TOTAL |
| | | | | | | | | |
| 1 | ALMOEZ Ali | Qatar | AFC | Al-Duhail SC | Qatar | 13 | 1 | 14 |
| 2 | RONALDO Cristiano | Portugal | UEFA | FC Juventus | Italy | 8 | 5 | 13 |
| 3 | KALTACK Toni | Vanuatu | OFC | Erakor Golden Star | Vanuatu | 10 | 1 | 11 |
| 4 | GiROUD Olivier | France | UEFA | FC Chelsea | England | 3 | 8 | 11 |
| 5 | ALLEN Ross | Guernsey | OFC | Team Wellington | New Zealand | | 11 | 11 |
| 6 | FENI Gagame | Solomon Islands | OFC | Suva FA | Fiji | 10 | | 10 |
| 7 | DAVID Jonathan | Canada | CONCACAF | RAA Gent | Belgium | 8 | 2 | 10 |
| 8 | STERLING Raheem | England | UEFA | FC Manchester City | England | 6 | 4 | 10 |
| 9 | AL SOMAH Omar | Syria | AFC | Al-Ahli Saudi FC | Saudi Arabia | 3 | 7 | 10 |
| 10 | "BIENVE" Bienvenido Morejon | Spain | UEFA | Ceres-Negros FC | Philippines | | 10 | 10 |
| 11 | SAIKO Jean Philippe | New Caledonia | OFC | Limoges FC | France | 9 | | 9 |
| | ZAHAVI Eran | Israel | UEFA | Guangzhou RF | China | 9 | | 9 |
| 13 | TOTORI Benjamin | Salomon Islands | OFC | Lautoka FC | Fiji | 7 | 2 | 9 |
| | JESUS Gabriel | Brazil | CONMEBOL | FC Manchester City | England | 7 | 2 | 9 |
| 15 | AZMOUN Sardar | Iran | AFC | Zenit Saint Petersburg | Russia | 5 | 4 | 9 |
| 16 | MANE Sadio | Senegal | CAF | FC Liverpool | England | 4 | 5 | 9 |
| 17 | FAISAL Baha | Jordan | AFC | Al-Wehdat SC | Jordan | 3 | 6 | 9 |
| | MESSI Lionel | Argentina | CONMEBOL | FC Barcelona | Spain | 3 | 6 | 9 |
| 19 | VALENCIA Enner | Ecuador | CONMEBOL | Tigres UANL | Mexico | 2 | 7 | 9 |
| 20 | DA SILVA Leonardo | Brazil | CONMEBOL | Al Whada FC | UAE | | 9 | 9 |
| | KIM Yu-song | North Korea | AFC | April 25 SC | North Korea | | 9 | 9 |
| | OSENI Ganiyu Bolaji | Nigeria | CAF | Hanoi FC | Vietnam | | 9 | 9 |
| 23 | TEHAU Teaonui | Tahiti | OFC | AS Venus | Tahiti | 8 | | 8 |
| 24 | BOUNEDJAH Baghdad | Algeria | CAF | Al-Sadd SC | Qatar | 5 | 3 | 8 |
| 25 | FAYE Pape Omar | Senegal | CAF | Hanoi FC | Vietnam | | 8 | 8 |
| | LABA Kodjo Fo-Doh | Togo | CAF | RS Berkane | Morocco | | 8 | 8 |