IFFHS – THE WORLD'S BEST CLUB COACH 2000, 2003 : CARLOS BIANCHI (ARGENTINA/BOCA JUNIORS)
PRESENTATION
Carlos Arcecio Bianchi, born 26 April 1949 in Buenos Aires (Argentina) , is known as one of the greatest goalscorers in Argentina and as the most successful argentin coaches of all time !
After his youth career in Union de Paz, Ciclon de Jonte and Velez Sarsfield, he signed there his first professional contract in 1967 at 18 years old. He played 165 matches with Velez Sarsfield from 1967 to 1973 and scored 121 goals, winning the Argentina Primera Division title in 1968 and becoming Argentina's Primera Division Top Goal Scorer 1970 and 1971.
In 1973, Bianchi signed in France with Stade de Reims. He showed his scoring touch with 107 goals in 124 matches in 4 years, becoming the French Division 1 Top Goal Scorer 1974, 1976 and 1977 ! He joined Paris Saint Germain in 1977, where he scored 64 goals in 74 matches in two seasons with two new Top Goal Scorer Awards in France.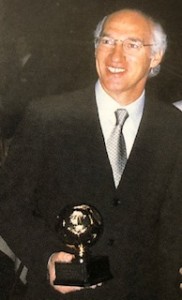 Direction RC Strasbourg in 1979/80, he scored only 8 goals in 22 matches before returning to Argentina and his first club, Velez Sarsfield in 1980. From 1980 to 1984, he played 159 matches and scored 85 goals, becoming again Argentina's Top Goal Scorer 1981 ! After a last passage in France and his heart club Stade de Reims (18 matches, 8 goals), he retired as player in 1985 with a total of 393 goals in 562 matches !
He also earned 14 caps for Argentina, scoring 7 goals (1970 to 1972).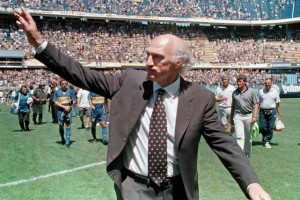 Ending his player career in Reims, he began also there his managerial career. He coached Stade de Reims from 1985 to 1988, went to OGC Nice (1989/90) before going back to his first club Velez Sarsfield in Argentina (1993 to 1996). He won there the Argentina Primera Division titles 1993, 1995 and 1996; the Copa Libertadores 1994, the Intercontinental Cup 1994 and the Copa Interamericana 1994 !
Italy and AS Roma were his next destination in 1996, then he came back quickly to Argentina and sign in Boca Juniors for two periods 1998 to 2001 and 2003 to 2004. He won with Boca 4 Argentina Primera Division titles (1998, 1999, 2000, 2003), 3 Copa Libertadores (2000, 2001, 2003) and 2 Intercontinental Cups (2000, 2003). He was crowned with great advance THE WORLD'S BEST CLUB COACH 2000 and 2003 by IFFHS.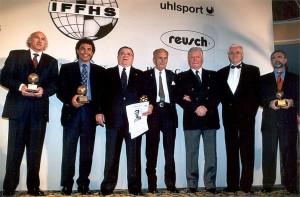 He made a step in Spain with Atlético de Madrid in 2005/06, before going back as manager in 2013 to Boca Juniors for one season.
Carlos Bianchi is the only coach to win four Copa Libertadores.
(Visited 41 times, 1 visits today)
1