Picture : Didier Deschamps received the IFFHS Trophy of THE WORLD'S BEST NATIONAL COACH 2018 in Paris with his staff in the house of the Federation Française de Football.
THE WORLD'S BEST NATIONAL COACH 2018 :
DIDIER DESCHAMPS WORLD CHAMPION
After Aimé Jacquet (1998), Roger Lemerre (2000) and Jacques Santini (2003), Didier Deschamps is the fourth French Coach to win the Award of The World's Best National Coach in 2018.
Despite tough opposition from Croatia's Zlatko Dalic, football experts from 90 countries world wide had no hesitation in awarding Deschamps a massive 304 pooints well ahead of newcomer Dalic second on 198 and Belgium's Martinez on 84.
The French National team won this year the World Cup in Russia with great performances and young talent players. Didier Deschamps indicated one more time that he gave the chance to the new generation to built not only a good playing football team but more an efficient team to win. At the end, « the winner takes it all « , Didier Deschamps realized it with success.
He became the third player after Mario Zagalo (Brazil) and Franz Beckenbauer (Germany) to be World Champion as player and as coach.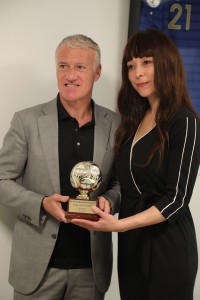 RANKING IFFHS : THE WORLD'S BEST NATIONAL COACH 2018
| | | | |
| --- | --- | --- | --- |
| Ranking | Name | Country | Points |
| | | | |
| 1 | Didier DESCHAMPS | France | 304 |
| 2 | Zlatko DALIC | Croatia | 198 |
| 3 | Robert MARTINEZ | Belgium | 84 |
| 4 | Stanislas CHERCHESOV | Russia | 26 |
| 5 | Gareth SOUTHGATE | England | 18 |
| 6 | Oscar TABAREZ | Uruguay | 12 |
| 7 | Aliou CISSE | Senegal | 5 |
| 8 | TITE | Brazil | 4 |
| 9 | Jan Olof ANDERSSON | Sweden | 3 |
| | José PEKERMAN | Argentina/team:Colombia | 3 |
| 11 | Joachim LÖW | Germany | 2 |
| | Carlos QUEYROZ | Portugal/team: Iran | 2 |
| 13 | Hervé RENARD | France/team: Morocco | 1 |
(Visited 43 times, 1 visits today)
2