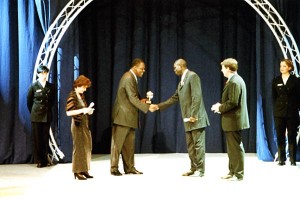 Issa Hayatou, Vice President of FIFA and President of CAF in january 2000, giving the IFFHS Trophy of Africa's Player of the Century to George Weah.
Former football star George Weah has been elected as Liberia's President yesterday. With more than 60% of the vote, he will succeed Ellen Johnson Sirleaf, Africa's first elected female president in Liberia's first democratic handover in decades.
George Weah is a LEGEND of the World Football. He starred at Mighty Barrolle, Invincible Eleven, Tonnerre Yaounde, top-flight European football clubs AS Monaco and Paris St Germain (PSG) in France , AC Milan in Italy, before ending his career in England with stays at Chelsea and Manchester City, in France at Olympique Marseille and in UAE at Al Jazira Club. He scored 266 goals in 567 matches with his clubs and 22 goals in 60 caps with Liberia.
He is the only African footballer to have won with FIFA World Player of the Year and the prestigious Ballon d'Or in 1995. The IFFHS has crowned George Weah in 2000 as the Africa Player of the Century (1900-2000) and has designed him to the TOP LEGENDS of the World Football.
As President of Liberia, he has won his biggest Trophy in his life and he is also the first ex footballer who is at the Head of a State ! Congratulations to George Weah and good Luck for him and Liberia.
(Visited 728 times, 1 visits today)
87