Picture : Ada Hegerberg scored in this moment her Goal n° 52 and took alone the History Record in the UEFA Women's Champions League !
NEWS AND STATISTICS OF THE WEEK 44
NEW RECORD : 53 !
Last Wednesday, the Norwegian Goal Scorer of Olympique Lyon Women's Team, Ada Hegerberg, has broken the UEFA WOMEN CHAMPIONS LEAGUE History Record of the GoalScorers. At 24, the first Ballon D'Or in the Football History has scored her goals 52 and 53 against Fortuna Hjorring to be today the only Recordwoman of the UEFA Champions League Top Goal Scorers Ranking with 53 goals. The Germans Anja Mittag and Conny Pohlers (51 and 48) are ranked 2 and 3, but they are retired. Marta, the Brazilian Star and another Olympique Lyon Player, French Eugénie Le Sommer, have scored 46 goals.
Ada Hegerberg's 53 goals :
– 2012/13 : Stabaek (Norway) 2 goals in 3 matches (259 minutes)
– 2013/14 : Turbine Potsdam (Germany) 2 goals in 5 matches (336 minutes)
– 2014/15 : Olympique Lyon (France) 1 goal in 4 matches (255 minutes)
– 2015/16 : Olympique Lyon (France) 13 goals in 9 matches (682 minutes)
– 2016/17 : Olympique Lyon (France) 4 goals in 8 matches (570 minutes)
– 2017/18 : Olympique Lyon (France) 15 goals in 9 matches (811 minutes)
– 2018/19 : Olympique Lyon (France) 7 goals in 9 matches (810 minutes)
– 2019/20 : Olympique Lyon (France) 9 goals in 4 matches (344 minutes)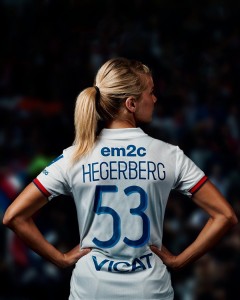 —————————————————————————————————————————————————————————————————
CARLOS VELA GOLDEN BOOT AND RECORD !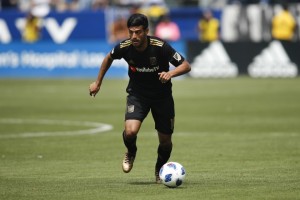 Mexican Star Carlos Vela (30 years old) is the new MLS GOLDEN BOOT ! He scored 34 goals and gave 15 assists in 34 matches with his club, Los Angeles FC, beating all MLS Records with 49 points in one season, better than Zlatan Ibrahimovic (Los Angeles Galaxy) himself. Since 1996, beginning of the MLS, nobody scored more goals (34) than Vela in one season and nobody had a total goal and assists (49) like Vela ! This is an historical record !
—————————————————————————————————————————————————————————————————
VLATKO ANDONOVSKI , NEW US WOMEN NATIONAL COACH
Vlatko Andonovski, the 43 years old coach of Seattle Reign FC, has replaced Jill Ellis, winner of 2 FFA World Cups with USA, at the head of the Women National team. After his player career, he spent the past 7 years coaching in NWSL, winning two NWSL titles with FC Kansas City (2014, 2015) and two NWSL Coach of the year Awards (2013, 2019). His experience in NWSL (5 years in Kansas, 2 years with Seattle) will be important for the US National team to continue the domination in the World's Women Football.
——————————————————————————————————————————————————————————————————–
COACH OF AFRICAN CHAMPIONS BLAMES U-17 FLOP
The coach of the Cameroon U-17 squad has blamed the early elimination of the African champions at the on-going FIFA U-17 World Cup in Brazil on the inexistence of a local league for that category of the national team. Thomas Libih who was a member of the sensational Cameroon squad at the 1990 World Cup in Italy saw his squad, Baby Lions, ruthlessly tamed and eliminated after two straight defeats at the hands of Tajikistan(0-1), and Argentina(1-3) in a group that also featured Spain. The Spaniards concluded Cameroonian woes with a 2-0 defeat in the third outing for the Africans whose football federation has for decades failed to impress world football because of the difficulty to restore order in its administration. The fiasco in Brazil has been blamed on their failure to organize an U-17 league, suggesting that their recent victory at the African U-17 Championships, Tanzania 2019, must have been purely the handiwork of sheer luck.
Three other African representatives, Angola, Nigeria, and Senegal, all won their first two games, respectively, to romp into the round of 16. From Group A, Angola defeated Canada, 2-1, and registered the same scores against New Zealand to qualify. They lost a low stakes third game to Brazil, 0-2. 5-time winners, Nigeria, emerged from Group B after defeating Hungary 4-2, and Ecuador, 3-2. They clearly gave away their third outing to Australia 1-2. The third African side, Senegal defeat the United States 4-1, and the Netherlands, 3-1. The Senegalese lost their last Group D match to Japan 0-1.
In the quarterfinal phase beginning tomorrow, Group A runners-up, Angola tackle Group C runners-up, Korea Republic in Golania before Group B winners, Nigeria play against one of tournament best third teams, Netherlands from Group D in the same field. Group D runners-up Senegal take on Group E runners-up, Argentina in Brasilia on Wednesday.