Picture : Raheem Sterling, the Top Goal Scorer Revelation of the Year
THE WORLD'S BEST TOP GOAL SCORER 2019 at end October : RONALDO AND STERLING ON THE TOP !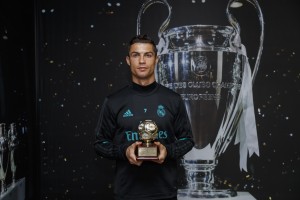 Cristiano Ronaldo has already won 4 Awards in this category !
The ranking of The World's Best Top Goal Scorer 2019 (international goals) is leaded since end October by Cristiano Ronaldo and Raheem Sterling, the Surprise of the Year ! With 16 goals in 10 months, they have scored one goal more than Ali Almoez, leader since January of the Ranking and another big surprise, Syria's Omar Al Somah with 15 goals. Behind them, Ali Mabkhout from UAE took the place 5 in the ranking with 14 goals, scoring 9 goals in the last two months !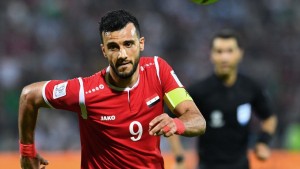 Omar Al Somah , the other Surprise !
Sardar Azmoun, Harry Kane and Olivier Giroud have 13 goals to register and it is really interesting to wait the two last months to determine the winner of this Award.
33 players from all continents have scored 9 and more international goals (11 players UEFA, 8 AFC, 5 CONMEBOL, 5 OFC,3 CAF, 1 CONCACAF). Four clubs (FC Manchester City, FC Bayern München, Tottenham Hotspurs, Zenit St Petersburg) have two players in the Top 33 .
The leagues are more represented in England (6 players), Russia (3), Italy (2), Germany (2), Saudi Arabia (2) and UAE (2).
RANKING 31-10-2019
| | | | | | | | | |
| --- | --- | --- | --- | --- | --- | --- | --- | --- |
| 1 | Cristiano RONALDO | Portugal | UEFA | FC Juventus | Italy | 10 | 6 | 16 |
| 2 | Raheem STERLING | England | UEFA | FC Manchester City | England | 8 | 8 | 16 |
| 3 | Ali ALMOEZ | Qatar | AFC | Al-Duhail SC | Qatar | 14 | 1 | 15 |
| 4 | Omar AL SOMAH | Syria | AFC | Al-Ahli Saudi FC | Saudi Arabia | 8 | 7 | 15 |
| 5 | Ali MABKHOUT | UAE | AFC | Al-Jazira FC | UAE | 14 | | 14 |
| 6 | Sardar AZMOUN | Iran | AFC | Zenit St Petersburg | Russia | 8 | 5 | 13 |
| 6 | Harry KANE | England | UEFA | Tottenham Hotspurs | England | 8 | 5 | 13 |
| 8 | Olivier GIROUD | France | UEFA | FC Chelsea | England | 5 | 8 | 13 |
| 9 | Eran ZAHAVI | Israel | UEFA | Guangzhou RF | China | 11 | | 11 |
| 10 | Toni KALTACK | Vanuatu | OFC | Erakor Golden Star | Vanuatu | 10 | 1 | 11 |
| 11 | Lautaro MARTINEZ | Argentina | CONMEBOL | FC Inter Mian | Italy | 8 | 3 | 11 |
| 12 | Sadio MANE | Senegal | CAF | FC Liverpool | England | 7 | 4 | 11 |
| 13 | Ross ALLEN | Guernsey | OFC | Team Wellington | New Zealand | | 11 | 11 |
| 14 | Gagame FENI | Solomon Islands | OFC | Suva FC | Fiji | 10 | | 10 |
| 14 | Eldor SHOMURODOV | Uzbekistan | AFC | FC Rostov | Russia | 10 | | 10 |
| 16 | Artyom DZIOUBA | Russia | UEFA | Zenit St Petersburg | Russia | 9 | 1 | 10 |
| 17 | Jonathan DAVID | Canada | CONCACAF | RAA Gent | Belgium | 8 | 2 | 10 |
| 18 | Serge GNABRY | Germany | UEFA | FC Bayern München | Germany | 6 | 4 | 10 |
| 19 | Robert LEWANDOWSKI | Poland | UEFA | FC Bayern München | Germany | 5 | 5 | 10 |
| 20 | Baha FAISAL | Jordan | AFC | Al-Wedhat SC | Jordan | 4 | 6 | 10 |
| 21 | Lionel MESSI | Argentina | CONMEBOL | FC Barcelona | Spain | 3 | 7 | 10 |
| 21 | Heung-min SON | South Korea | AFC | Tottenham Hotspurs | England | 3 | 7 | 10 |
| 23 | "BIENVE" Bienvenido Morejon | Spain | UEFA | Ceres-Negros FC | Philippines | | 10 | 10 |
| 23 | Bafetimbi GOMIS | France | UEFA | Al-Hilal Saudi FC | Saudi Arabia | | 10 | 10 |
| 25 | Jean Philippe SAIKO | New Caledonia | OFC | Limoges FC | France | 9 | | 9 |
| 26 | Gabriel JESUS | Brazil | CONMEBOL | FC Manchester City | England | 7 | 2 | 9 |
| 26 | Benjamin TOTORI | Solomon Islands | OFC | Lautoka FC | Fiji | 7 | 2 | 9 |
| 28 | Baghdad BOUNEDJAH | Algeria | CAF | Al-Sadd FC | Qatar | 6 | 3 | 9 |
| 28 | Memphis DEPAY | Netherlands | UEFA | Olympique Lyon | France | 6 | 3 | 9 |
| 30 | Enner VALENCIA | Ecuador | CONMEBOL | Tigres UANL | Mexico | 2 | 7 | 9 |
| 31 | Yu-song KIM | North Korea | AFC | April 25 SC | North Korea | | 9 | 9 |
| 31 | LEONARDO Da Silva | Brazil | CONMEBOL | Al Whada FC | UAE | | 9 | 9 |
| 31 | Ganiyu Bolaji OSENI | Nigeria | CAF | Hanoi FC | Vietnam | | 9 | 9 |