IFFHS AWARDS – THE WORLD'S BEST REFEREE 2010, 2013 : HOWARD WEBB (ENGLAND)
PRESENTATION
Howard Melton Webb, born 14 July 1971 in Rotherham, is an English Referee who has won two IFFHS Awards of the World's Best Referee of the Year (2010, 2013) and was known as one of the greatest referees in the World between 2005 and 2014.
With a father being referee during 35 years, Howard Webb took quickly the same way and began to referee in local leagues in 1989. He became assistant referee in the Northern Counties East in 1993 and nominated referee two years later at 24. In 1996, he was appointed as Football League assistant referee and two years later began in the Premier League. Police officer, he took sabbatical leave to make a referee career.
In 2000, Webb was promoted in the List of the National Football League Referees and took in charge Premier League Games effectively in 2003, the 18 October for his first match Fulham-Wolverhampton until 2014. In 2005, he became FIFA Referee. His career between 2003 and 2014 was really extraordinary with 533 matches !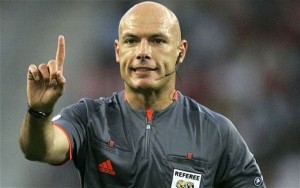 Howard Webb's first international game in november 2005 took place in Belfast between Northern Ireland and Portugal and his first Champions League match in September 2006 between Steaua Bucarest and Olympique Lyon. Webb whistled 115 international matches in his career, UEFA U21 Euro 2006, U20 World Cup, UEFA Champions League, Fifa Confederations Cup 2009 and 2013, UEFA Euros 2008 and 2012 and particularly the World Cups 2010 and 2014. In 2010, he was the Referee of the World Cup Final between Spain and Netherlands and the same year he directed the final of the UEFA Champions League between Inter Milan and Bayern München ! At that time, he was the ONLY referee in the World to have directed the two most important events in the same year ! This is also the reason that he won in 2010 his first IFFHS Award of THE WORLD'S BEST REFEREE.
Howard Webb was also the Referee of the Community Shield Final 2005/06, the EFL Cup final 2006/07, the North America Super Liga final 2008/09, the FA Cup final 2008/09 and the Championship final 2011/12. In 2013, he won for the second time the IFFHS Award of THE WORLD'S BEST REFEREE for his regular season.He whistled also two matches at the World Cup 2014, before announcing his retirement and becoming technical director of the Professional Game Match Official Board. Later he changed to be Chairman of the Referees in the Football Federation of Saudi Arabia and after General Manager in the USA MLS.