Pictures : Lucas Barrios presented the IFFHS Trophy to the Media after receiving the Award in the Stadium in Colo Colo Santiago .
IFFHS AWARDS – THE WORLD'S BEST TOP DIVISION GOAL SCORER 2008 : LUCAS BARRIOS (PARAGUAY/CSD COLO COLO)
PRESENTATION
Lucas Ramon Barrios Caceres, born 13 November 1984 in San Fernando (Argentina), is one of the greatest Paraguayan strikers, known for his Goal Scorer qualities. His mother coming from Paraguay gave him his nationality .
He made his youth career in Argentina before signing his first contract with Argentinos Juniors (2002-2004) where the coach took him out of the club's youth team to promote him in the first team. He scored there 5 goals in 17 matches and was loaned to Tigre in 2004. He played in second division with Tempo and Tiro Federal (2004 to 2006), then he joined Cobreloa in Chile where he scored spectacular 26 goals in 39 matches, with 14 goals in the Apertura 2007.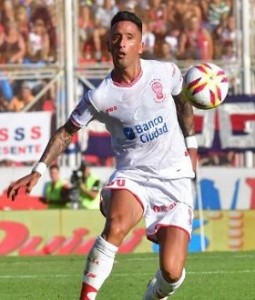 Going first to Atlas (2007), Lucas Barrios interested SCD Colo Colo in his Copa Libertadores campaign and signed there for the season 2008/2009. He scored 49 goals in 53 matches, won the Campeonato Nacional 2008 Clausura, was crowned Chilean Top Goal Scorer 2008 Apertura and 2008 Clausura, and won the IFFHS Award THE WORLD'S BEST TOP DIVISION GOAL SCORER 2008 with 37 goals in 38 games !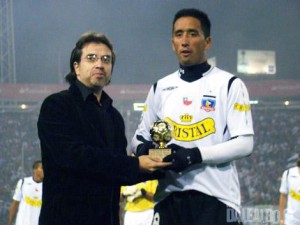 Many clubs were then interested to sign Barrios. Finally he went to Germany at Borussia Dortmund, where he stayed 3 years, winning 2 German Bundesliga titles (2010/11, 2011/12), 1 German National Cup (2011/12) and becoming also Paraguayan Footballer of the year 2010 ! He scored 49 goals in 101 matches with Dortmund and was at the highest level in Europe.
Direction China and Guangzhou Evergrande in 2012/13. He won there the Chinese Super League 2012, the Chinese FA Cup 2012 and the AFC Champions League 2013, becoming also FA Cup MVP 2012 ! He scored 13 goals in 31 matches with team success ! He went to Russia at Spartak Moscow tin 2013 until 2015 without consecration, playing only 20 matches and scoring 2 goals. Next destination was France and Montpellier HSC in 2014/15 where he was loaned with 11 goals in 33 matches in Ligue 1.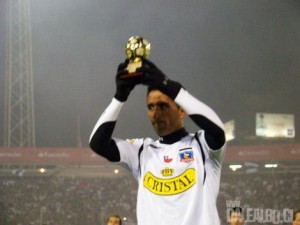 Brazil was his next step in 2015, he joined Palmeiras until 2017. He scored 12 goals in 43 matches, winning the Copa do Brazil 2015 and the Campeonato Brasileiro 2016 ! In 2017, he changed to Grêmio (18 goals in 37 matches), where he won the Copa Libertadores 2017 ! Barrios returned then to Argentinos Juniors and Colo Colo in the same year 2018, before signing in Argentina at CA Huracan in 2019. He scored until today, his speciality !
Since 2010, he played with the National Team of Paraguay (34 matches, 10 goals). He was capped for the World Cup 2010 in South Africa, the Copa America 2011 where he reached the final and the Copa America 2015 (semi finalist).