Picture : Massimo Busacca received the Trophy at the 2010 IFFHS Gala in London
IFFHS AWARDS – THE WORLD'S BEST REFEREE 2009 : MASSIMO BUSACCA (SWITZERLAND)
PRESENTATION
Massimo Busacca, born 6 February 1969 in Bellinzona, is currently the Head of FIFA Referees after being himself an international referee winning the Award THE WORLD'S BEST REFEREE 2009 by IFFHS.
Busacca began his career as referee in the Swiss Super League where he whistled 245 games from 1996 to 2010. He became FIFA Referee in 1999 to 2011 and was selected for two FIFA World Cups 2006 in Germany (3 matches in group stage and round of 16) and 2010 in South Africa (1 match in group stage). He participated also at the UEFA Euro 2008 in Austria and Switzerland, where he directed 3 games (2 group games and the semi-final between Germany and Turkey).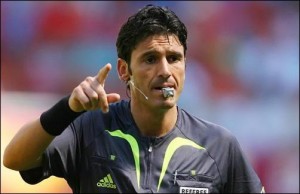 He was nominated to referee the UEFA Cup final 2007 between FC Sevilla and Espanyol Barcelona before living his greatest year as referee 2009. He was designated to referee the UEFA Champions League Final in Roma between FC Barcelona and FC Manchester United and also the 2009 FIFA Confederations Cup semi final between Brazil and South Africa.He was crowned by IFFHS THE WORLD'S BEST REFEREE 2009.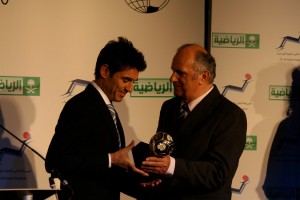 In 2010, he was again designated for the UEFA Super Cup final between Inter Milan and Atlético de Madrid before his nomination for the World Cup. He stopped his successful career as referee in 2011 after 42 UEFA Champions League games, 45 UEFA Cup matches, 245 Swiss Super League matches , in total 432 matches. After his retirement, he became Head of FIFA Refereeing in July 2011.