IFFHS AWARDS – THE WORLD'S BEST PLAYMAKER 2007 : KAKA (BRAZIL / AC MILAN)
PRESENTATION
Ricardo Izecson dos Santos Leite, known as KAKA, born 22 April 1982 in Gama, is one of Brazilian Legend players, who retired before one year after a last step in USA. He is considered as one of the best playmakers in the World, being the only player with Zinedine Zidane to have won the FIFA World Cup, the UEFA Champions League, the BALLON D'OR, the FIFA World Player Award and the IFFHS Award THE WORLD'S BEST PLAYMAKER !
At 12, he joined the Youth Academy of Sao Paulo FC, where he realised great performances, winning the Copa de Juvenil in Brazil, the Copa Intercontinental and the FIFA Youth Cup ! Kaka made so his professional debut at age 18 at Sao Paulo in 2001. He played two seasons (2001 to 2003), scoring 23 goals in 59 matches with Sao Paulo and winning the Torneio Rio-SaoPaulo 2001 and the Super Campeonato Paulista 2002. He was named the best Player in the Campeonato Brasileiro 2002 and his talent attracted the attention of all best world clubs.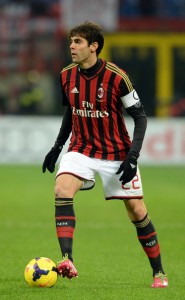 He joined Italy and Serie A club AC Milan in 2003. In Italy, Kaka played 193 matches with Milan and scored 70 goals between 2003 and 2009. He won one Serie A title (2003/04), one Supercoppa italiana 2004 and especially the UEFA Champions League 2006/07, the UEFA Super Cup 2007 and the FIFA Club World Cup 2007 ! 2007 was his greatest year in his career with the Champions League win, the FIFA Club World Cup win, the UEFA Super Cup win but also the BALLON D'OR, the FIFA World Player Award, the UEFA Player Award, the Serie A Player Award, the FIFA Club World Cup Golden Ball and the IFFHS Award THE WORLD'S BEST PLAYMAKER !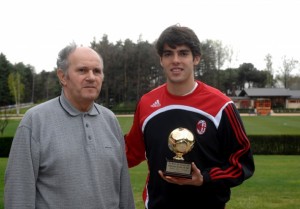 KAKA
After Italy, Kaka joined Spain and Real Madrid CF. He stayed there four seasons (2009-2013) with many injuries and played 85 matches (23 goals), winning one La Liga title (2011/12) and one Copa del Rey (2010/11). He returned to Milan for one season (2013/14) with 7 goals in 30 matches, before joining MLS club Orlando City in USA. After a quick loan to Sao Paulo, he stayed in USA three years (75 matches, 24 goals) , receiving 3 All-Star Awards, an MLS All Star MVP award before retiring in 2017.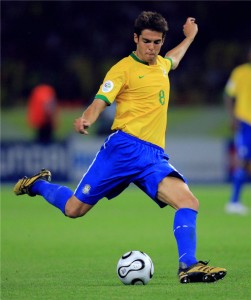 Kaka made his international debut with the Brazil National team in 2002 and won directly the FIFA World Cup 2002 with the Brazilian squad. He played 92 matches (29 goals) with Brazil, winning also the FIFA Confederations Cup 2005 and 2009 (crowned Golden Ball 2009 as the Tournament Best Player). He participated also at the FIFA World Cup 2006 and 2010 , and the Copa America without more success.
Ambassador of the United Nations World Food Program, Kaka is known for his humanitarian work. He continue also in football with his two heart clubs Sao Paulo FC and AC Milan .