IFFHS AWARDS – THE WORLD'S BEST NATIONAL COACH 2007 : DUNGA (BRAZIL)
PRESENTATION
Carlos Caetano Bledorn Verri, known as DUNGA, born 31 October 1963 in Ijui, was captain and coach of the Brazilian National Team, winning the FIFA World Cup and the Copa America as player ,also the FIFA Confederations Cup and the Copa America as coach !
Dunga made his debut as midfielder with International (1980-1984) where he returned in 2000 for the last season of his career . He won with International the Rio Grande League 1982,1983, 1984. He joined Corinthians in 1984/85, FC Santos (1985-1987) before winning the Rio State League 1987 with Vasco de Gama. In 1987, he went to Italy and Pisa for one season, then he made a long step at Fiorentina in Serie A between 1988 and 1992 (124 matches, 8 goals). After one year in Pescara, he joined Germany and VFB Stuttgart (1993-1995) to discover another style of football. He played there 54 matches with 7 goals. His last destination before retiring in International football was Japan (1995-1998). He played for Jubilo Iwata where he won his greatest club Trophies, the J-League 1997 and the J-League MVP Award 1997.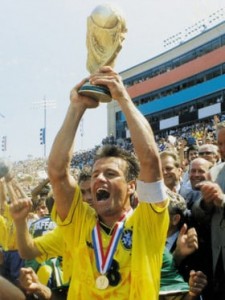 He was capped with the U20 National Team of Brazil in 1983, he was already captain of the team winning the FIFA U-20 World Cup after the South American Youth Championship title. In 1984, he won the silver medal with Brazil Olympic Team at the Olympics Games in Los Angeles. He began his career in the first team of Brazil in 1987. Between 1987 and 1998, he played 91 matches (6 goals), winning the greatest World Trophies : the FIFA World Cup 1994, the FIFA Confederations Cup 1997 and the Copa America 1989 and 1997. He participated also at the FIFA World Cups 1990 and 1998, being the captain from 1994 to 1998.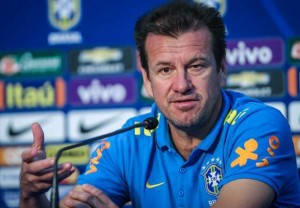 In July 2006, Dunga became the new National Coach of Brazil in replacement for Carlos Alberto Parreira. He took in charge this job four years, winning the Copa America 2007, the Olympic Bronze Medal 2008, the FIFA Confederations Cup 2009 and reaching the quarter finals at the World Cup 2010. He was crowned in 2007 as THE WORLD'S BEST NATIONAL COACH by IFFHS after his success in the Copa America. After 2010 , he became Head Coach of International (2012/13), before a second time appointment with Brazil's National team in 2014. He stayed there two years without success.