IFFHS AWARDS – THE WORLD'S BEST CLUB COACH 2007 : CARLO ANCELOTTI (ITALY / AC MILAN) – picture
THE WORLD'S BEST CLUB COACH 2014 : CARLOS ANCELOTTI (ITALY / REAL MADRID CF)
PRESENTATION
Carlo Ancelotti, born 10 June 1959 in Reggiolo Italy , has made a great career as player and is current manager of SSC Napoli after have coached FC Juventus, AC Milan, FC Chelsea, Paris SG, Real Madrid CF and FC Bayern München !
He began his career in 1974 with Parma before making his professional debut in Serie C at the age of 18 during the season 1976/77. He stayed 3 years there, playing 55 matches and scoring 13 goals. In 1979, he joined AS Roma where he won one Serie A title (1982/83) and 4 Coppa Italia (1979/80, 1980/81, 1983/84, 1985/86) until 1987. He scored as midfielder 12 goals in his 171 matches. Next and last step as player was AC Milan (1987 – 1992). It was a fantastic period with Milan, winning 2 Serie A titles (1987/88, 1991/92), one Supercoppa Italiana (1988) and especially 2 UEFA European Cup-Champion Leagues (1988/89, 1989/90), one UEFA European Super Cup (1990) and one FIFA Intercontinental Cup (1989) ! After 112 matches (10 goals),he retired as player in Milan in 1992.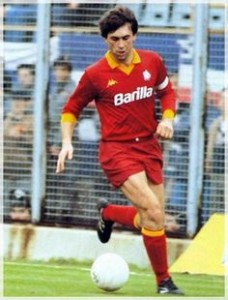 Carlo Ancelotti international player
At international level, Carlo Ancelotti was capped 26 times with Italy's National Team (one goal) and participated at two FIFA World Cups (1986, 1990), finishing at the third place in 1990 , as well as at the UEFA Euro 1988, where he reached the semi final.
As manager, he worked first for Reggiana (1995/96), Parma (1996-1998) before joining FC Juventus. During two years there (1999-2001), he won the UEFA Intertoto Cup 1999 and was quickly asked by AC Milan to join the club as manager. He signed in Milan in 2001 and stayed there until 2009, winning one Serie A title (2003/04), one Coppa Italia (2002/03), one Supercoppa Italiana (2004) as well as 2 UEFA Champions League titles (2002/03, 2006/07), 2 UEFA Super Cups (2003, 2007) and one FIFA Club World Cup (2007). He was crowned Serie A Coach of the Year twice (2001,2004) and in 2007, he received the IFFHS Award of THE WORLD'S BEST CLUB COACH.
He received the IFFHS Trophy 2007 in Milanello
After Italy, he took the direction of England and the Premier League with FC Chelsea in 2009. During his two seasons (2009-2011), Ancelotti won the Premier League title (2009/10), the FA Cup (2009/10) and the FA Community Shield (2009), being four times the Premier League Manager of the Month !
Third country in 2011 with France where he signed at Paris SG. He won there the Ligue 1 title (2012/13) and became the Ligue 1 Manager of the Year 2012/13 during his two seasons. He changed again in 2013, going to Spain at Real Madrid CF. Two seasons in Madrid brought him to win one Copa del Rey 2013/14, but especially one UEFA Champions League title (2013/14), one UEFA Super Cup (2014) and one FIFA Club World Cup (2014). He was also crowned in 2014 by IFFHS as THE WORLD'S BEST CLUB COACH for the second time in his career.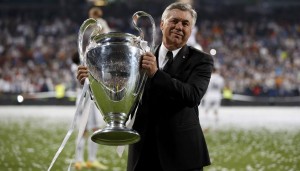 New Trophy 2014 : the Champions League with Real Madrid
After Italy, England, France and Spain, he went to Germany at FC Bayern München in 2016/17. He won the Bundesliga title (2016/17) and two UEFA Super Cups (2016, 2017). After one free year, he signed again in Italy at SSC Napoli where he is the current manager with attractive football.
Carlo Ancelotti is one of only 3 managers (with Bob Paisley and Zinedine Zidane) to have won the UEFA Champions League 3 times (two with AC Milan, one with Real Madrid CF) and he is one of only 7 people (with Miguel Munoz, Giovanni Trapattoni, Johan Cruyff, Frank Rijkaard, Pep Guardiola, Zinedine Zidane) to have won the tournament both as player and as manager.