Picture : Frank Rijkaard and his staff received the IFFHS Trophy 2006 in Barcelona.
IFFHS AWARDS – THE WORLD'S BEST CLUB COACH 2006 : FRANK RIJKAARD (NETHERLANDS / FC BARCELONA)
PRESENTATION
Franklin Edmundo Rijkaard, born 30 September 1962 in Amsterdam, represented with Ruud Gullit and Marco Van Basten one of the golden generation of Dutch football. He was a great international player for Ajax Amsterdam and Milan AC before being a super manager with FC Barcelona and Galatasaray. And he was also player and manager of the Netherlands National team !
Coming from Surinam with Ruud Gullit, he signed in the youth team of Ajax Amsterdam and was just 17 when he gave his debut in the senior team in August 1980. Rijkaard stayed at Ajax for seven and a half seasons (picture), playing 205 matches and scoring 47 goals. He won 3 Eredivisie Champion titles 1981/82, 1982/83 and 1984/85, 3 KNVB Cups 1982/83, 1985/86 and 1986/87 and the UEFA European Cup Winner's Cup 1986/87 ! He was crowned Dutch Golden Shoe 1985 and 1987 in Netherlands.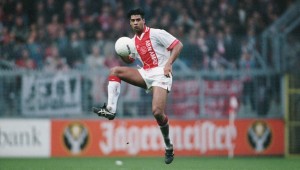 In 1987, he signed at Sporting CP, but could not play because of administrative error. So he was loaned to Real Zaragoza in Spain where he played 11 matches before going to Italy to join AC Milan ! He played five seasons at AC Milan from 1988 to 1993 (142 matches, 16 goals) becoming a World Class midfielder under the coach Arrigo Sacchi. He won 2 Serie A Champion titles 1991/92 and 1992/93 , 2 Supercoppa Italiana 1988 and 1992, particularly 2 UEFA European Cups 1988/89 and 1989/90, 2 UEFA European Super Cups 1989 and 1990 and 2 FIFA Intercontinental Cups 1989 and 1990 ! He took the third place at the BALLON D'OR ranking 1988 and 1989 behind his two Dutch and AC Milan teammates Ruud Gullit and Marco Van Basten (picture) ! He became also Serie A Best foreign player 1992, Serie A Footballer of the Year 1992 and entered in the AC Milan Hall of Fame !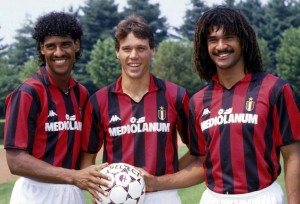 He returned in 1993 to Ajax and played two seasons (56 matches, 12 goals), winning the Super Cups 1993 and 1994 and the consecration : the UEFA Champions League 1994/95 .He was capped 73 times (10 goals) with the Netherlands National Team from 1981 to 1994. In this period, he won the UEFA European Championship 1988, the greatest success in the Netherlands Football History (picture) ! He participated at the FIFA World Cups 1990 and 1994, also at the Euro 1992.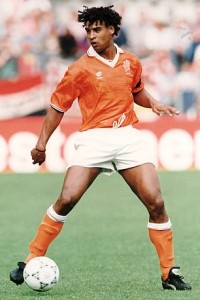 Ending his player career in 1995 with Ajax Amsterdam, his native club, Rijkaard served as an assistant coach before being appointed manager of the Netherlands National team in 1998, only 4 years after having his last game as player ! He guided the team to the semi-finals of the Euro 2000 , losing only on penalties against Italy and resigning immediately. During the season 2001/02, he became manager of Sparta Rotterdam in the Eredivisie without success, ending in a relegation to the Second Division.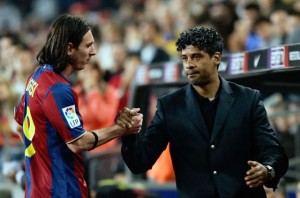 Frank Rijkaard was the coach who gave his debut with FC Barcelona to Lionel Messi the 17 October 2004 !
Less than one year later, he was appointed manager of FC Barcelona with a new managerial board. He stayed in Spain five years, winning 2 La Liga Champion titles 2004/05 and 2005/06, 2 Supercopa de Espana 2005 and 2006 and particularly the UEFA Champions League 2005/06 ! 2006 was his greatest year as Manager : he won 3 titles with the club (La Liga, Supercopa de Espana, UEFA Champions League) and was crowned The Manager of the Year by UEFA, DON BALON and above all as THE WORLD'S BEST CLUB COACH OF THE YEAR by IFFHS !
He went in Turkey to Galatasaray (2009/10) before taking in charge the Saudi Arabia National team during two years (2011 to 2013). He had no success and so in March 2014, Frank Rijkaard announced his retirement as manager. He is today consultant.