IFFHS – THE WORLD'S BEST NATIONAL COACH 2001 : MARCELO BIELSA (ARGENTINA)
PRESENTATION
Marcelo Alberto Bielsa Caldera, born on 21 July 1955 in Rosario (Argentina), is known in the football World as a great manager. He began as player and defender from 1977 to 1980 with 65 matches and one goal in 3 Argentin First Division teams, but retired when he was 25 years old !
Bielsa decided then to start a career as football manager and received his first job in the youth Academy of Newell's Old Boys. In 1990, he coached the first team of Newell's and won the Torneo Apertura and the Torneo Integracion, defeating Boca juniors ! After the final of the Copa Libertadores, lost on penalties against Sao Paulo in 1992, he won the Torneo Clausura with Newell's Old Boys.
After a period in Mexico (Atlas and América from 1992 to 1996), he came back to Argentina and won a new title, the 1998 Clausura with Velez Sarsfield. Biesla accepted then the proposition of Spanish La Liga Club, Espanyol in 1998, but he left quickly after being offered the management of the Argentina National team. He became the new manager of Argentina and spent 6 years at his head from 1998 to 2004. He won the qualification group for the 2002 World Cup and became THE WORLD'S BEST NATIONAL COACH 2001 by IFFHS.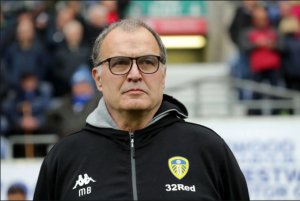 Despite a quick elimination in the World Cup tournament in Japan and South Korea, Bielsa won the Gold Medal with Argentina at the Summer Olympics tournament 2004, the CONMEBOL Pre-Olympic Tournament and was runner-up at the Copa America 2004.
He took over the National team of Chile from 2007 to 2011, made a step in Spain with Athletic Bilbao where he was runner-up at the UEFA Europa League and the Copa del Rey 2011/12. France was his next destination with Olympique Marseille (2014/15), Italy with Lazio Roma (2016), France again with Lille LOSC (2017) before moving to England. He coached Leeds United since 2018 and tried to qualify the team for the Premier League.