Picture : Humberto Suazo in Salzburg (Austria) at the IFFHS Gala with the two IFFHS Trophies : the Gold for THE WORLD'S BEST TOP GOAL SCORER 2006 and the Silver for THE WOLD'S BEST TOP DIVISION GOAL SCORER 2006.
IFFHS AWARDS – THE WORLD'S BEST TOP GOAL SCORER 2006 : HUMBERTO SUAZO (CHILE/CSD COLO COLO)
PRESENTATION
Humberto Andrès Suazo Pontivo, born 10 May 1981 in San Antonio, is a Chilean international striker who plays currently for San Antonio Unide. He won the IFFHS Award 2006 of THE WORLD'S BEST TOP GOAL SCORER of the Year and three CONCACAF Champions League !
After a difficult youth career at Club Torino and Universidad Catolica, he made his professional debut with Nublense in second division in 2000 and scored his first goal against Magallanes, his next step before joining San Antonio Unido in 2002. He scored 23 goals in 30 matches and went to the third division club San Luis de Quillota in 2003. He scored there 39 goals in 40 matches, so that he accepted the proposition of Audax Italiano. he stayed there one season 2004/05 and scored 40 goals in 62 matches .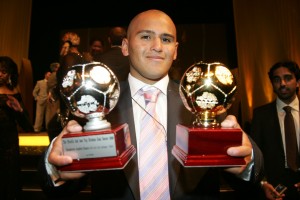 The most titled Club of Chile, CSD Colo Colo, signed Suazo in 2006. It was the best season of his career ! He won the Chilean Primera Division Apertura 2006, Clausura 2006, Apertura 2007 and became the Chilean Top Goal Scorer 2006, 2007 . He was crowned as THE WORLD'S BEST TOP GOAL SCORER 2006 by IFFHS, scoring 52 goals in 54 matches for Colo Colo and 17 international goals, one more than Peter Crouch of Liverpool ! Runner-up in the Copa Sudamericana 2006, he became also the Top Goal Scorer of the competition. Suazo entered in the history of Colo Colo in one season. He was also second in the IFFHS ranking of THE WORLD'S BEST TOP DIVISION GOAL SCORER 2006 just behind Klaas-Jan Huntelaar.
After months of speculation, Suazo was finally transferred to Mexican CF Monterrey in 2007. After a difficult begin, he contributed with 102 goals in 219 matches between 2007 and 2015 to many success. He won the Mexican Liga MX 2009 Apertura and 2010 Apertura ; the Interliga 2010 and particularly the CONCACAF Champions League 2010/11, 2011/12 and 2012/13, becoming third at the FIFA Club World Cup 2012 ! He won also the awards Balon de Oro for Best player Primera Division de Mexico Apertura 2009 and 2010, The Best Striker 2010, The Best Top Goal Scorer 2009 and the CONCACAF Champions League Best Top Goal Scorer 2011/12.He became also the club's all time best goal scorer. From January to June 2010, he was loaned to Real Zaragoza in Spain where he scored 6 goals in La Liga in 17 matches.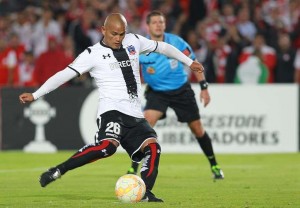 In 2015 he returned to Colo Colo, scoring 3 goals in 17 matches before announcing his retirement from football in January 2016. However he joined his former club San Antonio Unido which played in Segundo Division and continue to score goals !
Humberto Suazo played for the National team of Chile 60 matches between 2005 and 2013, scoring 21 goals. He participated at the Copa America 2007 (3 goals) and 2011 (1 goal), also at the FIFA World Cup 2010 qualifications , he was the Top Goal Scorer of CONMEBOL with 10 goals in the competition.