RECORDS FOR ERLING BRAUT HAALAND
Last week, Norwegian striker Erling Braut Haaland (picture) scored a hat trick with RB Salzburg against Belgium's Gent in a Champions League match in Austria (6-2). At the occasion, Haaland became the third youngest player (19 years and 58 days) in the History of the UEFA Champions League to score three goals after Manchester United's Wayne Rooney (18 years and 340 days in 2004) and Real Madrid's Raul (18 years and 113 days in 1995).
Haaland is the 8th player in the World to score 3 goals in his first ever Champions League game. He has already made history in may 2019 when he scored 9 goals with Norway against Honduras (12-0) in the FIFA U20 World Cup. This is a World Record.
Since the begin of the season, Erling Braut Haaland, who played before in Molde (Norway) and scored there 20 goals with 6 assists in 51 matches, has already scored 14 goals in 8 matches with RB Salzburg …
———————————————————————————————————————————————
LLORIS TIES UEFA GOALKEEPING APPEARANCE WITH COUPET.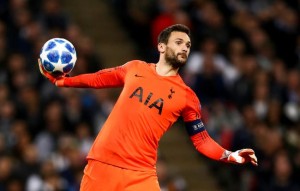 The team captain and goalkeeper of Premier League club, Tottenham Hotspur, and France National team, Hugo Adrien Dominique Lloris has tied a historic number of 61 appearances in UEFA Champions League by a French goalkeeper with Gregory Coupet.
The 33-year old who is also IFFHS 2018 runner-up for the Best GoalKeeper Award has won the French National Union of Professional Footballers(UNFP) Ligue 1 Goalkeeper of the Year Award three times. His historic achievement when he kept the goal in Tottenham's 2-2 draw with Olympiacos on the night of September 18, 2019 gives him the chance to become French all-time number 1 in UEFA keepers appearances in the next matches of the group phase of the tournament.
By tying with Coupet, 4thin IFFHS 2005 Best Goalkeeper of the year, Lloris has added one more achievement in a collection that includes, amongst others, ¼ final appearances with France "Les Bleus" in Euro 2012 and FIFA World Cup, runner up in Euro 2016 and in UEFA Champions League 2018; and winner of 2018 FIFA World Cup.
————————————————————————————————————————————————-
NICKLAS BENDTNER MADE HIS DEBUT IN DENMARK SUPERLIGA !
He has not played since april, and his coach in Rosenborg BK Trondheim refused to use him. So RBK let him go recently, ad surprisingly Danish topclub FC København signed him and got him back in Denmark-football. Nicklas is now 31 years old, and last sunday he finally got his debut in the Superliga (he has never before played the danish Liga!). When top-Club FCK met tiny bottom club Hobro IK last Sunday at home in "Parken" Copenhagen, Nicklas after a 10 years finally got his debut in the Danish Super League by coming on as a sub in the second half.
Sensationally Little Hobro won 2-1 against MEGA-MEGA-favourites FCK!!!
Nicklas Bentdtner (born 16.01.1988) left Denmark for Arsenal as 16-year old boy. His Club before going to Arsenal was a little Copenhagen Club Tårnby.
His Clubs: Arsenal 2005-11 – Birmingham 2006-07 – Sunderland (loan/lease) 2011 – Juventus 2012-13 – Wolfsburg 2014-16 – Rosenborg (NOR) 2017-19 – and now FC København since 2019-
Nicklas has a record of bad behaviour outside the pitch where ever he has been playing. Latest problems came in a visit to Copenhagen to see his Family. It ended up in a brawl/fight with a taxidriver outside of a Night Club. It came to a trial (in court), and Nicklas was sentensed to jail for 3 months. After that incident Rosenborg took him back, but he was in bad standing with their new trainer who didn't wanted him in his team.
In the national team he has played 81 times scoring 30 goals.
He was brilliant in his younger days, and in 2009, he (21 years old) became the youngest Danish player to have reached 75 matches for Denmark A. He took the record from Michael Laudrup, and nowadays Christian Eriksen has beaten this record.
————————————————————————————————————————————————
RECORD FOR SAMANTHA KERR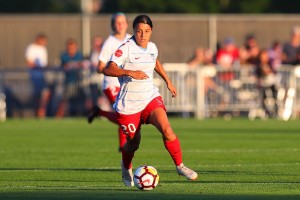 Samantha Kerr has broken New Goalscoring Records in NWSL with already 18 goals this season ! The Australian striker of Chicago Red Stars , 26 years old, has scored last week her 17th and 18th goal in NWSL, the (National Women's Soccer League) created in 2012. The Record of goals in one NWSL season was already beaten in 2017 by the … same Samantha Kerr (17 goals with Sky Blue FC). She won the NWSL Golden Boot two years consecutive (2017 and 2018 with 16 goals) and the third Golden Boot is on the good way with this new record !
Kerr holds also the Record of the Most Goals scored in NWSL since the beginning (77) and also the most goals scored in the W-League in Australia, created in 2008 with 70 goals ! She scored also 36 goals in 80 matches with the Australian National Team !
———————————————————————————————-
DANIELLE VEN DE DONCK – Unique Record Holder !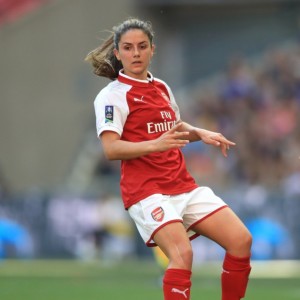 UEFA Women's championship winner , FIFA World Cup silver medalist and WSL Champion Arsenal women's Dutch midfielder, Daniëlle van de Donk registered a unique record under her name on Arsenal women's first ever WSL clash between debutant Manchester United Women's FC. In a fierce match on Monday game, Manchester hold gunners till 89th minute from scoring but Danielle come off the bench and scored a goal from loose ball and clinched another 3 points… Arsenal won all the 21 of the competitive matches that Daniëlle van de Donk scored since she joined Arsenal in 2015. It is a record very rare can beaten.
———————————————————————————————-
CAMEROON RECRIUT 27th EXPATRIATE HEAD COACH IN 51 YEARS.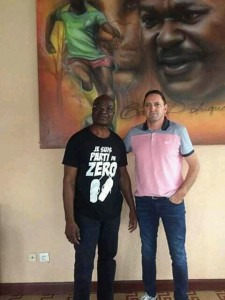 Antonio Conceição with Albert Roger Milla in Yaounde
Spaniard, 58-year-old Antonio Conceiçao da Silva Oliveira has taken up the job of head coach of the Cameroon National Football Team, Indomitable Lions; the 27th non-indigenous trainer to coach the team in 51 years, and the second Spaniard to do so after Javier Clemente, dismissed from the position in 2012.
The recruitment of the man fondly called "Toni Conceiçao" which was made known to the Cameroonian public by a press release by the Minister for Sports and Physical Education September 21, came at a time when Cameroonians have been clamoring for a local to boss the Lions and possibly take them to a sixth African Cup of Nations triumph when they host the biennial event in 2021. On the eve of the announcement, legendary Indomitable Lions offensive midfielder, Patrick Mboma had made it known that he was gunning for the job. So, the Lions fans base in their majority are saddened by the decision which in Cameroon traditionally comes as a Ministerial choice from a short list presented by the Cameroon Federation, FECAFOOT.
The player fact file of the former Portuguese right back presents a sketchy resumé of a decade of professional football at home with S.C. Braga, FC Vizela, and G.D. Riopele. His mediocre showing took him to F.C. Porto in 1989 where he played just one game in the season before retiring at the age of 29.
As a coach, Antonio Conceiçao started his managerial career at S.C. Braga spending three seasons in Level-3. In 2009, he travelled to Romania to coach CFR Cluj with whom he won the Cup of Romania. He later moved to Belenenses in December to win barely three games out of 16, earning relegation. The chicken went back home to roost in 2012, but with mixed fortunes firmly in his path, later sought refuge with Al-Faisaly FC of Saudi Arabia Professional League, and then CR Cluj in 2015, and later, Cyprus in 2017. He was ultimately sacked in 2018 by CFR Cluj for poor results, but was lucky enough to land himself the Cameroon job much to popular indignation.
With no coaching experience of a national team, let alone African football, the man who is assisted by local and first player to score a goal at the 1990 World Cup, François Omam Biyick could see his stay in Cameroon so short-lived in a country where results are so highly priced. Before him, 26 foreign nationals have bossed the Indomitable Lions since 1968 with the following frequencies: 10 Frenchmen(Roux, Dominique Colonna, Jean Vincent, Claude Le Roy, Philippe Redon, Henri Michel, Pierre Lechantre, Denis Lavagne, Paul Leguen); 4 Germans(Peter Schnittger, Winfried Schafer, Otto Pfister, Volke Finke); 4 Yugoslavs(Vladimir Beara, Ivan Ridanovic, Zutic Branco, Rade Ognanovic); 2 Belgians(Henri Dépireux, Hugo Broos); 2 Dutchmen(Arie Haan, Clarence Seedorf); 1 Russian(Valérie Nepomniachii); 1 Portuguese(Artur Jorge); 1 Spaniard(Javier Clemente).