Picture : Klaas-Jan Huntelaar received the IFFHS Award in Amsterdam.
IFFHS AWARDS – THE WORLD'S BEST TOP DIVISION GOAL SCORER 2006 : KLAAS-JAN HUNTELAAR (NETHERLANDS/AJAX AMSTERDAM)
PRESENTATION
Dirk Jan Klaas "Klaas-Jan" Huntelaar, born 12 August 1983 in Voor-Drempt, is a Dutch international striker who played and scored currently with Ajax Amsterdam. At the 1.9.2019, he scored 317 goals in 609 matches in his club career all competitions included.
He made his youth career at his local football team, was quickly scouted as a talent and goalscorer by De Graatschap (1994-2000) and PSV Eindhoven where he signed in June 2000 at 17. 26 goals in 23 matches : his first year for PSV youth team was successful and he was added to the first team in the second youth year, making his debut the 23 November 2002 ! It was his only match with PSV.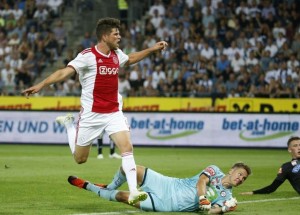 He was loaned by PSV to his previous club De Graafschap in 2003 and to AGOVV Apeldoorn for the season 2003/04. He scored there 26 goals in 35 matches and became the Eerste Divisie Top Scorer and Player of the Year ! Huntelaar joined then Heerenveen (2004-2006) and continued to score goals, 33 in 46 matches. Direction Ajax Amsterdam where he signed in 2006 until 2008. He played there 92 matches and scored 76 goals in Eredivisie, winning his first Trophies : the KNVB Cup 2005/06, 2006/07 also the Johan Cruyff Shield 2006, 2007 . He was crowned in Netherlands as The Eredivisie Top Scorer 2005/06, 2007/08, The Talent of the Year 2006, The Ajax Player of the Year 2006 and in the World (33 goals in 34 matches), he received the IFFHS Award of THE WORLD'S BEST TOP DIVISION GOALSCORER 2006 !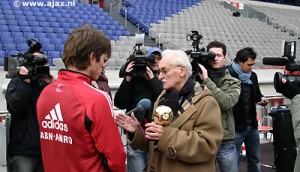 In 2009, he went to Spain and signed For Real Madrid ! He scored 8 goals in 20 matches but moved the same year to Italy and Milan AC. He stayed one season with 7 goals in 25 matches (2009/10). After Spain and Italy, he joined another great football country, Germany in August 2010. He signed at Schalke 04, where he played 175 matches , scoring 82 goals in the Bundesliga between 2010 and 2017. He won there the DFB Cup 2010/11 and the DFL Supercup 2011, became the Bundesliga Top Goal Scorer 2011/12 and the FC Schalke 04 record Goal Scorer in UEFA competitions with 31 goals.
After Germany, he returned to Netherlands and Ajax Amsterdam in 2017. He won the Eredivisie title 2018/19, the KNVB Cup 2018/19, scored 32 goals in 58 matches and continued to lead Ajax to the Top of Europe.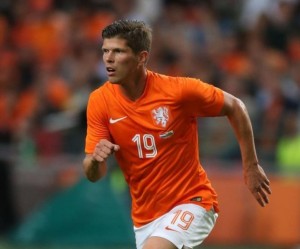 Klaas-Jan Huntelaar is also the all-time Top Scorer of the Netherlands U21 National team (18 goals in 23 matches). He won the UEFA U21 Championship 2006 and was crowned as The Golden Player and The Top Scorer of the tournament ! He made his debut for the great Netherlands National Team in 2006 and played until 2015, 76 matches, scoring 42 goals. He was runner-up of the FIFA World Cup 2010 and third at the FIFA World Cup 2014, becoming also in 2012 the UEFA Euro Top Goal Scorer.