IFFHS – THE WORLD'S BEST TOP GOAL SCORER 2001 : HANI AL-DHABIT (OMAN / DHOFAR SC SALALAH)
PRESENTATION
Hani Al-Dhabit Faraj Bait Al-Noobi, known as Hani Al-Dhabit, born 15 October 1979 in Salalah (Oman), has created the big surprise in 2001 when he became THE WORLD'S BEST TOP GOAL SCORER of the year before great legend players like Raul, Luis Figo and Michael Owen ! This year 2001 , Al-Dhabit scored 22 international goals for his national team and his club in international competitions !
It was the greatest success in the career of Al-Dhabit, who began as attacking midfielder in his home club Dhofar. He was in the squad for over 10 years, was long time captain with the number 14 jersey, scoring 177 goals in 244 matches. He won there 3 Omani League titles (98/99, 2000/01, 2004/05), 3 Sultan Qaboos Cups (1999, 2000, 2006), 2 Oman Super Cups (1999, 2000), one Oman Professional League Cup (2012/13) and Baniyas International tournament 2014.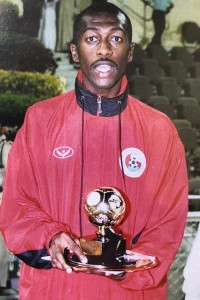 He also played for various clubs, Baniyas SC of the United Arab Emirates, Al Said SC of Qatar where he won the Qatar Crown Prince Cup 2003 and the Emir of Qatar Cup 2003. He spent also one year in Al Jar SC of Kuwait, finishing his career in Dhofar.
He played 102 matches with the national team of Oman and scored 43 goals between 1998 and 2014. He was also very active for the Oman Beach Soccer, showing his natural talent and also that he is Oman's All Time Top Goal Scorer.