Carlos Alberto Gomes Parreira (Brazil) is the absolute World recordman of the World Cup Tournament participations as coach. He participated at 6 Tournaments ( 2 with Brazil, 1 with Koweit, UAE, Saudi Arabia and South Africa) and was World Champion with his team Brazil in 1994. He received the IFFHS Trophy of THE WORLD'S BEST NATIONAL COACH 2005.
Lothar Matthaus (Germany) and Antonio Carvajal (Mexico) are the recordmen of the World Cup participations as player with 5 World Cups. The German player received the IFFHS Trophy of THE WORLD'S BEST PLAYER 1990 and the Mexican Goalkeeper the IFFHS Trophy of THE CONCACAF CENTURY GOALKEEPER.
With 6 tournaments, Carlos Alberto Gomez Parreira (Brazil) hold the World Record of participations as coach and player included. Behind him, two German Franz Beckenbauer and Hans-Hubert Vogts, one Brazilian Mario Jorge Lobo Zagallo, one Argentin Diego Maradona and one French Henri Michel had 5 participations.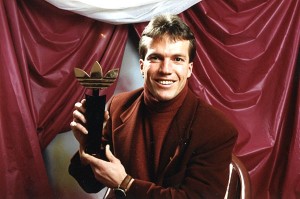 PLAYERS WITH MOST MATCHES
Lothar MATTHAUS (Germany) 25 matches
Miroslav KLOSE (Germany) 24
Paolo MALDINI (Italy) 23
Diego MARADONA (Argentina) 21
Uwe SEELER (Germany) 21
Wladyslaw ZMUDA (Poland) 21
CAFU (Brazil) 20
Philipp LAHM (Germany) 20
Grzegorz LATO (Poland) 20
Bastian SCHWEINSTEIGER (Germany) 20
PLAYERS WITH MOST TOURNAMENTS
5 Tournaments
Antonio CARBAJAL (Mexico) 1950, 1954, 1958, 1962, 1966
Lothar MATTHAUS (Germany) 1982, 1986, 1990, 1994, 1998
4 Tournaments
Sami AL-JABER (Saudi Arabia) 1994, 1998, 2002, 2006
DaMarcus BEASLEY (USA) 2002, 2006, 2010, 2014
Guiseppe BERGOMI (Italy) 1982, 1986, 1990, 1998
Gianluigi BUFFON (Italy) 2002, 2006, 2010, 2014
CAFU (Brazil) 1994, 1998, 2002, 2006
Denis CANIZA (Paraguay) 1998, 2002, 2006, 2010
Fabio CANNAVARO (Italy) 1998, 2002, 2006, 2010
Iker CASILLAS (Spain) 2002, 2006, 2010, 2014
Samuel ETO'O (Cameroon) 1998, 2002, 2010, 2014
Thierry HENRY (France) 1998, 2002, 2006, 2010
Miroslav KLOSE (Germany) 2002, 2006, 2010, 2014
Paolo MALDINI (Italy) 1990, 1994, 1998, 2002
Diego MARADONA (Argentina) 1982, 1986, 1990, 1994
Rafael MARQUEZ (Mexico) 2002, 2006, 2010, 2014
Hong MYUNG-BO (South Korea) 1990, 1994, 1998, 2002
PELE (Brazil) 1958, 1962, 1966, 1970
Gianni RIVERA (Italy) 1962, 1966, 1970, 1974
Pedro ROCHA (Uruguay) 1962, 1966, 1970, 1974
Djalma SANTOS (Brazil) 1954, 1958, 1962, 1966
Karl-Heinz SCHNELLINGER (Germany) 1958, 1962, 1966, 1970
Enzo SCIFO (Belgium) 1986, 1990, 1994, 1998
Uwe SEELER (Germany) 1958, 1962, 1966, 1970
Rigobert SONG (Cameroon) 1994, 1998, 2002, 2010
Franky VAN DER ELST (Belgium) 1986, 1990, 1994, 1998
XAVI (Spain) 2002, 2006, 2010, 2014
Wladyslaw ZMUDA (Poland) 1974, 1978, 1982, 1986
Andoni ZUBIZARRETA (Spain) 1986, 1990, 1994, 1998
COACHES WITH MOST MATCHES
Helmut SCHÖN (Germany) 25 matches
Carlos Alberto Gomes PARREIRA (Brazil) 23
Luiz Felipe SCOLARI (Brazil) 21
Mario Jorge Lobo ZAGALLO (Brazil) 20
Velibor MILUTINOVIC (Yugoslavia) 20
Josef HERBERGER (Germany) 18
Vincenzo BEARZOT (Italy) 18
Guus HIDDINK (Netrherlands) 18
Guy THYS (Belgium) 16
Henri MICHEL (Fance) 16
Lajos BAROTI (Hungary) 15
Oscar Washington TABAREZ (Uruguay) 15
Walter WINTERBOTTOM (England) 14
Carlos Salvador BILARDO (Argentinia) 14
Franz BECKENBAUER (Germany) 14
Joachim LÖW (Germany) 14
Gavril Dimitrievich KATCHALIN (Soviet Union) 13
Sven Göran ERIKSSON (Sweden) 13
Cesar Luis MENOTTI (Argentina) 12
Robert William ROBSON (England) 12
COACHES WITH MOST TOURNAMENTS
6 TOURNAMENTS
Carlos Alberto Gomes PARREIRA (Brazil)
(1982 with Koweit, 1990 with UAE, 1994 and 2006 with Brazil, 1998 with Saudi
Arabia, 2010 with South Africa)
5 TOURNAMENTS
Velibor MILUTINOVIC (Yugoslavia)
(1986 with Mexico, 1990 with Costa Rica, 1994 with USA, 1998 with Nigeria, 2002 with China)
4 TOURNAMENTS
Lajos BAROTI (Hungary)
(1958, 1962, 1966, 1978 all with Hungary)
Josef HERBERGER (Germany)
(1938, 1954, 1958, 1962 all with Germany)
Henri MICHEL (France)
(1986 with France, 1994 with Cameroon, 1998 with Morocco, 2006 with Ivory Coast)
Helmut SCHÖN (Germany)
(1966, 1970, 1974, 1978 all with Germany)
Walter WINTERBOTTOM (England)
(1950, 1954, 1958, 1962 all with England)
3 TOURNAMENTS
Vincenzo BEARZOT (Italy)
(1978, 1982, 1986 all with Italy)
Sven Göran ERIKSSON (Sweden)
(2002 and 2006 with England, 2010 with Ivory Coast)
Guus HIDDINK (Nertherlands)
(1998 with Netherlands, 2002 with South Korea, 2006 with Australia)
Gavril Dimitrievich KATCHALIN (Soviet Union)
(1958, 1962, 1970 all with Soviet Union)
Lars LÄGERBECK (Sweden)
(2002 and 2006 with Sweden, 2010 with Nigeria)
Karl RAPPAN (Austria)
(1938, 1954, 1962 all with Switzerland)
Luiz Felipe SCOLARI (Brazil)
(2002 and 2014 with Brazil, 2006 with Portugal)
Oscar Washington TABAREZ (Uruguay)
(1990, 2010, 2014 all with Uruguay)
Guy THYS (Belgium)
(1982, 1986, 1990 all with Belgium)
Mario Jorge Lobo ZAGALLO (Brazil)
(1970, 1974, 1998 all with Brazil)
(Visited 485 times, 1 visits today)
64