Jose Alfredo Castillo presents the IFFHS Awards to his fans in the stadium of Santa Cruz !
IFFHS – THE WORLD'S BEST TOP DIVISION GOAL SCORER 2001 : JOSE ALFREDO CASTILLO (ORIENTE PETROLERO SANTA CRUZ / BOLIVIA)
PRESENTATION
Jose Alfredo Castillo Parada, born on 9 February 1983 in Santa Cruz de la Sierra (Bolivia), is known in the World of football for his Award THE WORLD'S BEST TOP DIVISION GOAL SCORER 2001. He was only 18 years old and won the IFFHS ranking with 42 goals in the season !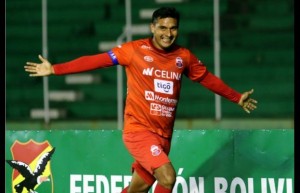 Enrolled in 1991 in the Tahuichi Academy, he signed his first contract with Oriente Petrolero Santa Cruz, where he scored between 2000 and 2002, 92 goals in 111 matches in the Primera Division in Bolivia. He won the National Title 2001 with his team before going to Tecos in 2002. He spent seven years there, but he was loaned to several clubs in this time . He went back to Oriente Petrolero five times again (2007, 2009, 2012, 2015 and 2019) and continued to play there today. Between, he made an important step in Guabira (17 goals in 41 matches in 2013/14 , 13 goals in 18 matches in 2016/17 and 34 goals in 60 matches in 2017/18), where he became the Club All Time Top Goal Scorer !
Castillo has been capped for the Bolivian National team 24 times, scoring six goals in international competitions.