IFFHS – THE WORLD'S BEST TOP GOAL SCORER 1995 : JÜRGEN KLINSMANN (GERMANY/TOTTENHAM HOTSPUR/FC BAYERN MÜNCHEN) 1995
PRESENTATION
Jürgen Klinsmann , born 30 July 1964 in Göppingen (Germany) , began his youth career in Gingen, Geislingen and Stuttgarter Kickers, where he obtained his first professional contract in 1981. He played there 3 years in the second Bundesliga with 61 matches and 22 goals. He joined the local rival VFB Stuttgart in 1984, where he played 156 matches and scored 79 goals in 5 years, becoming the Bundesliga Top Scorer in 1989 and Germany's Footballer of the year 1988. He reached the UEFA Cup final (1989 against Napoli with Maradona) but won no title with Stuttgart.
He signed a contract with Inter Milan (1989-1992) where he played 95 matches and scored 34 goals, winning the Supercoppa Italiana 1989 and the UEFA Cup 1990/91. He moved then to AS Monaco in France, playing 65 matches for 29 goals from 1992 to 1994 before to continue his way in England at Tottenham Hotspur (1994-1995) and discover the Premier League. He played 41 matches and scored 21 goals without title. So he joined the FC Bayern München in 1995 to win immediately the UEFA Cup and to receive the same year the Award of THE WORLD'S BEST INTERNATIONAL TOP GOAL SCORER by the IFFHS.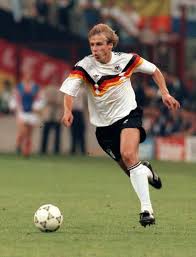 In München, he won also the Bundesliga title 1996/97, playing 65 matches and scoring 31 goals in two seasons. He returned then some months to Italy and Sampdoria Genua (8 matches, 1 goal) and to England to Tottenham (15 matches, 9 goals) where he played his last match of club career in 1998.
Jürgen Klinsmann has collected 108 international caps with Germany, scoring 47 goals from 1987 to 1998. He won with his country the WORLD CUP 1990 and the UEFA Euro 1996, reached the final in the Euro 1992 and the bronze medal in the Summer olympics 1988. He was the first player to score in 3 consecutive different Euro Championships (1988, 1992,1996) and became the first player to score at least 3 goals in 3 consecutive World Cups (1990, 1994, 1998) !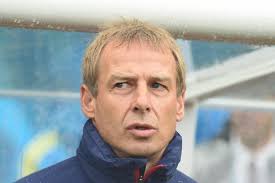 Manager
After a last year in USA (Orange County Blue Star, 8 matches, 5 goals), he returned in 2004 to Germany as the new head coach of the national team with the World Cup 2006 to play in his country. He reached with his team the semi-final, losing against Italy, the winner of the WC and winning the third place of the tournament. He declined to continue with the national team and after two years, decided to take over the FC Bayern München succeeding Otmar Hitzfeld. He had no success with Bayern and went to Toronto FC (canada) some months before he was named on july 2011 the 35th head coach of the US National Team. He led the US team into the final round of the World Cup 2014 and won the CONCACAF Gold Cup 2013, making a great work before being fired in november 2016.
(Visited 54 times, 1 visits today)
1