Picture : Joaquin Botero with the IFFHS Trophy 2002
IFFHS AWARD – THE WORLD'S BEST TOP DIVISION GOAL SCORER 2002 : Joaquin BOTERO (Club Bolivar / Bolivia)
PRESENTATION
Joaquin Botero Vaca, born on 10 december 1977 in La Paz, is a retired Bolivian football striker. He realised his greatest work in 2002 when he scored 49 goals with his club Club Bolivar in the Primera Liga and won the IFFHS Award " THE WORLD'S BEST TOP DIVISION GOAL SCORER OF THE YEAR ".
He began his career in 1997 with Mariscal Braun (22 matches, 18 goals) before joining Deportivo Municipal in 1998 (24 matches, 18 goals). In 1999, Botero made official a move to Club Bolivar La Paz where he signed for four years. In this time, he played 132 League matches and scored 111 goals, winning the Liga title in Bolivia 2002 and becoming in 2002 THE WORLD'S BEST TOP DIVISION GOAL SCORER . The IFFHS Award was his first international crown.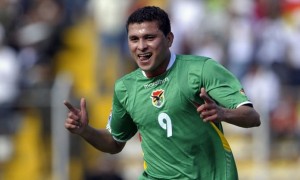 Botero tried then to begin an international career. His first foreign club was the mexican UNAM Pumas (2003 to 2006). He scored 21 goals in his 81 matches in Mexico, winning also the Primera Division titles Clausa and Apertura 2004. Direction Argentina and San Lorenzo de Almagro (only 2 matches), then direction Venezuela and Deportivo Tachira (only 5 matches) : after these unsuccessful stints, he returned to Bolivar for one year (25 matches, 11 goals). Next station again in Mexico, where he joined Correcaminos UAT in 2009/2010 (28 matches, 10 goals). In January 2010, he was loaned in Kuwait to Al Arabi for 4 matches and 3 goals before returning to Bolivia. San José (16 matches and 8 goals in 2011) and Sport Boys (20 matches and 5 goals in 2013/2014) were his last clubs before retiring from football.
Since 1999 to 2009, Joaquin Botero was a regular player for the Bolivia National team. He earned a total of 48 caps and scored 20 goals, becoming the highest scorer in the history of the Bolivian National team. He participated with Bolivia in the 1999 FIFA Confederations Cup, the Copa América 2001 and 2004. With his country, he scored 16 goals in 30 World Cup Qualifications matches and to remember was his hat-trick against Argentina of coach Maradona on 1 April 2009 !