ALMOEZ, ALLEN AND AZMOUN : THE TOP 3
At end March 2019, Ali Almoez, the goalscorer of Qatar, still leads the ranking of The World's Best International Top Goal Scorer of the year. His 9 goals scored with Qatar at the beginning of the year 2019 allow him to keep the first place, just one goal more than New Zealand's Ross Allen (8 goals with Team Wellington) and two goals more than Sardar Azmoun, Iran's and Zenit Saint Petersburg's striker, third in the ranking with 7 goals (4 with his country and 3 with his club). Behind the podium, England's Raheem Sterling is for the first time in the Top 5 Goal Scorers in his career and proves his fantastic development this season.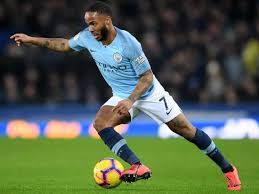 Raheem Sterling in the Top 5 !
38 players scored 4 or more goals in the three months of 2019. They are represented in the confederations : UEFA (10), CAF (9), AFC (8), OFC (8), CONMEVOL (2) and CONCACAF (1). The countries with the more top goal scorers in the Top 38 : France (3), England (2), Papua New Guinea (2). The clubs with the more Top Goal Scorers in the Top 38 : Zesco United (Zambia), Auckland City FC (New Zealand) and Lae City Dwellers FC (Papua New Guinea) 2.
RANKING THE WORLD'S BEST TOP GOAL SCORER 2019 at end March
| | | | | | | | | | | | |
| --- | --- | --- | --- | --- | --- | --- | --- | --- | --- | --- | --- |
| Player | | Country | Conf. | | Club | Country | Federation | | Country | Club | Total |
| | | | | | | | | | | | |
| Almoez Ali | | Qatar | AFC | | Al-Duhail SC | Qatar | AFC | | 9 | | 9 |
| Ross Allen | | New Zealand | OFC | | Team Wellington | New Zealand | OFC | | | 8 | 8 |
| Sardar Azmoun | | Iran | AFC | | Zenit Saint Petersburg | Russia | UEFA | | 4 | 3 | 7 |
| Raheem Sterling | | England | UEFA | | Manchester City | England | UEFA | | 4 | 2 | 6 |
| Waleed Hamid | | Sudan | CAF | | Al-Hilal Omdurman | Sudan | CAF | | | 6 | 6 |
| Ali Ahmed Mabkhout | | United Arab Emirates | AFC | | Al-Jazira SCC | United Arab Emirates | AFC | | 5 | | 5 |
| Baha' Faisal | | Jordan | AFC | | Al-Wehdat SC | Jordan | AFC | | 1 | 4 | 5 |
| Eldor Shomurodov | | Uzbekistan | AFC | | FC Rostov | Russia | UEFA | | 5 | | 5 |
| Jacques Tuyisenge | | Rwanda | CAF | | Gor Mahia | Kenya | CAF | | | 5 | 5 |
| Jesse Were | | Kenya | CAF | | ZESCO United | Zambia | CAF | | | 5 | 5 |
| Kodjo Fo-Doh Laba | | Togo | CAF | | RS Berkane | Morocco | CAF | | | 5 | 5 |
| Micah Lea'alafa | | Solomon Islands | OFC | | Auckland City FC | New Zealand | OFC | | 1 | 4 | 5 |
| Olivier Giroud | | France | UEFA | | Chelsea | England | UEFA | | 2 | 3 | 5 |
| Sylvain Graglia | | France | UEFA | | AS Central Sport | French Polynesia | OFC | | | 5 | 5 |
| Bienvenido Marañón Morejón "Bienve" | | Spain | UEFA | | Ceres–Negros FC | Philippines | AFC | | | 4 | 4 |
| Denis Cheryshev | | Russia | UEFA | | Valencia | Spain | UEFA | | 3 | 1 | 4 |
| Eran Zahavi | | Israel | UEFA | | Guangzhou R&F FC | China | AFC | | 4 | | 4 |
| Fabrizio Tavano | | Mexico | CONMEBOL | | Auckland City FC | New Zealand | OFC | | | 4 | 4 |
| Fahad Al-Muwallad | | Saudi Arabia | AFC | | Al-Ittihad Club | Saudi Arabia | AFC | | 2 | 2 | 4 |
| Ganiyu Bolaji Oseni | | Nigeria | CAF | | Hanoi FC | Vietnam | AFC | | | 4 | 4 |
| Graziano Pellè | | Italy | UEFA | | Shandong Luneng Taishan | China | AFC | | | 4 | 4 |
| Josef Alexander Martínez | | Venezuela | CONCACAF | | Atlanta United | United States | CONCACAF | | 1 | 3 | 4 |
| Joses Nawo | | Solomon Islands | OFC | | Henderson Eels FC | Solomon Islands | OFC | | 1 | 3 | 4 |
| Krisztián Németh | | Hungary | UEFA | | Kansas City | United States | CONCACAF | | | 4 | 4 |
| Lazarous Kambole | | Zambia | CAF | | ZESCO United | Zambia | CAF | | | 4 | 4 |
| Maro Bonsu-Maro | | Cook Islands | OFC | | Auckland City FC | New Zealand | OFC | | | 4 | 4 |
| Mouhcine Iajour | | Morocco | CAF | | Raja Casablanca | Morocco | CAF | | | 4 | 4 |
| Muhsen Al Ghassani | | Oman | AFC | | Al-Suwaiq | Oman | AFC | | 3 | 1 | 4 |
| Nigel Dabinyaba | | Papua New Guinea | OFC | | Lae City Dwellers FC | Papua New Guinea | OFC | | | 4 | 4 |
| Patricio Rubio | | Chile | CONMEBOL | | Universidad de Concepción | Chile | CONMEBOL | | | 4 | 4 |
| Raymond Gunemba | | Papua New Guinea | OFC | | Lae City Dwellers FC | Papua New guinea | OFC | | | 4 | 4 |
| Ronald Kampamba | | Zambia | CAF | | Nkana FC Kitwe | Zambia | CAF | | | 4 | 4 |
| Ross Barkley | | England | UEFA | | Chelsea | England | UEFA | | 2 | 2 | 4 |
| Samuela Drudru | | Fiji | OFC | | Lautoka FC | Fiji | OFC | | 2 | 2 | 4 |
| Themba Zwane | | South Africa | CAF | | Mamelodi Sundowns Pretoria | South Africa | CAF | | | 4 | 4 |
| Wissam Ben Yedder | | France | UEFA | | Sevilla | Spain | UEFA | | | 4 | 4 |
| Yorick Hnautra | | New Caledonia | OFC | | AS Magenta | New Caledonia | OFC | | | 4 | 4 |
| Yuya Osako | | Japan | AFC | | Werder Bremen | Germany | UEFA | | 4 | | 4 |
| | | | | | | | | | | | |
(Visited 257 times, 2 visits today)
1