IFFHS – THE WORLD'S BEST CLUB COACH 1996 and 1998 : MARCELLO LIPPI (FC JUVENTUS / ITALY)
IFFHS – THE WORLD'S BEST NATIONAL COACH 2006 : MARCELLO LIPPI (ITALY)
PRESENTATION
Born in Tuscany on 12 April 1948, Marcello Lippi spent most of his professional career as a defender in Sampdoria having played there 274 games and scored 5 goals from 1969 to 1978. He also featured in few low-ranked Italian teams (Savona, Pistoiese, Lucchese) and finished his playing career in 1982 never being called in the national team or winning any trophy.
He immediately started a coaching career, as a youth-team coach in Sampdoria. After several stints in lower divisions, he was back in Serie A in 1989 as a head coach of Cesena where he worked until 1991. After short spells in Lucchese (1991/92) and Atalanta (1992/93) he achieved a place in the UEFA Cup in Napoli (1993/94), his first meaningful success.
Being then offered a big job in Juventus, Lippi sparked with plenty of trophies won within 5 years, from 1994 to 1999. The glorious list included three "scudetti" (1994–95, 1996–97, 1997–98), one Italian Cup (1994–95), two Italian Supercups (1995, 1997) and three international trophies won in 1996 (UEFA Champions League, UEFA Super Cup, Intercontinental Cup). He was crowned HE WORLD'S BEST CLUB COACH 1996 and 1998 by IFFHS.
________________________________
In 1999, Lippi changed Juventus to Inter but was not that successful there and returned to the helm of "bianconeri" for second excellent spell, from 2001 to 2004. He won two league titles more (2001–02, 2002–03) and added two Supercups (2002, 2003).
Next big challenge for Lippi was the duty of head coach of the Italy national team. Appointed for the job on July 2004, he led "scuadra azzurra" to the World Cup trophy in 2006. It was the peak of his career with the crown , the Award of THE WORLD'S BEST NATIONAL COACH 2006 by IFFHS.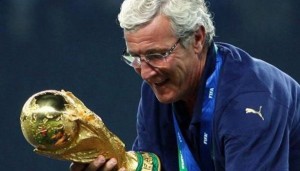 ________________________________
He refused to continue and preferred to take 2 year-long break. His second spell in the national team (2008-2010) turned a failure. Winless in the group stage of World Cup 2010, Italy was eliminated much earlier than expected.
In 2012-14, Lippi worked in China with Guangzhou Evergrande dominating the league (3 consecutive champion titles) and leading the club to the win in Asian Champions' League (2013).
The last job of Lippi was Chinese national team (2016-19) which ended up with reaching the quarter-final of Asian Cup 2019.
(Visited 49 times, 1 visits today)
0