IFFHS – THE WORLD'S BEST TOP GOAL SCORER 1996 and 2004: ALI DAEI (IRAN/PERSEPOLIS/AL-SADD)
PRESENTATION
Born 21 March 1969, Ali Daei is involved in the football World since early years as player, goalscorer, coach and manager. After his debut with Estheghlal Ardabil, Taxirani and Bank Tejarat from 1988 to 1994, he moved to Persepolis in 1994 where he played 38 matches and scored 28 goals until 1996, winning the Iranian Football League title 1995/96. He went to Al-Sadd (16 matches, 10 goals) before joining Europe and the German Bundesliga. He signed with Arminia Bielefeld (25 matches, 7 goals) before joining the greatest club in Germany, FC Bayern München, where he played 23 matches with 6 goals, the Bundesliga title and the German Cup 1998/99 !
He went 3 years to Hertha BSC Berlin with 59 matches and 6 goals, before returning to Asia and AL Shabab (2002/2003) where he scored 11 goals in 25 matches. He went back to Persepolis for one season (28 matches, 16 goals), joined Saba Battery from 2004 to 2006 with 23 goals in 51 matches, a Hafzi Cup and a Super Cup in 2005. He finished his career as player in Saipa (26 matches, 10 goals) where he won the Iran Pro League title 2006/07.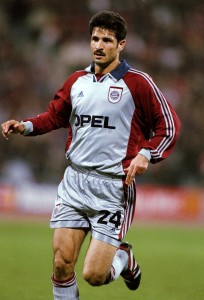 Ali Daei joined the Iran National Team in 1993 and played 149 matches with 109 goals until 2006 !He is one of the world's most capped players and is THE WORLD'S BEST TOP GOAL SCORER in international matches with 109 goals before Cristiano Ronaldo and Ferenc Puskas ! He became Asian Footballer of the year 1999 and won the IFFHS Awards of THE WORLD'S BEST TOP GOAL SCORER 1996 and 2004 .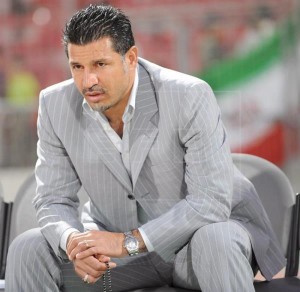 In october 2006, he began his coaching career as coach-player in Saipa FC and won the Iran Pro League title ! He was quickly nominated as Iran's national team head coach in march 2008 , won the Asian Games Gold Medal and the WAFF Championship , guided Iran to respectable results before been fired one year later. He took in charge his player club , Persepolis from 2009 to 2011, winning two Hafzi Cups. In 2011, he joined Rah Ahan for two seasons before going back to Persepolis (2013/14). He went also to Saba Qom and Naft Tehran where he won the Hafzi Cup in 2017. He returned to Saipa FC where he currently manages the club.
During his management career, he participated at the FIFA work, was appointed as UNICEF Ambassador and became the owner of Daei Sport, his sportswear company.
(Visited 68 times, 1 visits today)
1