IFFHS – THE WORLD'S BEST NATIONAL COACH 1997 : MARIO ZAGALLO (BRAZIL)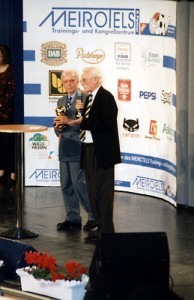 PRESENTATION
Mario Jorge Lobo Zagallo (his full name) , born 9 August 1931, was the first footballer in the World to win the FIFA WORLD CUP as player (1958 and 1962) and as Manager (1970, Assistant Manager 1994) ! He was joined in this World Record by Franz Beckenbauer (Germany), winner in 1974 as player and in 1990 as Manager , and last year by Didier Deschamps (France), winner in 1998 as player and in 2018 as Manager !
Mario Zagallo started his youth career with America and Flamengo from 1948 to 1951, before joining the first team of Flamengo in 1951. He played there seven years with 99 matches, 11 goals and 3 State Championships 1953,1954, 1955. He went to Botafogo in 1958 for seven years also, playing 107 matches with 10 goals and 2 State Championships 1961, 1962.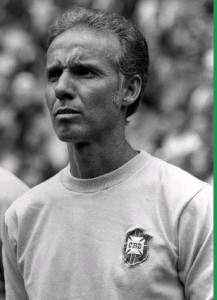 Between 1958 and 1964, he had 33 international caps for the national team of Brazil, winning 2 FIFA WORLD CUPS 1958 and 1962, and being runner-up 1959 at the Copa America.
He began young with 35 years his Manager career in Botafogo in 1966 until 1970, where he won the Taça Brazil 1968 and 2 State Championships 1967 and 1968. His success was immediate , so he became in 1970 , after a first experience in 1967/68, the new manager of the Brazil National Team. He won the same year the World Cup , being the second youngest coach (38 years old) to win a World Cup after Alberto Suppicci (31 years old with Uruguay 1930).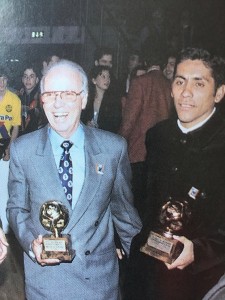 He took in charge Fluminense, Flamengo, Botafogo in the next 4 years, winning one State Championship 1972 with Flamengo. He went then to Kuwait (1976-78) to lead the national team to be runner-up in the AFC Asian Cup 1976. He continued his career in Botafogo, Al Hilal, Vasco de Game with the national team of Saudi Arabia (81-84), returned to Flamengo and Botafogo, discovered Bangu and the United Arab Emirates (89-90) before going back to the Brazilian National Team in 1991 as coordinator and assistant until 1998. He was so runner-up at the World Cup 1998, won the FIFA Confederations Cup 1997 and the Copa America 1997.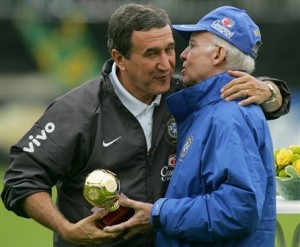 He returned again in the Club World to coach Portuguesa and Flamengo (2000-01) where he won the Copa dos Campeoes and the State Championship 2001. The National Team of Brazil was again his next step from 2002 to 2006, he was the coordinator with the coach Carlos Alberto Parreira, also winner of THE WORLD'S BEST NATIONAL COACH 2005 by IFFHS (picture). "The Professor", his nickname, ended his career in Lebanon as advisor.
(Visited 44 times, 1 visits today)
2