Picture : Franz Beckenbauer giving the IFFHS Trophy 1997 to Ottmar Hitzfeld
IFFHS – THE WORLD'S BEST CLUB COACH 1997, 2001 : OTTMAR HITZFELD (GERMANY/BORUSSIA DORTMUND/FC BAYERN MÜNCHEN) 1997, 2001
PRESENTATION
Born 12 January 1949 in Lörrach (Germany), Ottmar Hitzfeld was an international player and one of he best club coaches, he has accumulated 18 major titles and was crowned two times THE WORLD'S BEST CLUB COACH, being one of only five managers to win the European Cup/Champions League with two clubs (Borussia Dortmund and FC Bayern München) !
Ottmar Hitzfeld began his youth career in Stetten and Lörrach where he was selected by FC Basel (Switzerland) to sign his first contract in 1971. Until 1975, he played there 92 matches, scored 66 goals, winning the Swiss Super League 1971/72 and 1972/73, also the Swiss Cup 1975.He was nominated in the West Germany Olympic Team in 1972 and played 6 matches with 5 goals. He returned in Germany in 1975 to VFB Stuttgart where he signed until 1978 with 80 matches and 38 goals , and the promotion in two years to the Bundesliga. Hitzfeld returned then to his second home Switzerland, where he played for Lugano (55 matches, 35 goals from 1978 to 1980) and Luzern (72 matches, 30 goals from 1980 to 1983).
After his career as player, Ottmar Hitzfeld began his managerial career in Switzerland where he coached Zug (1983/84), Aarau (1984/88) where he won the Swiss Cup in 1985 and Grasshoppers Zurich (1988-1991), where he won the Swiss Super League 1990 and 1991the Swiss Cup 1989 and 1990 and the Swiss Super Cup 1989.
In 1991, he became Manager of Bundesliga club Borussia Dortmund and led his team to the best results of his history in 7 years. He won the Bundesliga 1994-95 and 1995-96, the DFB Supercup 1995 and 1996 and the UEFA Champions League 1996-97, his greatest triumph. For this success he was rewarded for the first time to THE WORLD'S BEST CLUB COACH 1997 by IFFHS.
In 1998, Hitzfeld joined the German's most successful club, FC Bayern München until 2004. He led the club to 4 Bundesliga titles (1998/99, 1999/00, 2000/01, 2002/03), 2 German Cups (1999/00, 2002/03), 3 DFB Ligacups (1998, 1999, 2000), one UEFA Champions League title 2000/01 (runner-up in 1998/99) and one Intercontinental Cup 2001. In 2001, he was again recognised as THE WORLD'S BEST CLUB COACH 2001 by IFFHS.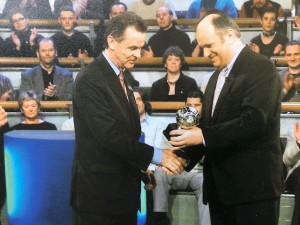 After a break of 3 years, he returned to FC Bayern in february 2007 for 18 months. He won again the Bundesliga 2007/08, the German Cup 2007/08 and the DFB Ligacup 2007. He joined then the Swiss national team in summer 2008 and reached the 2010 FIFA World Cup in South Africa, where the team won in the first match against Spain, the …World Champion !
Switzerland failed then to qualify for Euro 2012, but Hitzfeld led his team to a second successive World Cup in Brazil 2014, his team remained unbeaten throughout the qualification. Hitzfeld's final match was against Argentina in the round of 16 on 1 July 2014.
(Visited 20 times, 1 visits today)
1