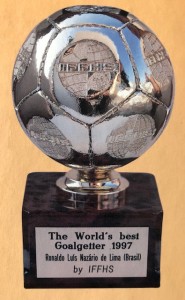 IFFHS – THE WORLD'S BEST TOP GOAL SCORER 1997 : RONALDO (RONALDO LUIS NAZARIO DE LIMA) -(FC BARCELONA/FC INTER MILAN/BRAZIL) 1997
PRESENTATION
Born 18 September 1976 in Rio de Janeiro, commonly known as Ronaldo, Ronaldo Luis Nazario de Lima is one of the greatest Top Goal Scorers in the history. "O Fenomeno" won many great titles and records (Ballon d'Or 1997 and 2002, FIFA World Player of the Year 1996, 1997, 2002 ; IFFHS The World's Best Top Goal Scorer of the year 1997 and two World Cup with Brazil 1994 and 2002) !
After his youth years in Sao Cristovao,Ronaldo began his football career playing for Cruzeiro in 1993, where he came quickly to international attention with 12 goals in 14 matches , the Copa do Brazil and the Campeonato Mineiro ! So he moved with 18 years to Netherlands and PSV Eindhoven. He played there two years, scored 42 goals in 46 matches and won the KNVB Cup 1995/96. The FC Barcelona was his next station with 34 goals in 37 matches, the Copa del Rey, the UEFA Cup Winner's Cup and the Supercopa de Espana in one season 1996/97 !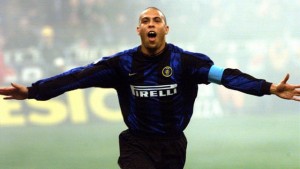 He went to Italy to Inter Milan from 1997 to 2002. He played 68 matches and scored 49 goals in Italy where he was victim of serious knee injuries and losing three years in this period ! In 2002, he joined Real Madrid for 5 years. He won there the Liga 2002/03 and 2006/07, the Intercontinental Cup 2002 and the Supercopa de Espana 2003. He played 127 matches and scored 83 goals !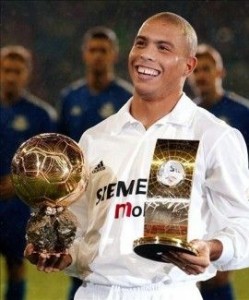 After one year with AC Milan (20 matches, 9 goals), he returned to Brazil and Corinthians where he scored 18 goals in 31 matches and finished his career with the Copa do Brazil and the Campeonato Paulista (2009-2011).
Ronaldo played for Brazil in 97 matches, scoring 62 goals from 1994 to 2006. His last match with Brazil in 2011 (98 caps) was the end of his football career. At 17, he was the youngest Brazilian to win the World Cup 1994 in USA. In 1998, he was runner-up against France and in 2002, he won again the World Cup with his country. Golden Ball in 1998 and 2002, he scored his 15th World Cup goal at the World Cup 2006 , that was the World record at the time. He also won the Copa America 1997 and 1999, the Confederations Cup 1997 and the Bronze Medal at the Summer Olympic Games in 1996.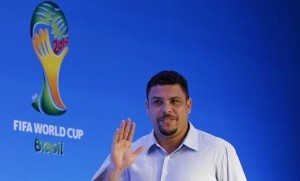 Ronaldo has continued in the football as United Nations Ambassador and FIFA Ambassador. In 2018, he became the owner of Real Valladolid in Spain with 51% of the club's shares.
(Visited 114 times, 1 visits today)
1