Picture : Hakan Sukur (left) received the IFFHS Trophy in Rotenburg / Germany
IFFHS – THE WORLD'S BEST TOP DIVISION GOAL SCORER 1997 : HAKAN SUKUR (GALATASARAY SK/TURKEY)
PRESENTATION
Born in Adapazari (Turkey) on 1 september 1971, Hakan Sükür spent the majority of his career with Galatasaray San where he won 14 major titles and was crowned in 1997 THE WORLD'S BEST TOP DIVISION GOAL SCORER by IFFHS.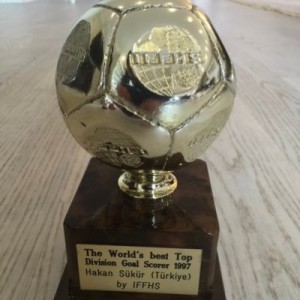 After his youth career in Sakaryaspor, he signed there his first contract and scored 19 goals in 41 matches, winning the Turkish Cup 1987/88 during his time (1987-1990). He joined Bursaspor for two years (11 goals in 54 matches) before signing for national giant Galatasaray SK in 1992. Nicknamed "The Bull of the Bosphorus", he played there 246 matches and scored 162 goals from 1992 to 2000, winning 6 Turkish Super Lig (1993, 94, 97, 98, 99, 2000), 4 Turkish Cups (1993, 96, 99, 2000), two President Cups (1993, 1997) and the UEFA Cup 1999/2000 ! In this time, he was the Top Goal Scorer of the Turkish Super Lig 1997, 1998, 1999 and the World's Best Top Division Goal Scorer 1997 !
In 1995, Hakan Sukur tried to move to Italian's Torino FC but only for 4 months before returning to his country. In 2000, he made a second test in Italy and signed in Inter Milan for two seasons. 5 goals and 24 matches later, he tried Parma (3 goals in 15 matches and the win of the Coppa Italia)) and England with Blackburn Rovers (2002/2003). Only 2 goals in 9 matches pushed him back to Turkey and Galatasaray in 2003. He regained his scoring form there and scored 55 goals in 146 matches from 2003 to 2008, winning again the Super Lig (2006, 2008) and the Turkish Cup (2005).He became also there the Top Goal Scorer of Turkish League of all times with 249 goals.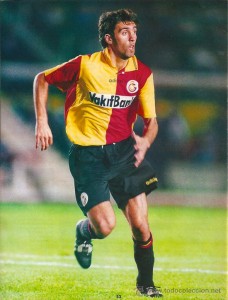 Hakan Sukur began his national team career when he played in Bursaspor in 1992. He scored 51 goals with the National Team in 112 international matches, from 1992 to 2007. His greatest success with the National Team was the third place at the World Cup 2002 behind winner Brazil and runner-up Germany !
He retired from football in 2008 with records : 383 goals in his club career and the fastest goal in a World Cup in 2002. Hakan Sükür began after a political career and was member of the Grand National Assembly (2011-2015).
(Visited 66 times, 1 visits today)
1