IFFHS – THE WORLD'S BEST NATIONAL COACH 1998 : AIME JACQUET (FRANCE)
PRESENTATION
Born 27 November 1941 in Sail-sous-Couzan (France), Aimé Etienne Jacquet was a former player and the manager of the France National Team, winner of the FIFA World Cup 1998.
He began his youth career in his town, before joining AS Saint-Etienne "Les Verts" in 1960. He played there as midfield 192 matches (23 goals) until 1973, won 5 French Division 1 titles (1963/64, 1966/67, 1967/68, 1968/69 and 1969/70), 2 French Cups (1967/68, 1969/70), 3 Champions Trophies (1967, 1968, 1969) and one Division 2 title in 1962/63. In this time, he played 2 games with the French national team in 1968. He ended his player career leaving Saint-Etienne for regional rival Olympique Lyonnais, where he played only 22 matches with 2 goals.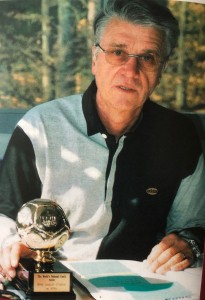 He began his manager career in Lyon, where he coached 4 years from 1976 to 1980. He joined then Girondins de Bordeaux for nine years (1980-1989) and won there 3 French Division 1 titles (1983/84, 1984/85, 1986/87), 2 French Cups (1985/86, 1986/87) and one Champions Trophy 1987. He went to Montpellier for one season, another season to Nancy before becoming in 1992 Assistant of the Coach of the French National Team. He worked one season with Gerard Houllier (1992/93), before taking the management himself in December 1993 until July 1998, the date of his crown as FIFA World Cup Winner with France and his Award of THE WORLD'S BEST NATIONAL COACH 1998. He was elected in France as French Manager of the Century !
(Visited 24 times, 1 visits today)
1