IFFHS AWARDS – THE WORLD'S BEST NATIONAL COACH 2003 : JACQUES SANTINI (FRANCE)
PRESENTATION
Jacques Santini, born on 25 April 1952 in Delle, is a French former player and manager. He was runner-up as player with AS Saint Etienne of the UEFA European Champions Cup final against FC Bayern München and won as manager of the France National Team the 2003 FIFA Confederations Cup, as well as the IFFHS Award of THE WORLD'S BEST NATIONAL COACH 2003.
He began his youth career in Fesches (1964-1969) before joining AS Saint-Etienne, where he played as midfielder 324 matches (50 goals) between 1969 and 1981. He won there 5 Division 1 Champion titles (1969/70, 1973/74, 1974/75, 1975/76, 1980/81), 4 French Cups (1969/70, 1973/74, 1974/75, 1976/77) and was runner-up of the UEFA European Champions Cup (Champions League) 1976. His club Saint-Etienne was in that period one of the best teams in Europe.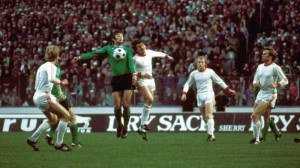 Santini (green shirt) between 4 players of Bayern München in UEFA Europe Champions Final 1976
He went in 1981 to Montpellier, where he played 43 matches (4 goals) until 1983. He played then two years in Lisieux before stopping his player career and preparing his next step, the management.
He began his new job in Lisieux as player and coach, before joining Toulouse (1985-1989), Lille (1989-1992), Saint-Etienne (1992-1994) and Sochaux (1994-1995). In 1997, he was involved in the transformation of Olympique Lyon with President Jean-Michel Aulas. He was nominated Sport's Director until 2000, helping lay the foundation to become the best club in France. As manager of Lyon from 2000 to 2002, he won the French Division 1 title 2001/02 and the French League Cup 2000/01.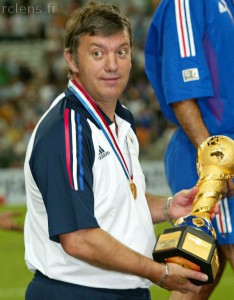 Santini with the Confederations Cup
Jacques Santini was so chosen in 2002 to replace Roger Lemerre as the new France National Team Manager. He won 22 of the 28 matches with France between 2002 and 2004, won the 2003 FIFA Confederations Cup and also was crowned as THE WORLD'S BEST NATIONAL COACH 2003 by IFFHS. He resigned from the job before the Euro 2004 and took a managerial position in Tottenham to discover the Premier League.
He left England already after 13 matches due to relational problems and took the job of Head Coach at AJ Auxerre in Ligue 1 without success. Santini refused then many offers, helped RC Lens in 2010 and Paris FC in 2013 in the club organisation, making also consultant working for TV.