IFFHS – THE WORLD'S BEST NATIONAL COACH 2000 : ROGER LEMERRE (FRANCE)
PRESENTATION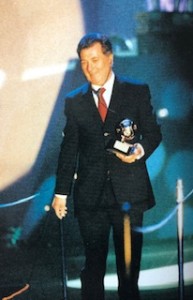 Roger Lemerre, born 18 June 1941 in Bricquebec (France) , has made a player career of 15 years and a great managerial career since 1975, 44 years and he is currently the Head Coach of Etoile du Sahel (Tunisia) !
Lemerre began his professional career in Sedan from 1961 to 1969, where he played as defender 213 matches and scored 24 goals. He changed to FC Nantes for two years in 1969 with 69 matches and one goal scored. A new challenge in Nancy Lorraine (1971-1973) where he defended the red and white colors for 65 matches before ending his player career in RC Lens with 57 matches between 1973 and 1975. 15 seasons in the highest Ligue in France made him National Team Player for France 6 times from 1968 to 1971.
In 1975, at 34 years, he began his managerial career that continued today, 44 years later ! He coached so in France, Red Star Paris (1975-1978), RC Lens (1978/79), Paris (1979-1981), RC Strasbourg (1981-1983) before going to Tunisia with Espérance Tunis (1983-1984). He went back to France and to Red Star Paris (1985-1986). Then he received a fantastic challenge to coach the France Army Team from 1986 to 1995 with his greatest success : the Military World Cup 1995 !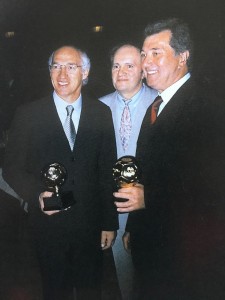 Carlos Bianchi (club) and Roger Lemerre (national): the World Coaches of 2000
In 1997, he finished the season with RC Lens and saved it from relegation before to become the Assistant of France Head Coach Aimé Jacquet in 1998 and to win the FIFA World Cup 1998 ! After Jacquet's retirement, he took over as French National Coach. He won with France the UEFA European Football Championship 2000 , so he was crowned as THE WORLD'S BEST NATIONAL COACH 2000 by IFFHS and the FIFA Confederations Cup 2001. He was National Coach from 1998 to 2002 in France, before going to Tunisia where he took in charge the Tunisian National Team from 2002 to 2008. He won the African Nations Cup 2004, making him the first coach in football history to win two different continental tournaments (Euro 2000 and Africa Nations Cup 2004).
In 2008, he was named new head coach of Morocco national team only for one year, before returning to the clubs. Direction Turkey and Ankaragücü (2009-2010), Algeria and CS Constantine (2012-2013) and Tunisia, where he took in charge Etoile du Sahel, a first time from 2013 to 2014 with a Tunisian Cup winning and a second time since 2018 . He became also in january 2016 manager of his first club in France, CS Sedan Ardennes.
(Visited 38 times, 1 visits today)
1