Picture : José Cardozo received the IFFHS Award in Toluca
IFFHS AWARDS – THE WORLD'S BEST TOP DIVISION GOAL SCORER 2003 : JOSE CARDOZO (Paraguay/CD Toluca )
PRESENTATION
José Saturnino Cardozo Otazu, born on 19 March 1971 in Nueva Italia, is a Paraguayan former player and manager, who was successful in his long career, winning an Olympic Silver medal in 2004 and the IFFHS Awards THE WORLD'S BEST TOP DIVISION GOAL SCORER 2003.
He played in youth category with Union Pacifico , before beginning his professional career in 1988 for River Plate Asuncion of Paraguay. After two seasons in River (26 matches , 10 goals) between 1988 and 1990, he joined Switzerland and FC St Gallen. His first foreign experience (1990-1992) was solded with 30 matches and 12 goals. He returned to South America in 1992 at Universidad Catolica in Chile, where he played 35 matches and scored 11 goals, reaching the 1993 Copa Libertadores final. He moved then to Club Olimpia in Paraguay from 1993 to 1995, scoring 27 goals in 41 matches and winning the Paraguayan League 1993.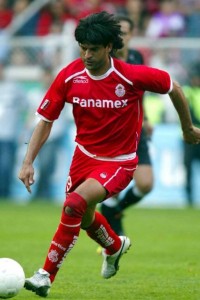 His striker and goal scorer qualities helped him to interest CD Toluca in Mexico. He spent 10 years there between 1995 and 2005, becoming the club's all time top goal scorer ! He has scored a record of 249 goals for the club in 332 matches, including 36 goals in 25 matches in the 2002 Apertura. Cardozo won the Mexican Primera Division Verano 1998, Verano 1999, Verano 2000 and Apertura 2002 ; the Campeon de Campeones Trophy 2003 and 2005, and the CONCACAF Champion's Cup 2003 ! He was top goal scorer of the Mexican League four times (Verano 1998, Verano 1999, Apertura 2002, Apertura 2003), was crowned South America's Player of the year 2002 and won the IFFHS Award of THE WORLD'S BEST TOP DIVISION GOAL SCORER 2003 !
In 2005, he was transferred to Argentina team San Lorenzo de Almagro, where he scored 4 goals in 23 matches. One year later, he decided to retire from football because of the inability to return to Olimpia in Paraguay. José Cardozo earned also 82 caps for Paraguay between 1991 and 2006, scoring 25 goals (second total in history behind Roque Santa Cruz). He played for his country at the 1998 and 2002 World Cups, was named in the 2006 World Cup squad before being injured. He won a silver medal with Paraguayan at the Olympic Summer Games 2004 in Greece and participated at three Copa America tournaments.
José Cardozo began then a management career. In november 2006, he was named interim coach in Club Olimpia for two years before joining Indios de Juarez as assistant (2009). He returned to Club Olimpia in 2009 to 2011 and took a new way when he was hired as coach of Queretaro FC (2011-2012). He realised some great performances there before returning to Club Olimpia (2012) , then to Toluca in Mexico, his player club for 10 years. He stayed there as coach for 3 years (2013-2016) without success and joined Chiapas in 2016, Puebla FC and Vera Cruz in 2017 and finally Guadalajara, Liga MX club.