IFFHS AWARDS – THE WORLD'S BEST REFEREE 2017 : FELIX BRYCH (GERMANY)
PRESENTATION
Felix Brych, born 3 August 1975 in München, is currently one of the best Referees in the World, winning the IFFHS Award of THE WORLD'S BEST REFEREE 2017 and ranked in the World's Top 5 since 5 years !
Brych started his Referee career in 1999 for the DFB in Germany, starting to whistle Bundesliga matches in 2004 (276 games until now). He was FIFA listed in 2007, refereeing his first international match in October between Romania and Luxembourg. In February 2008 he was appointed to whistle the UEFA Cup game between Panathinaikos and Rangers (56 UEFA Champions League matches until now).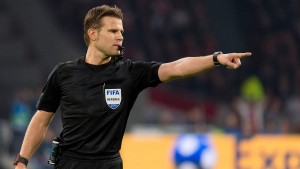 Felix Brych officiated in Germany the DFB Cup (38 matches until now) and began to progress step by step in the World's Ranking. He was choosen to referee 2011/12 UEFA Champions League semi final Chelsea – Barcelona, before the UEFA Europa League Final between Sevilla and Benfica on 14 May 2014. That same year 2014, he directed two games at the FIFA World Cup in Brazil !
He refereed three games at the UEFA Euro 2016 and was appointed on 12 May 2017 by UEFA to whistle the Champions League Final between Real Madrid and FC Juve in Cardiff. He was so crowned in 2017 by IFFHS to THE WORLD'S BEST REFEREE of the Year, after two second places in the preceeding years.
In 2018, Felix Brych participated at his second FIFA World Cup in Russia where he directed one game between Serbia and Switzerland. In the seasons 2017/18 and 2018/19, he was always appointed to whistle the UEFA Semi Finals and important games in the Bundesliga. Until now, Felix Brych has already officiated 690 games in his career !