Picture : Germany, winner of the UEFA European Championship 1972 . The German National Team is the best in Europe in the Global Ranking.
IFFHS STATISTICS : UEFA EUROPEAN CHAMPIONSHIP
It a cumulative ranking, it depends on progress in the stages of the tournament.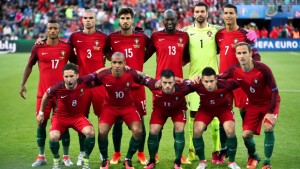 Portugal, winner 2016 and second in the Global Ranking !
A table showing the winners of UEFA European Championship
| | |
| --- | --- |
| Winners | No. of wins |
| Germany | 3 |
| Spain | 3 |
| France | 2 |
| Italy | 1 |
| Portugal | 1 |
| Russia | 1 |
| Netherlands | 1 |
| Denmark | 1 |
| Greece | 1 |
| Czech Republic | 1 |
Who best team in the tournament history ? (All editions)
This work will answer these questions
The objectives:-
An arrangement for all teams participated in all editions depends on progress in stages
To maintain the prestige of the tournament
Determine the level of each team in all editions
The reasons:-
Passion for EURO and its statistics
Increase the editions, the large number of participating teams and the large number of winners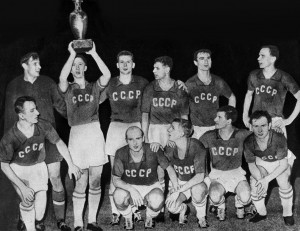 Russia, the first winner of the UEFA European Championship
The final result (1960 – 2016)
| | | |
| --- | --- | --- |
| No # | National team | Points accrued |
| 1 | Germany | 96.865 |
| 2 | Portugal | 83.333 |
| 3 | France | 79.266 |
| 4 | Spain | 76.932 |
| 5 | Italy | 72.733 |
| 6 | Netherlands | 61.333 |
| 7 | Czech Republic | 56.4 |
| 8 | England | 50.266 |
| 9 | Russia | 41.399 |
| 10 | Denmark | 33.666 |
| 11 | Croatia | 33.6 |
| 12 | Belgium | 30.066 |
| 13 | Greece | 28 |
| 14 | Turkey | 26.8 |
| 15 | Sweden | 23.733 |
| 16 | Wales | 19.2 |
| 17 | Poland | 18.4 |
| 18 | Romania | 17.733 |
| 19 | Serbia | 16.333 |
| 20 | Switzerland | 15.6 |
| 21 | Iceland | 14.4 |
| 22 | Republic of Ireland | 14.266 |
| 23 | Hungary | 12.6 |
| 24 | Slovakia | 9.6 |
| 25 | Northern Ireland | 9.6 |
| 26 | Scotland | 6.666 |
| 27 | Austria | 6.4 |
| 28 | Ukraine | 6.4 |
| 29 | Bulgaria | 6 |
| 30 | Albania | 4.8 |
| 31 | Norway | 4 |
| 32 | Slovenia | 2 |
| 33 | Latvia | 2 |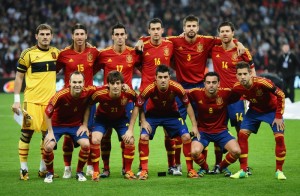 Spain, winner 2012
RESULTS 1960 – 2016
| | | | | | | | | | | | | | | | | |
| --- | --- | --- | --- | --- | --- | --- | --- | --- | --- | --- | --- | --- | --- | --- | --- | --- |
| # | National team | | 2000 | 2004 | 2008 | 2012 | 2016 | 2020 | 2024 | 2028 | 2032 | 2036 | | 1960-1996 | 1996-2036 | 1960-2036 |
| 1 | Germany | | 2 | 4 | 14 | 12 | 19,2 | | | | | | | 45,665 | 51,2 | 96,865 |
| 2 | Portugal | | 12 | 14 | 8 | 12 | 24 | | | | | | | 13,333 | 70 | 83,333 |
| 3 | France | | 16 | 8 | 2 | 8 | 21,6 | | | | | | | 23,666 | 55,6 | 79,266 |
| 4 | Spain | | 8 | 4 | 16 | 16 | 9,6 | | | | | | | 23,332 | 53,6 | 76,932 |
| 5 | Italy | | 14 | 4 | 8 | 14 | 14,4 | | | | | | | 18,333 | 54,4 | 72,733 |
| 6 | Netherlands | | 12 | 12 | 8 | 2 | | | | | | | | 27,333 | 34 | 61,333 |
| 7 | Czech Republic | | 4 | 12 | 4 | 8 | 2,4 | | | | | | | 26 | 30,4 | 56,4 |
| 8 | England | | 4 | 8 | | 8 | 9,6 | | | | | | | 20,666 | 29,6 | 50,266 |
| 9 | Russia | | | 2 | 12 | 4 | 2,4 | | | | | | | 20,999 | 20,4 | 41,399 |
| 10 | Denmark | | 2 | 8 | | 4 | | | | | | | | 19,666 | 14 | 33,666 |
| 11 | Croatia | | | 4 | 8 | 4 | 9,6 | | | | | | | 8 | 25,6 | 33,6 |
| 12 | Belgium | | 4 | | | | 14,4 | | | | | | | 11,666 | 18,4 | 30,066 |
| 13 | Greece | | | 16 | 2 | 8 | | | | | | | | 2 | 26 | 28 |
| 14 | Turkey | | 8 | | 12 | | 4,8 | | | | | | | 2 | 24,8 | 26,8 |
| 15 | Sweden | | 2 | 8 | 4 | 2 | 2,4 | | | | | | | 5,333 | 18,4 | 23,733 |
| 16 | Wales | | | | | | 19,2 | | | | | | | 0 | 19,2 | 19,2 |
| 17 | Poland | | | | 2 | 2 | 14,4 | | | | | | | 0 | 18,4 | 18,4 |
| 18 | Romania | | 8 | | 4 | | 2,4 | | | | | | | 3,333 | 14,4 | 17,733 |
| 19 | Serbia | | 8 | | | | | | | | | | | 8,333 | 8 | 16,333 |
| 20 | Switzerland | | | 2 | 2 | | 9,6 | | | | | | | 2 | 13,6 | 15,6 |
| 21 | Iceland | | | | | | 14,4 | | | | | | | 0 | 14,4 | 14,4 |
| 22 | Republic of Ireland | | | | | 2 | 9,6 | | | | | | | 2,666 | 11,6 | 14,266 |
| 23 | Hungary | | | | | | 9,6 | | | | | | | 3 | 9,6 | 12,6 |
| 24 | Slovakia | | | | | | 9,6 | | | | | | | 0 | 9,6 | 9,6 |
| 25 | Northern Ireland | | | | | | 9,6 | | | | | | | 0 | 9,6 | 9,6 |
| 26 | Scotland | | | | | | | | | | | | | 6,666 | 0 | 6,666 |
| 27 | Austria | | | | 4 | | 2,4 | | | | | | | 0 | 6,4 | 6,4 |
| 28 | Ukraine | | | | | 4 | 2,4 | | | | | | | 0 | 6,4 | 6,4 |
| 29 | Bulgaria | | | 2 | | | | | | | | | | 4 | 2 | 6 |
| 30 | Albania | | | | | | 4,8 | | | | | | | 0 | 4,8 | 4,8 |
| 31 | Norway | | 4 | | | | | | | | | | | 0 | 4 | 4 |
| 32 | Slovenia | | 2 | | | | | | | | | | | 0 | 2 | 2 |
| 33 | Latvia | | | 2 | | | | | | | | | | 0 | 2 | 2 |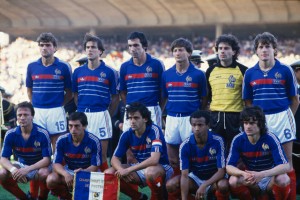 France, winner 1984
RESULTS 1960 – 1996
| | | | | | | | | | | | | | | |
| --- | --- | --- | --- | --- | --- | --- | --- | --- | --- | --- | --- | --- | --- | --- |
| # | National team | | 1960 | 1964 | 1968 | 1972 | 1976 | 1980 | 1984 | 1988 | 1992 | 1996 | | 1960-1996 |
| 1 | Germany | | | | | 4 | 3 | 8 | 2,666 | 5,333 | 6,666 | 16 | | 45,665 |
| 2 | Portugal | | | | | | | | 5,333 | | | 8 | | 13,333 |
| 3 | France | | 1 | | | | | | 8 | | 2,666 | 12 | | 23,666 |
| 4 | Spain | | | 4 | | | | 2 | 6,666 | 2,666 | | 8 | | 23,332 |
| 5 | Italy | | | | 4 | | | 5 | | 5,333 | | 4 | | 18,333 |
| 6 | Netherlands | | | | | | 2 | 4 | | 8 | 5,333 | 8 | | 27,333 |
| 7 | Czech Republic | | 2 | | | | 4 | 6 | | | | 14 | | 26 |
| 8 | England | | | | 2 | | | 4 | | 1,333 | 1,333 | 12 | | 20,666 |
| 9 | Russia | | 4 | 3 | 1 | 3 | | | | 6,666 | 1,333 | 2 | | 20,999 |
| 10 | Denmark | | | 1 | | | | | 5,333 | 1,333 | 8 | 4 | | 19,666 |
| 11 | Croatia | | | | | | | | | | | 8 | | 8 |
| 12 | Belgium | | | | | 2 | | 7 | 2,666 | | | | | 11,666 |
| 13 | Greece | | | | | | | 2 | | | | | | 2 |
| 14 | Turkey | | | | | | | | | | | 2 | | 2 |
| 15 | Sweden | | | | | | | | | | 5,333 | | | 5,333 |
| 16 | Wales | | | | | | | | | | | | | 0 |
| 17 | Poland | | | | | | | | | | | | | 0 |
| 18 | Romania | | | | | | | | 1,333 | | | 2 | | 3,333 |
| 19 | Serbia | | 3 | | 3 | | 1 | | 1,333 | | | | | 8,333 |
| 20 | Switzerland | | | | | | | | | | | 2 | | 2 |
| 21 | Iceland | | | | | | | | | | | | | 0 |
| 22 | Republic of Ireland | | | | | | | | | 2,666 | | | | 2,666 |
| 23 | Hungary | | | 2 | | 1 | | | | | | | | 3 |
| 24 | Slovakia | | | | | | | | | | | | | 0 |
| 25 | Northern Ireland | | | | | | | | | | | | | 0 |
| 26 | Scotland | | | | | | | | | | 2,666 | 4 | | 6,666 |
| 27 | Austria | | | | | | | | | | | | | 0 |
| 28 | Ukraine | | | | | | | | | | | | | 0 |
| 29 | Bulgaria | | | | | | | | | | | 4 | | 4 |
| 30 | Albania | | | | | | | | | | | | | 0 |
| 31 | Norway | | | | | | | | | | | | | 0 |
| 32 | Slovenia | | | | | | | | | | | | | 0 |
| 33 | Latvia | | | | | | | | | | | | | 0 |
EXPLANATIONS
Standards
The basic rule in the distribution of points:-
(The size of the tournament) equal for (Numbers of teams participating)
Mechanism the distribution of points as next :-
%The distance between stages = 100/Number of stages
(%The distance between stages ) = The value of the first stage
%The distance between the teams in a stages groups =%The distance between stages/Numbers of teams in group
%The distance between the teams in a stage groups=The value of the last team in the group
The value of fourth place = (Previous stage+Semi-Finals)/2
The value of Third place = Value Semi-Finals
The value of Runners-Up place = (Semi-Finals+ final)/2
The value of Winner place = value Final = Numbers of teams participating
Overview about tournaments
| | | | | | | |
| --- | --- | --- | --- | --- | --- | --- |
| Edition | The host country | Winner | Numbers of teams participating=Size | Number of stages | stages | %The distance between stages |
| 1960 | France | Russia | 4 | 2 | Semi-Finals, final | 50 |
| 1964 | Spain | Spain | 4 | 2 | Semi-Finals, final | 50 |
| 1968 | Italy | Italy | 4 | 2 | Semi-Finals, final | 50 |
| 1972 | Belgium | Germany | 4 | 2 | Semi-Finals, final | 50 |
| 1976 | Serbia | Czech Republic | 4 | 2 | Semi-Finals, final | 50 |
| 1980 | Italy | Germany | 8 | 2 | Groups, final | 50 |
| 1984 | France | France | 8 | 3 | Groups, Semi-Finals, final | 33.333 |
| 1988 | Germany | Netherlands | 8 | 3 | Groups, Semi-Finals, final | 33.333 |
| 1992 | Sweden | Denmark | 8 | 3 | Groups, Semi-Finals, final | 33.333 |
| 1996 | England | Germany | 16 | 4 | Groups, Quarter-Finals, Semi-Finals, final | 25 |
| 2000 | Belgium-Netherlands | France | 16 | 4 | Groups, Quarter-Finals, Semi-Finals, final | 25 |
| 2004 | Portugal | Greece | 16 | 4 | Groups, Quarter-Finals, Semi-Finals, final | 25 |
| 2008 | Austria-Switzerland | Spain | 16 | 4 | Groups, Quarter-Finals, Semi-Finals, final | 25 |
| 2012 | Poland-Ukraine | Spain | 16 | 4 | Groups, Quarter-Finals, Semi-Finals, final | 25 |
| 2016 | France | Portugal | 24 | 5 | Groups, Round of 16, Quarter-Finals, Semi-Finals, Final | 20 |
1960 UEFA European Championship France
Size
4
Maximum
%100 – (4)
Minimum
%25 – (1)
Placement in tournament
%
Points accrued
Fourth
25
1
Third
50
2
Runners-Up
75
3
Winner
100
4
1964 UEFA European Championship Spain
Size
4
Maximum
%100 – (4)
Minimum
%25 – (1)
Placement in tournament
%
Points accrued
Fourth
25
1
Third
50
2
Runners-Up
75
3
Winner
100
4
1968 UEFA European Championship Italy
Size
4
Maximum
%100 – (4)
Minimum
%25 – (1)
Placement in tournament
%
Points accrued
Fourth
25
1
Third
50
2
Runners-Up
75
3
Winner
100
4
1972 UEFA European Championship Belgium
Size
4
Maximum
%100 – (4)
Minimum
%25 – (1)
Placement in tournament
%
Points accrued
Fourth
25
1
Third
50
2
Runners-Up
75
3
Winner
100
4
1976UEFA European Championship Serbia
Size
4
Maximum
%100 – (4)
Minimum
%25 – (1)
Placement in tournament
%
Points accrued
Fourth
25
1
Third
50
2
Runners-Up
75
3
Winner
100
4
1980 UEFA European Championship Italy
Size
8
Maximum
%100 – (8)
Minimum
%25 – (2)
Placement in tournament
%
Points accrued
The first stage (groups)
Sorted in the groups
Fourth
25
2
Third
50
4
Fourth
62.5
5
Third
75
6
Runners-Up
87.5
7
Winner
100
8
1984 UEFA European Championship France
Size
8
Maximum
%100 – (8)
Minimum
%16.667 – (1.333)
Placement in tournament
%
Points accrued
The first stage (groups)
Sorted in the groups
Fourth
16.667
1.333
Third
33.334
2.666
Semi-Finals
66.667
5.333
Runners-Up
83.333
6.666
Winner
100
8
1988 UEFA European Championship Germany
Size
8
Maximum
%100 – (8)
Minimum
%16.667 – (1.333)
Placement in tournament
%
Points accrued
The first stage (groups)
Sorted in the groups
Fourth
16.667
1.333
Third
33.334
2.666
Semi-Finals
66.667
5.333
Runners-Up
83.333
6.666
Winner
100
8
1992 UEFA European Championship Sweden
Size
8
Maximum
%100 – (8)
Minimum
%16.667 – (1.333)
Placement in tournament
%
Points accrued
The first stage (groups)
Sorted in the groups
Fourth
16.667
1.333
Third
33.334
2.666
Semi-Finals
66.667
5.333
Runners-Up
83.333
6.666
Winner
100
8
1996 UEFA European Championship England
Size
16
Maximum
%100 – (16)
Minimum
%12.5 – (2)
Placement in tournament
%
Points accrued
The first stage (groups)
Sorted in the groups
Fourth
12.5
2
Third
25
4
Quarter-Finals
50
8
Semi-Finals
75
12
Runners-Up
87.5
14
Winner
100
16
2000 UEFA European Championship Belgium-Netherlands
Size
16
Maximum
%100 – (16)
Minimum
%12.5 – (2)
Placement in tournament
%
Points accrued
The first stage (groups)
Sorted in the groups
Fourth
12.5
2
Third
25
4
Quarter-Finals
50
8
Semi-Finals
75
12
Runners-Up
87.5
14
Winner
100
16
2004 UEFA European Championship Portugal
Size
16
Maximum
%100 – (16)
Minimum
%12.5 – (2)
Placement in tournament
%
Points accrued
The first stage (groups)
Sorted in the groups
Fourth
12.5
2
Third
25
4
Quarter-Finals
50
8
Semi-Finals
75
12
Runners-Up
87.5
14
Winner
100
16
2008 UEFA European Championship Austria-Switzerland
Size
16
Maximum
%100 – (16)
Minimum
%12.5 – (2)
Placement in tournament
%
Points accrued
The first stage (groups)
Sorted in the groups
Fourth
12.5
2
Third
25
4
Quarter-Finals
50
8
Semi-Finals
75
12
Runners-Up
87.5
14
Winner
100
16
2012 UEFA European Championship Poland-Ukraine
Size
16
Maximum
%100 – (16)
Minimum
%12.5 – (2)
Placement in tournament
%
Points accrued
The first stage (groups)
Sorted in the groups
Fourth
12.5
2
Third
25
4
Quarter-Finals
50
8
Semi-Finals
75
12
Runners-Up
87.5
14
Winner
100
16
2016 UEFA European Championship France
Size
24
Maximum
%100 – (24)
Minimum
%10 – (2.4)
Placement in tournament
%
Points accrued
The first stage (groups)
Sorted in the groups
Fourth
10
2.4
Third
20
4.8
Round of 16
40
9.6
Quarter-Finals
60
14.4
Semi-Finals
80
19.2
Runners-Up
90
21.6
Winner
100
24