Picture : Tony Kaltack (Vanuatu) jumped to second place in the ranking after scoring 9 international goals in July !
IFFHS – THE WORLD'S BEST TOP GOAL SCORER 2019 at end July
The ranking of the World's Best Top Goal Scorer 2019 at end July is always leaded by Ali Almoez (Al-Duhail SC – Qatar) with 12 goals , but behind him the pretenders are more and more numerous.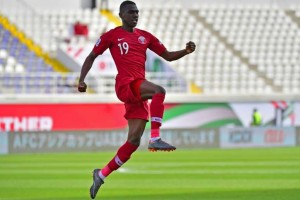 Ali Almoez, the leader
Ross Allen and Tony Kaltack, the striker of Vanuatu, scored 11 goals. "Bienve" and Gagame Feni, who made 9 international goals in July like Kaltack, had a total of 10 goals.
Gagame Feni, 9 goals in july !
Lionel Messi and Cristiano Ronaldo scored 9 and 8 goals since the beginning of the year. They have won together six IFFHS Awards in this category !
RANKING AT END JULY 2019
| | | | | | | | | | | |
| --- | --- | --- | --- | --- | --- | --- | --- | --- | --- | --- |
| Player | | Scorer Country | Conf. | | Club | Country | | Country | Club | Total |
| | | | | | | | | | | |
| Almoez Ali | | Qatar | AFC | | Al-Duhail SC | Qatar | | 11 | 1 | 12 |
| Tony Kaltack | | Vanuatu | OFC | | Erakor Golden Star | Vanuatu | | 10 | 1 | 11 |
| Ross Allen | | Guernsey | OFC | | Team Wellington | New Zealand | | | 11 | 11 |
| Gagame FENI | | Solomon Islands | OFC | | Suva FA | Fiji | | 10 | | 10 |
| Bienvenido Marañón Morejón "Bienve" | | Spain | UEFA | | Ceres–Negros FC | Philippines | | | 10 | 10 |
| Jean-Philippe SAIKO | | New Caledonia | OFC | | Limoges FC | France | | 9 | | 9 |
| Benjamin Totori | | Salomon Islands | OFC | | Lautoka FC | Fiji | | 7 | 2 | 9 |
| Lionel Messi | | Argentina | CONMEBOL | | Barcelona | Spain | | 3 | 6 | 9 |
| Olivier Giroud | | France | UEFA | | Chelsea | England | | 2 | 7 | 9 |
| Ganiyu Bolaji Oseni | | Nigeria | CAF | | Hanoi FC | Vietnam | | | 9 | 9 |
| Teaonui TEHAU | | Tahiti | OFC | | AS Vénus | Tahiti | | 8 | | 8 |
| Gabriel Jesus | | Brazil | OFC | | Manchester City | England | | 5 | 3 | 8 |
| Raheem Sterling | | England | UEFA | | Manchester City | England | | 4 | 4 | 8 |
| Cristiano Ronaldo | | Portugal | UEFA | | Juventus | Italy | | 3 | 5 | 8 |
| Baha' Faisal | | Jordan | AFC | | Al-Wehdat SC | Jordan | | 2 | 6 | 8 |
| Fahad Al-Muwallad | | Saudi Arabia | AFC | | Al-Ittihad Club | Saudi Arabia | | 2 | 6 | 8 |
| Kodjo Fo-Doh Laba | | Togo | CAF | | RS Berkane | Morocco | | | 8 | 8 |
| Leonardo da Silva | | Brazil | CONMEBOL | | Al Wahda FC | United Arab Emirates | | | 8 | 8 |
| Eldor Shomurodov | | Uzbekistan | AFC | | FC Rostov | Russia | | 7 | | 7 |
| Eran Zahavi | | Israel | UEFA | | Guangzhou R&F | China | | 7 | | 7 |
| Jonathan David | | Canada | CONCACAF | | RAA Ghent | Belgium | | 7 | | 7 |
| Lucas Cavallini | | Canada | CONCACAF | | Puebla F.C | México | | 7 | | 7 |
| Roy KRISHNA | | Fiji | OFC | | Wellington Phoenix FC | Australia | | 7 | | 7 |
| Baghdad Bounedjah | | Algeria | CAF | | Al-Sadd SC | Qatar | | 5 | 2 | 7 |
| Cédric Bakambu | | DR Congo | CAF | | Beijing Sinobo Guoan FC | China | | 4 | 3 | 7 |
| Nathanael Hmaen | | New Caledonia | OFC | | AS Magenta | New Caledonia | | 4 | 3 | 7 |
| Sadio Mané | | Senegal | CAF | | Liverpool | England | | 4 | 3 | 7 |
| Sardar Azmoun | | Iran | AFC | | Zenit Saint Petersburg | Russia | | 4 | 3 | 7 |
| Raymond Gunemba | | Papua New Guinea | OFC | | Lae City Dwellers FC | Papua New Guinea | | 3 | 4 | 7 |
| Luka Jović | | Serbia | UEFA | | Eintracht Frankfurt | Germany | | 2 | 5 | 7 |
| Alaa Abbas | | Iraq | AFC | | Al-Zawra'a SC | Iraq | | 1 | 6 | 7 |
| Omar Al Somah | | Syria | AFC | | Al-Ahli Saudi FC | Saudi Arabia | | 1 | 6 | 7 |
| Bruno Oliveira de Matos | | Brazil | CONMEBOL | | Persija Jakarta | Indonesia | | | 7 | 7 |
| Enner Remberto Valencia | | Ecuador | CONCACAF | | Tigres UANL | México | | | 7 | 7 |
| Marco Rubén | | Argentina | CONMEBOL | | Athletico Paranaense | Brasil | | | 7 | 7 |
| Pape Omar Faye | | Senegal | CAF | | Hanoi FC | Vietnam | | | 7 | 7 |
| Waleed Hamid | | Sudan | CAF | | Al-Hilal Omdurman | Sudan | | | 7 | 7 |