IFFHS AWARDS – THE WORLD'S BEST REFEREE 2012 : PEDRO PROENCA (PORTUGAL)
PRESENTATION
Pedro Proença Oliveira Alves Garcia, born 3 November 1970 in Lisbon, is a retired Portuguese Referee who won the IFFHS Award THE WORLD'S BEST REFEREE 2012, the consecration of his career.
He began to referee the Portuguese Liga in 1998 and was promoted to the FIFA list in 2003. Until january 2015 where he announced his retirement, Proença has directed 342 matches, 37 UEFA Champions League games, 4 matches at the UEFA Euro 2012 and 3 matches at the FIFA World Cup 2014.
In 2006/07, he was crowned the Portuguese Referee of the Year and gave his debut in Champions League in 2007 at the match PSV Eindhoven-CSKA Moscow. In 2011, he was again nominated as Portugal's Best Referee before having his consecration in 2012. This year 2012, he was nominated to whistle the Final of the UEFA Champions League between FC Chelsea and FC Bayern München and the final of the UEFA Euro between Spain and Italy , becoming the first Portuguese to referee an UEFA Champions League Final and the second Referee after Howard Webb in 2010 to overview both finals of the main European competitions for clubs and national teams in the same year ! He was elected by IFFHS THE WORLD'S BEST REFEREE 2012 for his fantastic year.
Proença officiated many finals in Portugal competitions (Supertaça Candido de Oliveira 2003/04 and 2006/07, Taça de Liga 2009, Allianz Cup 2007/08 and 2010/11 ) and also the UEFA Under 19 Championsship Final 2004.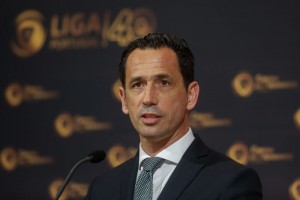 In July 2015, he was elected to join the UEFA Referees Committee and one month later, new President of the Professional Football League in Portugal.