IFFHS AWARDS – THE WORLD'S BEST WOMAN REFEREE 2012 : JENNY PALMQVIST (SWEDEN)
PRESENTATION
Jenny Palmqvist, born 2 November 1969 in South Korea, is a Swedish Referee who won the first IFFHS AWARD of THE WORLD'S BEST WOMAN REFEREE in 2012.
Jenny grew up in Sweden and began to referee in the woman Damallsvenskan (First Division in Sweden) in 1999, before becoming FIFA Referee in 2002. She was nominated to whistle many great matches in her career, including the final of the 2004 Olympic Tournament between USA and Japan in Greece , the final second leg of the UEFA Champions League 2009 between Duisburg and Zvezda Perm , and the final of the UEFA Champions Ligue 2012 between Olympique Lyon and 1FFC Frankfurt in München.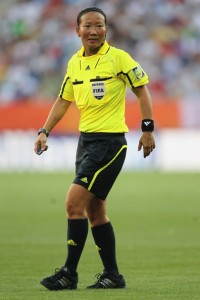 She was active at the FIFA World Cups 2007 and 2011 (5 matches), the Olympic Tournaments 2004, 2008, 2012 (7 games), the UEFA Euro 2009 and 2013 (5 matches) and at the UEFA Champions League, refereeing 111 international matches. She whistled the Quarter final of the World Cup 2007 (USA – England), the Quarter Final of the World Cup 2011 (England – France) and the Bronze Medal match at the 2012 Summer Olympic Tournament (Canada – France).
In Sweden, she officiated between 1999 and 2014, 188 matches in the Top Division and she won the 2012 IFFHS Trophy of THE WORLD'S BEST WOMAN REFEREE because of her excellent performances all the year with the consecration , the UEFA Champions Final and the Olympic Tournament. She received the Trophy in Crans Montana in Switzerland at a IFFHS Gala for the FIRST WOMAN ANNUAL AWARDS.