Picture : Lionel Messi has already won 10 IFFHS Awards : the Record in IFFHS History !
NEW RECORDS FOR LIONEL MESSI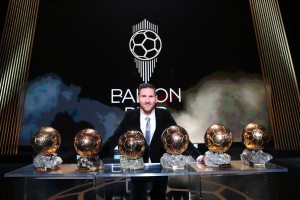 Lionel Messi in 2019 :
– 49 goals in 55 matches
– Top Goal Scorer in UEFA Champions League
– Top Goal Scorer in La Liga Spain
– Top Goal Scorer GOLDEN SHOE in Europe
– La Liga winner with FC Barcelona
– FIFA The Best Player Award of the year
– BALLON D'OR Award
– IFFHS Playmaker of the Year Award
– UEFA Club Forward of the year
World Records :
– He won the 10th IFFHS Award (4 as The World's Best Playmaker, 4 as The World's Best Top Division Goal scorer, 2 as The World's Best Top Goal scorer).
– He won the 6th Ballon D'Or (Cristiano Ronaldo has won 5 at the second place).
——————————————————————————————————————-
Presentation : CHRISTEN PRESS – AN INFINITE SEARCH OF PERFECTION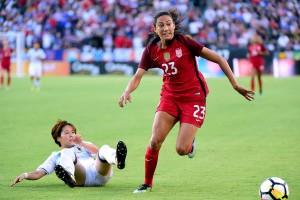 Christen press born to a sports family in 1988. Her father Cody was an American football star while her mother Stacy played Tennis. She starts to play soccer at the age of 5. She began her career through Chadwick High School. She captained high school soccer team to southern section division IV titles and scored 128 goals including a record by scoring 38 goals in a school year. Same time she played for Slammers FC and won the golden boot in US Youth Soccer Association's national championship. She joined college team Stanford Cardinal for next 3 years. There she recorded a fastest goal in 23rd second and broke many other records in number of goals assists and shots to target
Her professional career starts with Magic Jacks in 2011. She Scored 9 goals in 19 matches including a Hat-trick which earns her Rookie of the Year award. Next Season She joined Swedish Damallsvenskan club Kopparbergs/Göteborg FC. Young Press scored regularly for Kopparbergs/Göteborg FC and finished behind Anja Mittag with 17 goals. In 2013 she signed for Swedish champions Tyresö FF. She becomes the top scorer of the league with 23 goals. In UEFA champions league she guided her team to final with 9 goals.
In 2014 she signed to Chicago Red stars for 3 seasons. She captained Red Stars for 2 seasons. Later in 2018 she returned to Sweden for 3 months to join her old club Kopparbergs/Göteborg FC. Meanwhile new NWSL club Utah Royals reached an agreement with her, thus she left Sweden once again.
In 2018 she began her next span in NWSL. First season with Utah was so good for her and she began her next season strongly. She received NWSL player of the month in April and August. Also named in NWSL XI for the fourth time in her career.
Press got first national call in 2008 for U20 team but didn't play. Next year she played for U23 team in 6 matches and scored 4 goals. Her first senior cap happened in 2012 February 9 against Scotland in a friendly match. She scored a brace and an assist to become only the third US Woman player to score 2 goals on her first national match. Also she won the player of the match award. On her next game her boots sounds again to write another history as first ever US Woman scored 3 goals in her first 2 national matches. Her next year with USNWT starts with Algarve cup victory. Where she played 4 more matches and played pivotal roles. In 2014 she scored 11 goals.
In 2015 world cup she scored her first world cup goal against Australia and later she helped her team to reach the final against Japan. She player 4 matches in that world cup. In 2016 was a successful year for Press other than Summer Olympics defeat. Press featured all 25 matches of USNWT and scored 12 goals. In Olympics she played all 4 matches but she failed to convert a decisive spot kick. Her fans never blamed her for this and they start campaigns only to cheer her up. In 2017 she played all the USNWT matches and recorded as only 3 women to do so.
Beginning of 2018 was successful to her by winning She believes cup. On Jun 12 she won her 100th cap against China and celebrated with 2 assists. Press becomes the 37th player to reach 100th mark for US team. On August 31 she received 100th cap honor in front of her home fans in Los Angeles, during a friendly against Chile.
In 2019 US National women's team played total 24 matches including World cup. There is only one player featured in all these 24 matches, with 12 assists and 5 goals. Many may guess big names of USWNT but the credit goes to Christen Press, a player who always shadowed under big names in USNWT. Yet she created her space by her excellent performances for both nation and clubs. As a forward she appeared in 130 matches for USNWT and scored 51 goals since 2013. It is a record since Press repeated this 3 rd time in her career.
6 years of soccer brought her many records and honors. Some of them are as follows
CONCACAF Women's Championship: 2014, 2018
FIFA Women's World Cup: 2015, 2019
Algarve Cup: 2013, 2015
CONCACAF Women's Olympic Qualifying Tournament: 2016
She Believes Cup: 2016, 2018
Tournament of Nations: 2018
Hermann Trophy: 2009
Pac-10 Conference Player of the Year: 2010
Soccer America Player of the Year Award: 2010
WPS Rookie of the Year: 2011
Damallsvenskan Golden Boot award (Tyresö FF): 2013
NWSL Second XI: 2014
NWSL Best XI: 2015, 2016, 2017, 2019
Swedish Cup (Kopparbergs/Göteborg FC): 2012
UEFA Women's Champions League (Tyresö FF): 2013–14 Runners up
———————————————————————————————————————-
FIVE OF THE SIX LAST IFFHS AWARDS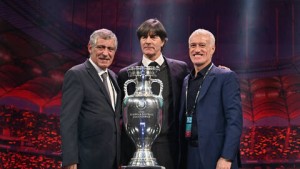 Fernando Santos (left), Joaquim Löw (middle) and Didier Deschamps (right) have won five of the six last IFFHS Awards of THE WORLD'S BEST NATIONAL COACH; Santos with Portugal's team (2016 and 2019), Löw with Germany's team (2014 and 2017) and Deschamps with France team (2018). The three coaches will be in the same group of the UEFA Euro competition 2020 , only two of them can be qualified for the next step to win the UEFA Euro ! What a program !
————————————————————————————————————————————————————————————–
LEICESTER FC MAKE RECORD IN 8TH MATCH WINNING STREAK.
This Sunday`s English Premier League action was marked by a historic achievement by Leicester City FC who not only reduced the gap with leaders, Liverpool, to eight points, but did so in a historic 8th match win in a row. It is their best performance in the league so far as they imploded hosts, Aston Villa, 4-1.
In the show of acumen at Villa Park, Jamie Vardy scored in his eighth game in a row, with a brace that tallied his season`s account on 16, and closer to his individual Premier League record of 11 consecutive matches with a goal. Aston Villa had been warmly ovationed at the start of the game following the death of former manager, Ron Saunders who died twenty four hours earlier at 87.
————————————————————————————————————————————————————————————————————————————–
NEWS FOR WOMEN FOOTBALL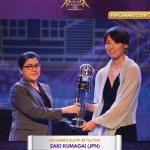 Saki Kumagai (Japan and Olympique Lyonnais) crowned in Asia as The Best Asian Player of the Year.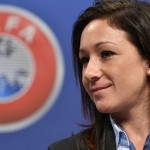 Nadine Kessler (IFFHS Playmaker 2014) is today the Head of UEFA Women Football and bring many new ideas to develop the sport. A new UEFA Women's champions League format will be introduced from 2021/22 !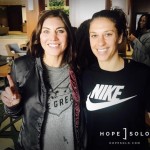 Hope Solo and Carli Lloyd ( 5 IFFHS Awards for the two US Legends): engagement for equality like many other players .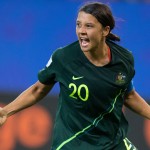 Samantha Kerr, new forward at FC Chelsea , was nominated N°1 in the World's Best 100 Top Players ranking.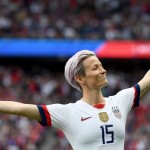 3 days after winning the IFFHS Award of the World's Best Playmaker 2019, Megan Rapinoe won the Ballon d'OR.

———————————————————————————————————————
KAZUYOSHI MIURA : THE OLDEST PROFESSIONAL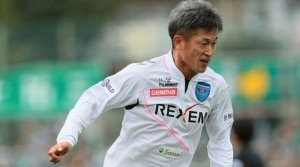 Kazuyoshi Miura (89 international caps and 55 goals with Japan between 1990 and 2000) extended his record as the oldest J-League Player last week with his club Yokohama FC in Japan's Second Division. "King Kazu", his surname, is a Legend in Japan at 52 years and 8 months . He is the oldest professional player at this level not only in Asia, but in the World. His club Yokohama earned promotion to the J1 First Division in Japan next season, that means that King Kazu will play his 35th season next year in the Top Division ,13 years after !
Miura didn't score goals this season, his last goal before two years is also a Record of the oldest Player (50 years old) to have scored at that high level. Kazu began as professional in 1986, he was The Best Asian Footballer in 1993, was international with Japan and won many titles (ASIA Cup 1992 with Japan, J1 Champion with Kawasaki 1993 and 1994, Japan Cup from 1992 to 1994 with Kawasaki). He played in four continents (Santos Brazil in South America, Japan in Asia, Sydney Australia in Oceania and Genoa Italy , Zagreb Croatia in Europe) and began a career in Futsal in 2012 (6 caps with Japan) ! He played more than 1000 matches in his long career and was the Hero of a famous Manga "Captain Tsubana". His story continued …