IFFHS Awards – THE WORLD'S BEST CLUB COACH 2002 : Vicente DEL BOSQUE (Real Madrid CF / Spain)
IFFHS Awards – THE WORLD'S BEST NATIONAL COACH 2009, 2010, 2012, 2013 : Vicente DEL BOSQUE (Spain)
PRESENTATION
Vicente DEL BOSQUE, born on 23 December 1950 in Salamanca, is a Spanish international player and one of the greatest coaches of the World. He hold the record of IFFHS Awards (5 trophies as Coach) !
As a player, Del Bosque was midfielder and his career began in 1968 with Real Madrid CF. He played there 445 matches with 30 goals between 1968 and 1984. He won five league LA LIGA titles (1974/75, 1975/76, 1977/78, 1978/79, 1979/80) and four Copa del Rey titles (1973/74, 1974/75, 1979/80, 1981/82), being also part of the Real Madrid team tat lost the European Cup final 1981 against FC Liverpool. His career as player included also spells at Castilla CF, Cordoba and Castellon between 1970 and 1973. In this period, he played 62 matches and scored 10 goals.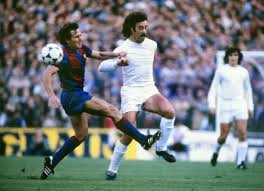 Player del Bosque
Vicente was also an international player with the Spanish National Team. Between 1975 and 1980, he received 18 caps, scoring one goal against Cyprus (13 December 1978) and he was also part of the Spanish National Team at UEFA Euro 1980.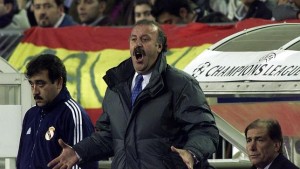 Coach del Bosque
After his player career, Del Bosque continued to serve his club Real Madrid CF. So, he managed Castilla the youth team of the club, then he replaced for a couple of months in 1994 for the first time the coach of the great team of Real. He made the same in 1996 for two games, while he was always the youth team coach before that the club decided to give him in november 1999 the full time job as manager of Real Madrid.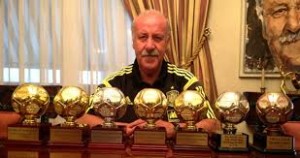 The IFFHS collection of Vicente Del Bosque : 5 Gold Awards and 2 Silber Awards
In four seasons in charge (1999-2003), Vicente Del Bosque realised a successful and wonderful spell, winning 2 UEFA Champions League titles in 2000 and 2002, 2 La Liga titles 2001 and 2003, 1 Spanish SuperCup in 2001, 1 UEFA Super Cup in 2002, 1 Intercontinental Cup in 2002. In 2002, he was also crowned by IFFHS "THE WORLD'S BEST CLUB COACH OF THE YEAR" !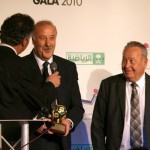 Award 2009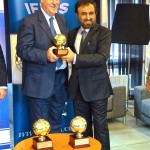 Award 2010

He took then the way of Besiktas in Turkey for one season (2004/05), before coming back to Madrid, his city. In 2008, he took over the Spanish National team after the European success at the UEFA Euro. Vicente Del Bosque realised then another successful spell from 2008 to 2016. He leaded the national team to win their first-ever FIFA World Cup in 2010 and retained their European UEFA Championship in 2012, being runner-up of the FIFA Confederations Cup 2013. In this period from 2008 to 2013, Vicente Del Bosque was honoured by IFFHS as THE BEST NATIONAL COACH 2009, 2010, 2012 and 2013 ! After the Euro 2016, he announced his retirement of the management and of the Sport.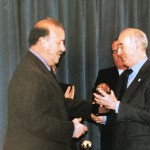 Award 2013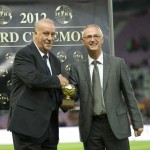 Award 2012

Spanish King Juan Carlos named him 1st Marquess of del Bosque, a personal nobility honour. Vicente Del Bosque is regarded as one of the greatest and most successful managers of all time, he is at this date the only football manager to have won the CLUB CHAMPIONS LEAGUE, the EUROPEAN CHAMPIONSHIP, the FIFA WORLD CUP and the CLUB INTERCONTINENTAL CUP !