Picture : Germany, World Champion 1954
IFFHS STATISTICS
It is a cumulative ranking, it depends on progress in the stages of the tournament
A table showing the winners of the World Cup
| | |
| --- | --- |
| Winners | No. of wins |
| Brazil | 5 |
| Germany | 4 |
| Italy | 4 |
| Argentine | 2 |
| Uruguay | 2 |
| England | 1 |
| France | 2 |
| Spain | 1 |
Who is the best team in the tournament history ? (All editions)
Is Brazil the best team because of the most wins?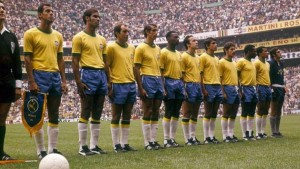 Brazil World Champion 1970
What about Germany, which has been more than Brazil in semi-finals ?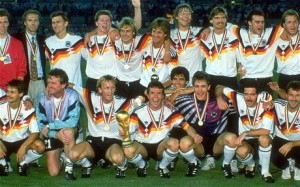 Germany, World Champion 1990
This work will answer these questions
The objectives:
Fairness toward the teams that progressing in the tournament and do not win.
To maintain the prestige of the tournament.
Determine the level of each team in competition history.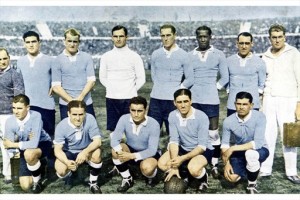 Uruguay won the first World Cup in 1930
The final result
| | | |
| --- | --- | --- |
| No # | National team | Points accrued |
| 1 | Germany | 315.15 |
| 2 | Brazil | 312.6386 |
| 3 | Italy | 223.3329 |
| 4 | Argentine | 220.6329 |
| 5 | France | 188.9886 |
| 6 | England | 183.3 |
| 7 | Spain | 166.1 |
| 8 | Netherlands | 149.35 |
| 9 | Uruguay | 140 |
| 10 | Mexico | 124.4101 |
| 11 | Belgium | 124.1943 |
| 12 | Sweden | 122.175 |
| 13 | Russia | 94.8 |
| 14 | Serbia | 93.1658 |
| 15 | Switzerland | 86.2329 |
| 16 | USA | 78.0316 |
| 17 | Portugal | 75.2 |
| 18 | Croatia | 73.6 |
| 19 | Czech Republic | 72.3 |
| 20 | Paraguay | 69.8544 |
| 21 | Chile | 68.0229 |
| 22 | Hungary | 67.925 |
| 23 | South Korea | 66 |
| 24 | Poland | 64.15 |
| 25 | Denmark | 60.8 |
| 26 | Colombia | 52.4 |
| 27 | Romania | 51.4386 |
| 28 | Austria | 50 |
| 29 | Japan | 48 |
| 30 | Nigeria | 48 |
| 31 | Cameroon | 42 |
| 32 | Costa Rica | 41.6 |
| 33 | Bulgaria | 39.6 |
| 34 | Republic of Ireland | 36.8 |
| 35 | Ghana | 35.2 |
| 36 | Turkey | 29.6 |
| 37 | Saudi Arabia | 28.8 |
| 38 | Scotland | 28.4 |
| 39 | Australia | 27.6 |
| 40 | Senegal | 25.6 |
| 41 | Morocco | 25.6 |
| 42 | Peru | 24.8443 |
| 43 | Algeria | 24.4 |
| 44 | Ecuador | 22.4 |
| 45 | northern Ireland | 21.8 |
| 46 | Greece | 21.6 |
| 47 | Iran | 21.2 |
| 48 | Tunisia | 20 |
| 49 | Côte d'Ivoire | 19.2 |
| 50 | South Africa | 19.2 |
| 51 | Ukraine | 19.2 |
| 52 | Norway | 18.95 |
| 53 | Slovakia | 12.8 |
| 54 | North Korea | 11.2 |
| 55 | Egypt | 9.6 |
| 56 | Slovenia | 9.6 |
| 57 | Honduras | 9.4 |
| 58 | New Zealand | 9.4 |
| 59 | East Germany | 8 |
| 60 | Wales | 8 |
| 61 | Cuba | 7.5 |
| 62 | Bosnia and Herzegovina | 6.4 |
| 63 | Angola | 6.4 |
| 64 | Jamaica | 6.4 |
| 65 | Bolivia | 6.0101 |
| 66 | Salvador | 5 |
| 67 | Indonesia | 3.75 |
| 68 | Panama | 3.2 |
| 69 | Iceland | 3.2 |
| 70 | Trinidad and Tobago | 3.2 |
| 71 | Togo | 3.2 |
| 72 | China | 3.2 |
| 73 | Kuwait | 3 |
| 74 | United Arab Emirates | 2.4 |
| 75 | Iraq | 2.4 |
| 76 | Canada | 2.4 |
| 77 | Democratic Republic of the Congo | 2 |
| 78 | Haiti | 2 |
| 79 | Israel | 2 |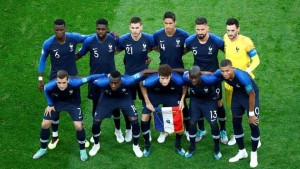 France World Champion 2018
#
National team
2018
2022
2026
2030
2034
2038
2042
2046
2050
2054
1930-2014
2018-2054
1930-2018
1
Germany
3,2
311,95
3,2
315,15
2
Brazil
19,2
293,4386
19,2
312,6386
3
Italy
223,3329
0
223,3329
4
Argentine
12,8
207,8329
12,8
220,6329
5
France
32
156,9886
32
188,9886
6
England
22,4
160,9
22,4
183,3
7
Spain
12,8
153,3
12,8
166,1
8
Netherlands
149,35
0
149,35
9
Uruguay
19,2
120,8
19,2
140
10
Mexico
12,8
111,6101
12,8
124,4101
11
Belgium
25,6
98,5943
25,6
124,1943
12
Sweden
19,2
102,975
19,2
122,175
13
Russia
19,2
75,6
19,2
94,8
14
Serbia
6,4
86,7658
6,4
93,1658
15
Switzerland
12,8
73,4329
12,8
86,2329
16
USA
78,0316
0
78,0316
17
Portugal
12,8
62,4
12,8
75,2
18
Croatia
28,8
44,8
28,8
73,6
19
Czech Republic
72,3
0
72,3
20
Paraguay
69,8544
0
69,8544
21
Chile
68,0229
0
68,0229
22
Hungary
67,925
0
67,925
23
South Korea
6,4
59,6
6,4
66
24
Poland
3,2
60,95
3,2
64,15
25
Denmark
12,8
48
12,8
60,8
26
Colombia
12,8
39,6
12,8
52,4
27
Romania
51,4386
0
51,4386
28
Austria
50
0
50
29
Japan
12,8
35,2
12,8
48
30
Nigeria
6,4
41,6
6,4
48
31
Cameroon
42
0
42
32
Costa Rica
3,2
38,4
3,2
41,6
33
Bulgaria
39,6
0
39,6
34
Republic of Ireland
36,8
0
36,8
35
Ghana
35,2
0
35,2
36
Turkey
29,6
0
29,6
37
Saudi Arabia
6,4
22,4
6,4
28,8
38
Scotland
28,4
0
28,4
39
Australia
3,2
24,4
3,2
27,6
40
Senegal
6,4
19,2
6,4
25,6
41
Morocco
3,2
22,4
3,2
25,6
42
Peru
6,4
18,4443
6,4
24,8443
43
Algeria
24,4
0
24,4
44
Ecuador
22,4
0
22,4
45
northern Ireland
21,8
0
21,8
46
Greece
21,6
0
21,6
47
Iran
6,4
14,8
6,4
21,2
48
Tunisia
6,4
13,6
6,4
20
49
Côte d'Ivoire
19,2
0
19,2
50
South Africa
19,2
0
19,2
51
Ukraine
19,2
0
19,2
52
Norway
18,95
0
18,95
53
Slovakia
12,8
0
12,8
54
North Korea
11,2
0
11,2
55
Egypt
3,2
6,4
3,2
9,6
56
Slovenia
9,6
0
9,6
57
Honduras
9,4
0
9,4
58
New Zealand
9,4
0
9,4
59
East Germany
8
0
8
60
Wales
8
0
8
61
Cuba
7,5
0
7,5
62
Bosnia and Herzegovina
6,4
0
6,4
63
Angola
6,4
0
6,4
64
Jamaica
6,4
0
6,4
65
Bolivia
6,0101
0
6,0101
66
Salvador
5
0
5
67
Indonesia
3,75
0
3,75
68
Panama
3,2
0
3,2
3,2
69
Iceland
3,2
0
3,2
3,2
70
Trinidad and Tobago
3,2
0
3,2
71
Togo
3,2
0
3,2
72
China
3,2
0
3,2
73
Kuwait
3
0
3
74
United Arab Emirates
2,4
0
2,4
75
Iraq
2,4
0
2,4
76
Canada
2,4
0
2,4
77
Democratic Republic of the Congo
2
0
2
78
Haiti
2
0
2
79
Israel
2
0
2
EXPLANATIONS
Standards
The basic rule in the distribution of points:-
(The size of the tournament) equal for (Numbers of teams participating)
Mechanism the distribution of points as next :-
%The distance between stages = 100/Number of stages
(%The distance between stages ) = The value of the first stage
%The distance between the teams in a stages groups =%The distance between stages/Numbers of teams in group
%The distance between the teams in a stage groups=The value of the last team in the group
The value of fourth place = (Previous stage+Semi-Finals)/2
The value of Third place = Value Semi-Finals
The value of Runners-Up place = (Semi-Finals+ final)/2
The value of Winner place = value Final = Numbers of teams participating
Overview about tournaments
| | | | | | | |
| --- | --- | --- | --- | --- | --- | --- |
| Edition | The host country | Winner | Numbers of teams participating=Size | Number of stages | stages | %The distance between stages |
| 1930 | Uruguay | Uruguay | 13 | 3 | Groups, Semi-Finals, final | 33.33 |
| 1934 | Italy | Italy | 16 | 4 | The first stage, Quarter-Finals, Semi-Finals, final | 25 |
| 1938 | France | Italy | 15 | 4 | The first stage, Quarter-Finals, Semi-Finals, final | 25 |
| 1950 | Brazil | Uruguay | 13 | 2 | The first stage (groups) , Final group | 50 |
| 1954 | Switzerland | Germany | 16 | 4 | Groups, Quarter-Finals, Semi-Finals, final | 25 |
| 1958 | Sweden | Brazil | 16 | 4 | Groups, Quarter-Finals, Semi-Finals, final | 25 |
| 1962 | Chile | Brazil | 16 | 4 | Groups, Quarter-Finals, Semi-Finals, final | 25 |
| 1966 | England | England | 16 | 4 | Groups, Quarter-Finals, Semi-Finals, final | 25 |
| 1970 | Mexico | Brazil | 16 | 4 | Groups, Quarter-Finals, Semi-Finals, final | 25 |
| 1974 | Germany | Germany | 16 | 4 | The first stage (groups), The second stage (groups), Match for third place, Final | 25 |
| 1978 | Argentina | Argentina | 16 | 4 | The first stage (groups), The second stage (groups), Match for third place, Final | 25 |
| 1982 | Spain | Italy | 24 | 4 | The first stage (groups), The second stage (groups), Semi-Finals, Final | 25 |
| 1986 | Mexico | Argentina | 24 | 5 | Groups, Round of 16, Quarter-Finals, Semi-Finals, Final | 20 |
| 1990 | Italy | Germany | 24 | 5 | Groups, Round of 16, Quarter-Finals, Semi-Finals, Final | 20 |
| 1994 | USA | Brazil | 24 | 5 | Groups, Round of 16, Quarter-Finals, Semi-Finals, Final | 20 |
| 1998 | France | France | 32 | 5 | Groups, Round of 16, Quarter-Finals, Semi-Finals, Final | 20 |
| 2002 | Korea/Japan | Brazil | 32 | 5 | Groups, Round of 16, Quarter-Finals, Semi-Finals, Final | 20 |
| 2006 | Germany | Italy | 32 | 5 | Groups, Round of 16, Quarter-Finals, Semi-Finals, Final | 20 |
| 2010 | South Africa | Spain | 32 | 5 | Groups, Round of 16, Quarter-Finals, Semi-Finals, Final | 20 |
| 2014 | Brazil | Germany | 32 | 5 | Groups, Round of 16, Quarter-Finals, Semi-Finals, Final | 20 |
| 2018 | Russia | France | 32 | 5 | Groups, Round of 16, Quarter-Finals, Semi-Finals, Final | 20 |
Apply Rule
1930 FIFA World Cup Uruguay ™
Size
13
Maximum
%100 – (13)
Minimum
%11.11 – (1.4443)
Placement in tournament
%
Points accrued
The first stage (groups)
Group (A)
Sorted in the group
Fourth
11.11
1.4443
Third
22.22
2.8886
Second
33.33
4.3329
Groups (B,C,D)
Sorted in the group
Third
11.11
1.4443
Second
22.22
2.8886
Semi-Finals
66.66
8.6658
Runners-Up
83.33
10.8329
Winner
100
13
1934 FIFA World Cup Italy ™
Size
16
Maximum
%100 – (16)
Minimum
%25 – (4)
Placement in tournament
%
Points accrued
The first stage
25
4
Quarter-Finals
50
8
Fourth
62.5
10
Third
75
12
Runners-Up
87.5
14
Winner
100
16
1938 FIFA World Cup France ™
Size
15
Maximum
%100 – (15)
Minimum
%25 – (3.75)
Placement in tournament
%
Points accrued
The first stage
25
3.75
Quarter-Finals
50
7.5
Fourth
62.5
9.375
Third
75
11.25
Runners-Up
87.5
13.125
Winner
100
15
1950 FIFA World Cup Brazil ™
Size
13
Maximum
%100 – (13)
Minimum
%16.66 – (2.1658)
Placement in tournament
%
Points accrued
The first stage (groups)
Groups (A,B)
Sorted in the group
Fourth
16.66
2.1658
Third
33.33
4.3329
Second
50
6.5
Group (C)
Sorted in the group
Third
16.66
2.1658
Second
33.33
4.3329
Group (D)
Sorted in the group
Second
16.66
2.1658
Fourth
62.5
9.1
Third
75
10.4
Runners-Up
87.5
11.7
Winner
100
13
1954 – 1970 FIFA World Cup ™
Size
16
Maximum
%100 – (16)
Minimum
%12.5 – (2)
Placement in tournament
%
Points accrued
The first stage (groups)
Sorted in the groups
Fourth
12.5
2
Third
25
4
Quarter-Finals
50
8
Fourth
62.5
10
Third
75
12
Runners-Up
87.5
14
Winner
100
16
1974 – 1978 FIFA World Cup ™
Size
16
Maximum
%100 – (16)
Minimum
%12.5 – (2)
Placement in tournament
%
Points accrued
The first stage (groups)
Sorted in the groups
Fourth
12.5
2
Third
25
4
The Second stage (groups)
Sorted in the groups
Fourth
37.5
6
Third
50
8
Fourth
62.5
10
Third
75
12
Runners-Up
87.5
14
Winner
100
16
1982 FIFA World Cup Spain ™
Size
24
Maximum
%100 – (24)
Minimum
%12.5 – (3)
Placement in tournament
%
Points accrued
The first stage (groups)
Sorted in the groups
Fourth
12.5
3
Third
25
6
The Second stage (groups)
Sorted in the groups
Fourth
37.5
9
Third
50
12
Fourth
62.5
15
Third
75
18
Runners-Up
87.5
21
Winner
100
24
1986 – 1994 FIFA World Cup ™
Size
24
Maximum
%100 – (24)
Minimum
%10 – (2.4)
Placement in tournament
%
Points accrued
The first stage (groups)
Sorted in the groups
Fourth
10
2.4
Third
20
4.8
Round of 16
40
9.6
Quarter-Finals
60
14.4
Fourth
70
16.8
Third
80
19.2
Runners-Up
90
21.6
Winner
100
24
1998 – 2018 FIFA World Cup ™
Size
32
Maximum
%100 – (32)
Minimum
%10 – (3.2)
Placement in tournament
%
Points accrued
The first stage (groups)
Sorted in the groups
Fourth
10
3.2
Third
20
6.4
Round of 16
40
12.8
Quarter-Finals
60
19.2
Fourth
70
22.4
Third
80
25.6
Runners-Up
90
28.8
Winner
100
32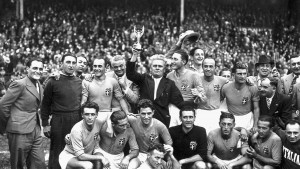 Italy, World Champion 1938
RANKING 1930-1974
#
National team
1930
1934
1938
1950
1954
1958
1962
1966
1970
1974
1930-1974
1
Germany
12
3,75
16
10
8
14
12
16
91,75
2
Brazil
2,8886
4
11,25
11,7
8
16
16
4
16
10
99,8386
3
Italy
16
15
4,3329
4
4
4
14
4
65,3329
4
Argentine
10,8329
4
2
4
8
6
34,8329
5
France
2,8886
4
7,5
4
12
2
32,3886
6
England
6,5
8
4
8
16
8
50,5
7
Spain
8
9,1
4
4
25,1
8
Netherlands
4
3,75
14
21,75
9
Uruguay
13
13
10
4
8
10
2
60
10
Mexico
1,4443
2,1658
2
2
2
4
8
21,6101
11
Belgium
1,4443
4
3,75
2
4
15,1943
12
Sweden
8
9,375
10,4
14
4
8
53,775
13
Russia
8
8
10
8
34
14
Serbia
8,6658
6,5
8
8
10
6
47,1658
15
Switzerland
8
7,5
4,3329
8
2
2
31,8329
16
USA
8,6658
4
2,1658
14,8316
17
Portugal
12
12
18
Croatia