CARLI LLOYD : OLYMPICS 2020
Carli Lloyd, 37 years old, is one of the greatest women footballers in the World. Winner of the FIFA World Cups 2015 and 2019 (runner-up in 2011), winner of the Olympic Games Gold Medal 2008 and 2012, she has played until now 288 games with the USA National Team, scoring 121 goals, 16 in 2019 !
Only Kristine Lilly (352 caps) and Christie Rampone (311 caps) have more international caps then Carli Lloyd in the USA and in the World, the other playing Legend Christine Sinclair of Canada counts one cap more (289) to take the third place in the World ranking.
Elected Best FIFA Player 2015 and 2016, Golden Ball and Golden Shoe at the FIFA World Cup 2015, Carli Lloyd was also voted by IFFHS THE WORLD'S BEST PLAYMAKER 2015 (picture). After the World Cup, she didn't know if she will continue her career. But she said she feels the best she's ever felt physically and still can contribute to great success with USA. She has scored in the last month 3 goals for USA in two matches ! Next step : Olympics 2020, her fourth Olympic Tournament and maybe her third title …
———————————————————————————————————————————————————————————-
RECORDS !
– Christian Pulisic (picture), winger and attacking midfielder for FC Chelsea in Premier League, has played last tuesday his 24th UEFA Champions League match against Ajax Amsterdam in a fantastic 4-4 draw and has beaten the Record of USA Players in the History, becoming the US Player with the most Champions League games at only 21 years old !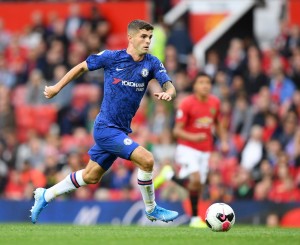 – Cristiano Ronaldo became last wednesday the second Player in the UEFA Champions League History to play the most games in this competition (174 like Paolo Maldini of AC Milan). Iker Casillas (Real Madrid CF/FC Porto) leads always the ranking with 188 games.
– Rodrygo (picture), the young Brazilian talent of Real Madrid (he came last year at 17 from Santos) became last wednesday the second youngest Player in the History of the UEFA Champions League to have scored 3 goals in the same match at 18 years and 301 days. The first in this category is Raul, the Legend of Real Madrid, who scored the triple at 18 years and 113 days in October 1995.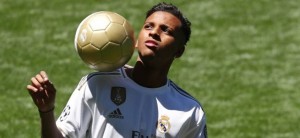 – Erling Braut Haland, the Norwegian Young Talent of RB Salzburg (19 years old), continue to beat record after record. In this season 2019/20, he is the best Goal Scorer in the World, scoring 26 club goals in 18 games, 7 goals in 4 UEFA Champions League games, 15 goals in 12 Austrian Bundesliga matches and 4 goals in 2 Austria Cup games !
– The FC Bayern and Poland Star Robert Lewandowski (picture with the IFFHS Award 2015) has scored 23 goals in 18 matches and has also beaten a record in the German Bundesliga : he is the FIRST PLAYER in the HISTORY to have scored one goal or more in each of the 11 first matches of the season (16 goals) !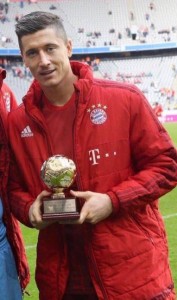 —————————————————————————————————————————————————————————————
2020 AFRICAN NATIONS CHAMPIONSHIPS TO HOLD APRIL 5-25 .
Initially scheduled to hold in the months of January and February, hosts, Cameroon have announced that the biennial Total African Nations Championships, CHAN, will hold from April 5-25, in the cities of Yaounde, Douala, Limbe and Buea. The new date, and venues were announced by the Cameroon Minister for Sports and Physical Education, Professor Narcisse Mouelle Kombi as he installed members of the Local Organising Committee of the competition, COCAN, at the Yaounde Multi-purpose Sports Complex, Monday, November 4.
Members of the Local Organising Committee of the Total CHAN Cameroon 2020 have been urged to demonstrate devotion, loyalty, patriotism, and probity in carrying out assigned tasks for the success of the event which the country is using as a dress rehearsal for the Total African Cup of Nations, Cameroon 2021.
The four venues to host matches of the 16-team tournament are the Ahmadou Ahidjo Stadium in Yaounde; Japoma Sports Complex, and Bepanda Omnisports Stadium, both in Douala; and the Ngeme Football Stadium in Limbe. Meanwhile, the Molyko Stadium in Buea will serve as training venue for the Limbe-based teams.
Professor Kombi who is the President of the COCAN has also announced that tenders have been advertised for the best CHAN anthem as well as the mascot of the tournament.
It would be recalled that the sixteen teams eligible to take part in the tournament following competitive qualifiers include: Cameroon (hosts), Burkina Faso, Congo, DR Congo, Guinea, Mali, Morocco, Niger, Namibia, Tanzania, Togo, Tunisia, Rwanda, Uganda, Zambia, and Zimbabwe.
—————————————————————————————————————————————————————————————
OINAM BEM BEM – THE UNSUNG LEGEND OF INDIAN WOMEN'S FOOTBALL
Oinam Bem Bem is the one of the best woman footballer ever born in India. She born to a middle class family in a remote village near Imphal, Manipur – The cradle of Indian Football- in 1980. Her childhood was very tough one. Her father never allowed her to play football with her cousins in those days. But Bem Bem loved football than anything else and decided to start football career without knowledge of her father.
In 1991, Senior Women's championship in Imphal inspired her join a local club Yawa from Imphal. Same year she played for Manipur sub junior team and went to play her first tournament outside Manipur. Two years later she featured in Manipur senior team at the age of 13. Then she joined Social Union Nascent FC. Bem bem struggled much in her first days of football. State association didn't help in means of transports. And also she lacked a decent football kit. Those days she didn't even have financial support from her family. But she fought off all obstacles to full fill her Indian dreams. Her growth in Indian football was so fast.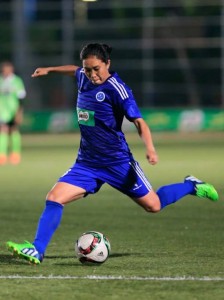 She wore Indian color within 2 years of her first national match, even before she play for any of Indian junior team, at the age of 15 in 1995 she debuted in Indian outfit against Guam in the Asian Women's championship. Soon she made herself a favorite for Indian selectors and coaches. Her father's protest never seized till he died, but he understood his daughters passion in football. Yet her father watched her football silently from corners, whenever she plays in Manipur. Bembem believed her glory will come through football. Three years after she selected to Manipur police, a government job as her father wanted, but before seeing her success Nageshwar left the world in 1997.
Bem bem's best moments come in 1997 AFC Cup in China, where her team beat Guam and Hong Kong by big margin only lost to top ranked Japan by a last minute goal. In 2001 Indians play against Chinese Taipei with fear of big loss but the final result was another. With help of Bem bem and friends India beat Chinese Taipei 2-1. That game shows unity and courage of Indian women's football. In that fight Bem bem led her team fearlessly to victory. On the same year All India Football Federation decided to give Player of the Year award to women's football for the first time. They didn't have no other selection, Bem bem Oinam won the first ever player of the year award in women's football history.
After that match senior players have left the team in hands of Bem bem. In 2003 Bem bem appointed as Indian Captain for the AFC championship in Thailand. She led Indian team proudly later on till her retirement. Even before that she captained Manipur team in national tournaments. Under her leadership Manipur team won many victories. In 2010 Indian women team won their first international tournament in Bangladesh, under the captaincy of Oinam Bem bem Devi. With help of Bem bem, team won 11th South Asian Games gold. And 2 years later girls went jubilant in SAFF Women's championship in Sri Lanka. All this performance ensured her another Player of the Year Award in 2013.
In 2014 she becomes the first Indian female footballer to play abroad. She received 2 year contract from New Radiant sports club in the Maldives. Where she helped them to win the league and finished as top scorer, which earn Player of the tournament award. Bem bem found playing in Maldives helped her to develop her future plans. She got inspired from development of Maldivian women's football.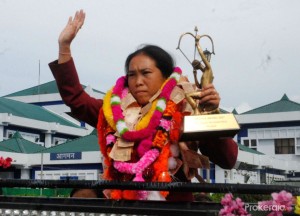 After a long 21 years of football Bem Bem Devi decided to untie her boot on 31st December 2015. But her teammates literally begged her to postpone her announcement till 2016 South Asian Games, which happened in India. On February 15, 2016, she played her last game in front of her mother and native peoples. The Queen of North East did not disappoint her fans. Indian team won the gold with help of their captain. In 2016 AIFF decided to form a Women's I League and appointed Bem bem as captain and coach of Eastern Sporting Union club. Bem bem happily took the chance and lead Eastern sporting Union to their first ever IWL title.
She played 85 matches for Indian and scored 32 goals. After 3rd rejection to the selection of Arjuna Award, Bem bem succeed in her fourth attempt in 2017 to become only the second female footballer to receive the prestigious national award (PICTURE). She won many tournaments in National level for Manipur and Manipur police. She won National tournament for Manipur 14 times and 3 gold medals in National games. Same time she got regular national calls from Indian team. Her most prominent success was 2 Player of the year award, 3 SAFF CUP titles in 2010, 2012 and 2014 and 2 SAG gold medals in 2010 and 2016, 1 IWL, 2 Maldives league and 3 National games gold; all made her career so valiant.
After the first IWL Bem bem working hard for her new mission, a football school for the next generation. She didn't expect help from the government but not denying if any helps. 39 year old Bem bem still continue her football voyage to full fill her ultimate dream. Wish her best of luck.
————————————————————————————————————————————————————————————
ENTIRE CAMEROON STAFF DISMISSED AFTER U-17 WORLD CUP FIASCO
The entire technical, administrative, and medical staff of the Cameroon National U-17 squad has been dismissed less than forty eight hours after returning home from their botched FIFA COCA COLA U-17 World Cup campaign in Brazil. In a rare move, the President of the Cameroon Football Federation, Mbombo Njoya justifies the prompt reaction to the dismal performance of the squad at the on-going tournament during which the 2019 Africa Champions lost all three of their Group E games to Tajikistan(0-1), Argentina(1-3), and Spain(0-2), respectively.
Many had hoped the miracle of Tanzania where the squad, without a domestic league in that category, emerged Africa Champions for 2019, would find a place under Brazilian sunshine, but luck refused to be taken for granted. In fact, interim trainer since the death of Diallo Siewe two years ago, Thomas Libih had had tough time with the federation bringing in foreign-based players to fortify his team. But the latter persistently brandished a 2014 legislation which had prohibited the inclusion in the squad of players without license issued by the federation; argument being that there is need to valorize that category of the game made in Cameroon. The team that took part in the tournament was mainly made up of boys drawn from football training schools in the country.
The U-17 World Cup Brazil 2019 campaign by Cameroon, their second-ever, has been a sham compared to their first participation in 2003 in Finland where they registered three draws in Group C with Brazil(1-1), Yemen(1-1), Portugal(5-5), respectively. The tour de four demonstrated by the Cameroon team when they rose from four goals down to draw level, including a 94th minute strike by subsequent Indomitable Lions captain, Stephane Mbia remained a talking point in world U-17 football annals for a long time. They had travelled to Finland as Africa Champions.
———————————————————————————————————————————————————————
SUDAN NEWS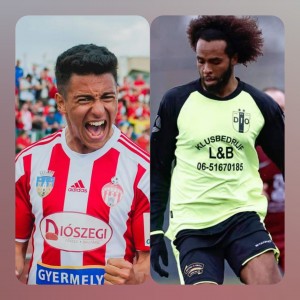 For the first time, the Sudanese Football Federation succeeded in summoning players of Sudanese origin who are active in Europe and have European nationalities. The Sudanese team joined Ahmed YOUNIS) of the Netherlands and Yasin HAMED of Romania for the matches of Sudan in November against Sao Tome on November 13 and against South Africa on November 17 in the African Nations Cup qualifiers.