IFFHS AWARDS – THE WORLD'S BEST TOP DIVISION GOALSCORER 2010 : LUIS SUAREZ (URUGUAY/FC AJAX AMSTERDAM)
                                   THE WORLD'S BEST TOP DIVISION GOAL SCORER 2014 : LUIS SUAREZ (URUGUAY/FC LIVERPOOL)
                                   THE WORLD'S BEST TOP DIVISION GOAL SCORER 2016 : LUIS SUAREZ (URUGUAY/FC BARCELONA)
PRESENTATION
Luis Alberto Suarez Diaz, born 24 January 1987 in Salto, is a great Uruguayan Goal Scorer who played currently for FC Barcelona and Uruguay's National team, having won 18 Trophies in his career and 3 IFFHS Awards for THE WORLD'S BEST TOP DIVISION GOAL SCORER with 3 different clubs ! The Record !
He began his career in the youth of Nacional in Uruguay in 2003, playing his first senior season in 2005/06 with his club. The title of Primera Division and 10 goals in 27 matches, the GoalScorer was born and at 19 joined Europe and the Netherlands signing in Groningen (2006/07). Again 10 goals and 29 matches later, he was transferred to FC Ajax Amsterdam in 2007. He won there his first Trophy, the KNVB Cup in 2010 and the Champion Title of the Eredivisie 2010/11. He scored 81 goals in 110 games in the Eredivisie and 111 goals in total for Ajax, becoming in 2010, THE WORLD'S BEST TOP DIVISION GOAL SCORER by IFFHS with 35 goals ! He was crowned Eredivisie Golden Boot 2009/10 and Dutch Player of the Year 2009/10.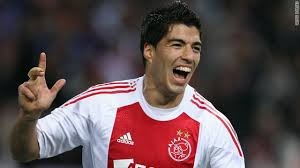 In January 2011, he joined England and FC Liverpool, winning the FA League Cup 2011/12. He stayed there until June 2014, playing 133 matches in total and scoring 82 goals. In the Premier League, he scored 69 goals in 110 matches, winning again the IFFHS Award of THE WORLD'S BEST TOP DIVISION GOAL SCORER 2014 with 31 goals, sharing with Cristiano Ronaldo. He became also in England The PL Player of the Season and the PL Golden Boot 2013/14 !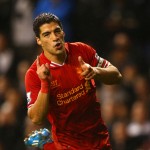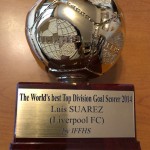 He was transferred in 2014 to FC Barcelona and so discovered a third new country. In his first season, he composed with Messi and Neymar a fantastic trio, winning a historic second consecutive treble of La Liga title, the Copa del Rey and the UEFA Champions League  2014/15 ! After the UEFA Supercup and the FIFA Club World Cup 2015 (he was nominated Golden Ball and Golden Boot), he won a new IFFHS Award with his third club as THE WORLD'S BEST TOP DIVISION GOAL SCORER 2016, scoring 40 goals in 35 matches. He was also crowned The La Liga Pichichi of the Year, La Liga Player of the Year and FC Barcelona's Player of the Season, becoming the first Player in Spanish La Liga to have the more goals (40) and assists (16).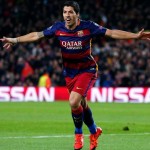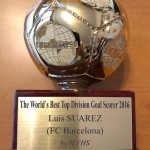 Suarez won 3  other La Liga titles (2015/16, 2017/18, 2018/19), 3 the Copa del Rey (2015/16, 2016/17, 2017/18) and 2 Supercopa de Espana (2016, 2018). At 20 October 2019, he has played 170 La Liga matches and scored 136 goals for FC Barcelona and in total 184 goals in 256 games. 404 goals in Top Division with his clubs for 618 matches !
At international level, Luis Suarez has played 111 matches for his Uruguayan National Team (since his debut in 2007) and scored 58 goals, being the Uruguay's All-Time Goalscorer. He participated at 3 FIFA World Cups (2010, 2014, 2018), taking the 4th place in 2010. He played also 3 Copa America competitions and won the 2011 edition with Uruguay, being crowned Player of the Tournament. Luis Suarez was always nominated in the World's greatest Rankings (Ballon d'Or, FIFA Player, UEFA Player) and  is regarded as one of the best Goal Scorers in the World !