IFFHS AWARDS – THE WORLD'S BEST REFEREE 2011 : VIKTOR KASSAI (HUNGARY)
PRESENTATION
Viktor Kassai, born 10 September 1975 in Tatabanya, is currently an international Hungarian Referee , who has already directed 470 matches and the Final of the UEFA Champions League in 2011, receiving the same year the IFFHS Award of THE WORLD'S BEST REFEREE !
He began very young in the Referee's World, refereeing his first Hungarian Liga match in 1996 ! Until today he whistled 260 matches in the Hungarian Championship . He became FIFA Referee in 2003 and was nominated to whistle the UEFA Euro U19 in 2005, the FIFA World Cup U20 in 2007 before his first great Tournament the UEFA Euro 2008 ! The same year he was capped to officiate the Olympic Games Football Tournament in China, where he was the Referee of the Final between Nigeria and Argentina.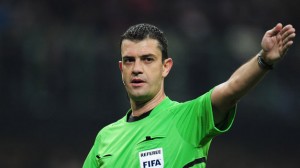 In 2010, he was one of the Top Referees at the FIFA World Cup, directing 3 matches before the Semi-Final between Spain and Germany. It was the highest Prestige match for an Hungarian referee after Sandor Puhl, Referee of the World Cup final in 1994. In 2011, Viktor Kassai was crowned for his regular performance , being nominated to referee the UEFA Champions League final in London between FC Barcelona and Manchester United. The IFFHS determined him as THE WORLD'S BEST REFEREE 2011 !
He officiated two matches at the UEFA Euro 2012 and 3 matches at the Euro 2016. In December 2016, he became the first referee to award a penalty after viewing a video replay at the FIFA Club World Cup. Viktor Kassai has already whistled 43 Champions League matches, 152 international games and has also directed League games in China, Saudi Arabia, Egypt and France.