ULI HOENESS : 48 YEARS FC BAYERN MÜNCHEN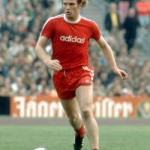 Hoeness Player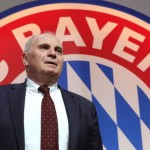 Hoeness Manager and President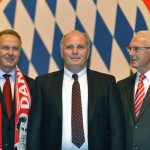 Rummennigge, Hoeness, Beckenbauer : this was the HISTORICAL TRIUMVIRATE OF FC BAYERN MÜNCHEN

He was the HEAD of the FC Bayern München since so many years and has announced his retirement as President last week after 48 years FCB (1971-2019) !
Ulrich "Uli" Hoeness was Player (1971 – 1978), Manager (1979-2009) and President (2009-2019) of FC Bayern München and represented the club so many years with great success.
As Player (1971-1978), he won 3 Bundesliga Champion titles, 1 German Cup and 3 UEFA Champions League titles in 8 years, playing 336 matches and scoring 115 goals.
As Manager (1979-2009), he won 15 Bundesliga Champion titles, 8 German Cups, 1 UEFA Champions League and 1 UEFA Cup.
As President (2009-2019), he won 6 Bundesliga Champion titles, 4 German Cups, 1 UEFA Champions League, 1 UEFA SuperCup and 1 FIFA Club World Cup !
As international Player (1972-1978), he played 35 matches with Germany (5 goals) and won the FIFA World Cup 1974 and the UEFA Euro 1972 !
With Uli Hoeness at his head, FC Bayern has grown from 20 to 1000 employees, from 6600 to 290 000 members and from 12 millions to 750 millions revenues ! With a new Stadium ALLIANZ ARENA paid in five years !
A GERMAN LEGEND !
———————————————————
SAMANTHA KERR WITH FC CHELSEA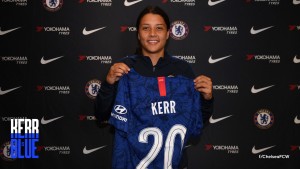 The 26 year old Australian international Samantha Kerr has joined FC Chelsea , linking up with the squad for the second half of the 2019/20 Barclay Women's Super League season. She has previously split her playing time between Perth Glory in the Australian W-League (she is the all-time leading Goal Scorer in the W-League with 70 goals) from October to April and Chicago Red Stars in America's National Women's Soccer League ( she scored 69 goals in the USA, winning 3 Golden Boots of the Best Goal Scorer and 2 MVPs !) from April to September.
Samantha Kerr is one of the best Players in the World since three years, winning many individual honours in Australia and Asia, being always nominated in the World's Top 10 , in the IFFHS World Team of the Year 2017, at the 2019 FIFA Awards and the Ballon d'OR 2019 ! On international stage, she began for the National Team, the Mathidas, at just 15 and scored already 38 goals for her country with 5 goals this year at the World Cup in France.
————————————————————————
NEW ROLE FOR ARSENE WENGER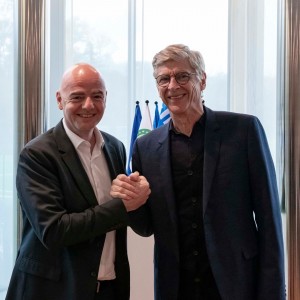 Arsène Wenger is the new FIFA Chief of Global Football Development of the sport for both men and women around the World, nominated by President Gianni Infantino. Winner of the French League and French Cup with AS Monaco in 1987 and making FC Arsenal one of the strongest clubs in Europe (3 Premier League titles, 7 FA Cups, UEFA Champions League Finalist 2006) with also an experience in Japan, he has a highly distinguished coaching career, so he can play a great role in coaching education in all continents for men and women.
———————————————————–
THE GOALKEEPERS AT THE TOP !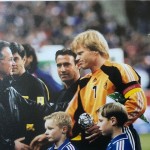 Oliver Kahn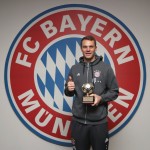 Manuel Neuer

The German Bundesliga was created in 1963 and determinated some interesting statistics and rankings. So, the Top 10 of the Bundesliga Players with THE MOST WINS is leaded by a Goalkeeper, Oliver Kahn (310 wins) with Karlsruher SC and FC Bayern München ! And it is also a Goalkeeper, Manuel Neuer (FC Schalke 04 and FC Bayern München) who is the best placed, third all time ranking with 250 wins, to take the leading in the next years ! Kahn (winner of 3 IFFHS Awards THE WORLD'S BEST GOALKEEPER) played 557 matches to win 310, Neuer (winner of 4 IFFHS Awards THE WORLD'S BEST GOALKEEPER) played 383 matches for 250 wins ! Another active Player in the Top 10, Thomas Müller, also FC Bayern München, has already 236 wins in only 329 games.
——————————————————
WORLD RECORD FOR ILDEFONS LIMA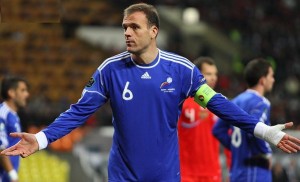 Ildefons Lima, the captain of Andorra's National Team (39 years old and 127 international caps), has beaten a World Record last week. He became the Player with the most years in the National Team of a country, 22 years and 145 days since his first cap the 22 June 1997 until now. He broke the Record of Ecuador's Ivan Hurtada who was capped in his country during 22 years and 143 days between 1992 and 2014.
——————————————————–
DIDIER DESCHAMPS THE FIRST !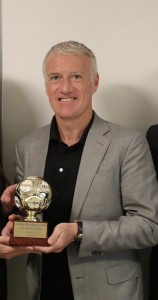 Didier Deschamps, the coach of the French National Team and winner of the IFFHS Award THE WORLD'S BREST NATIONAL COACH 2018 (picture), is , with Brazilian Mario Zagalo and German Franz Beckenbauer, the only person in the World to have win a FIFA World Cup as Player and as National Coach.
Last week, he became the first to have more than 100 international caps as Player (103) and as National Coach (100) ! A record in the Football World !