Picture : Ruud Van Nistelrooy received the IFFHS Award in Barcelona.
IFFHS AWARDS – THE WORLD'S BEST TOP GOAL SCORER 2002 : Ruud VAN NISTELROOY (Netherlands/FC Manchester United)
PRESENTATION
Rutgers Johannes Martinus "Ruud" Van Nistelrooy, born on 1 July 1976, is a dutch coach and former player, who was crowned in 2012 by IFFHS as The World's Best Top Goal Scorer of the last decade (2000-2010) ! He was honoured three times as the UEFA Champions League Best Goal Scorer as well as the Top Goal Scorer in three different European domestic leagues (Netherlands, England, Spain) !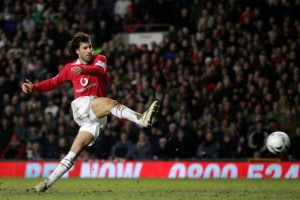 In his youth career, Van Nistelrooy showed quickly his striker and goal getter qualities with Nooit Gedacht, RKSV Margrie and Den Bosch. So he began with 17 his professional career in Den Bosch (1993 to 1997), where he played 69 matches and scored 17 goals. A step in Heerenveen (1997/98) allowed him to score 13 goals in 31 matches, before joining his first top team PSV Eindhoven in 1998. He played there 67 matches between 1998 and 2001 with 62 goals, winning the Eredivisie Champion titles 1999/2000 and 2000/01 ! His goalscoring record in Eindhoven attracted attention from Manchester United where Ruud Van Nistelrooy was very successful ( 95 goals in 150 Premier League matches between 2001 and 2006), winning the Premier League Champion title 2002/03, the FA Cup 2003/04, the Football League Cup 2005/06 ,the FA Community Shield 2003 and Player of the Year twice. In total he scored 150 goals for Manchester United in 219 national and international matches as well as becoming their all-time European record goal scorer and winning in 2002 the IFFHS Award of THE BEST TOP GOAL SCORER F THE YEAR.
After the time in England, he joined Spain and Real Madrid in 2006.He won there two LaLiga Champion titles 2006/07, 2007/08 and one Supercopa de Espana 2008, scoring 46 goals in 68 Liga matches from 2006 to 2010. An injury blighted the end of his step in Madrid, so he went to Germany. With Hamburger SV, he played 36 Bundesliga matches and scored 12 goals before moving back to Spain in Malaga where he announced his retirement from football in may 2012 after one season (28 matches, 4 goals).
Ruud Van Nistelrooy was part of the Netherlands National Team between 1998 and 2011, playing 70 matches and scoring 35 goals. He participated at the Euro 2004, the World Cup 2006 and the Euro 2008. He became then Manager Assistant of Netherlands national team (2014 to 2016) and is currently the coach of PSV Eindhoven under 19s team.