IFFHS AWARDS – THE WORLD'S BEST TOP DIVISION GOAL SCORER 2011 : ALEKSANDRS CEKULAJEVS (LATVIA/JK NARVA TRANS)
PRESENTATION
Aleksandrs Cekulajevs, born 10 September 1985 in Riga, is a Latvian striker, who has had his Glory Hour in 2011 when he received the IFFHS Award of THE WORLD'S BEST TOP DIVISION GOAL SCORER, scoring 46 goals in one season ! He was capped 4 times (1 goal) with the Latvia U21.
After his youth career, particularly in FK Auda, he signed his first professional contract with FK Riga in 2006. He played there one year before being loaned to FK Auda in 2007/08. He made a fantastic season , scoring 49 goals in 30 matches. He was not only the Top Scorer of the Year, but also beat the League's record scoring of all time, named Best Player of the First League in Latvia ! Aleksandrs was so transferred to FK Jurmala, another club in Latvia. He had no success and joined FK Nachod-Destne in the Czech Fourth Division before coming back to Jurmala. In 2010/11, he went to Iceland and helped Vikingur Olafsvik with 10 goals in 17 matches to win the 2.deild Karla Championship !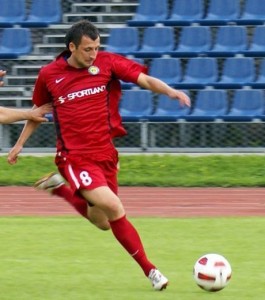 After the successful year in Iceland, he went to Estonia and to JK Narva Trans in 2011.He scored 46 goals in 35 games, being the Best Top Scorer in the Meistriliiga, setting a new goalscoring Record in Estonia and winning the IFFHS Award of THE WORLD'S BEST TOP DIVISION GOAL SCORER 2011 !
Cekulajevs went then to Malta and Valetta FC in 2012 winning the Maltese Championship, to Hungary and Lombard-Papa TFC the same year before joining Thailand and TTM Lopburi in 2013. He continued his way, going back to Malta and Zejtun Corinthians where he scored 10 goals in 18 matches (2013/14). Direction Faroe Islands and AB Argir in 2014, where he had no more success and finally went back to Latvia in 2017. He signed with FK Jurnieks in 2017 where he played also this year.