Picture : Shinji Okazaki received the IFFHS Award in Japan.
IFFHS AWARDS – THE WORLD'S BEST TOP GOAL SCORER 2009 : SHINJI OKAZAKI (JAPAN / SHIMIZU S-PULSE)
PRESENTATION
Shinji Okazaki, born 16 April 1986 in Takarazuka, is currently the Top Goal Scorer of Japan's National Team and one of the best forwards in the history of Japan.
After his youth career in Takigawa Daini High School (2002-2004), Okazaki signed his first contract with Shimizu S-Pulse in 2005. He stayed there for 5 years, scoring 49 goals in 154 matches and bringing his team in the J League final 2008, lost against Oita Trinita. He continued to score goals in 2009 with his club and the Japan National Team, where he began in 2008 and scored 15 goals in 2009 ! That was his first great event in his career, winning the IFFHS Award THE WORLD'S BEST TOP GOAL SCORER 2009.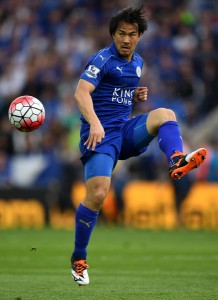 In 2011, he went to Germany and signed with VFB Stuttgart where he scored 13 goals in 85 matches during two seasons. He joined then FSV Mainz also in the German Bundesliga and realised great performances with 29 goals in 70 matches. The Premier League and FC Leicester were his next destination in 2015. Until 2019,he played 137 matches , scored 19 goals and won his only team title in his career, the Premier League title 2015/16 with FC Leicester ! The second great event for Okazaki in his career!
He moved in 2019 to Malaga and Huesca in Spanish Segundo Division but he continued to play with the Japan National team. Since 2008, he was capped 119 times and scored 50 goals, third all-time record in Japan's History after Kunishige Kamamoto (80 goals in 84 matches) and Kazuyoshi Miura (55 goals in 89 matches). He won with Japan the AFC Asian Cup 2011, his only international title in his career.