THE WORLD'S BEST NATIONAL COACH 2017 :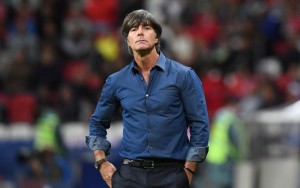 SECOND AWARD FOR JOAQUIM LÖW !
After 2014, Joaquim Löw, German's national coach since 2006, won with a large margin the Award 2017 of The World's Best National Coach.
Despite tough opposition from Brazil's « Tite », football experts from 91 countries world wide had no hesitation in awarding Löw a massive 299 points well ahead of Brazil's « Tite » second on 125 and newcomer Lopetegui of Spain third on 62.
The German national team won this year the Confederations Cup with very young players against Chile in final in Russia and Joaquim Löw indicated one more time that he give the chance to the german new generation to built again a great team for Russia 2018. He won the World Cup 2014 in Brazil (the year of his first Award) and is again a strong contender for the 2018 tournament.
« Tite », who took charge of the Brazilian National team in june 2016, has also made great progress in building a new team and to qualify Brazil for the 2018 World Cup finals..
Julen Lopetegui has also given a new look to the Spanish national team to bring it again as a contender for the 2018 World Cup.
RANKING 2017 :
1 – Joaquim LÖW (Germany) 299 points
2 – Adenor Leonardo Bacchi « TITE » (Brazil) 125 points
3 – Julen LOPETEGUI (Spain) 62 points
4 – Fernando SANTOS (Portugal) 50 points
5 – Didier DESCHAMPS (France) 28 points
Roberto MARTINEZ (Belgium) 28 points
7 – Carlos QUEIROZ (Iran) 26 points
8 – Hector CUPER (Egypt) 24 points
9 – Juan Antonio PIZZI (Chile) 16 points
10- Hugo BROOS (Cameroon) 11 points
11- Vahid HALILHODZIC (Japan) 8 points
Jose PEKERMAN (Colombia) 8 points
13- Heimir HALLGRIMSSON (Iceland) 7 points
14- Janne ANDERSSON (Sweden) 5 points
15- Oscar TABAREZ (Uruguay) 4 points
16- Bert VAN MARWICK (Saudi Arabia) 3 points
17- Juan Carlos OSORIO (Mexico) 1 point
Hervé RENARD (Morocco) 1 point
THE WORLD'S BEST NATIONAL COACH – IFFHS LIST OF WINNERS
| | | |
| --- | --- | --- |
| 1996 | Berti Vogts | Germany |
| 1997 | Mario Zagalo | Brazil |
| 1998 | Aimé Jacquet | France |
| 1999 | Wanderley Luxemburgo | Brazil |
| 2000 | Roger Lemerre | France |
| 2001 | Marcello Bielsa | Argentina |
| 2002 | Luiz Felipe Scolari | Brazil |
| 2003 | Jacques Santini | France |
| 2004 | Otto Rehhagel | Greece |
| 2005 | Carlos Alberto Parreira | Brazil |
| 2006 | Marcello Lippi | Italy |
| 2007 | Dunga | Brazil |
| 2008 | Luis Arragones | Spain |
| 2009 | Vicente Del Bosque | Spain |
| 2010 | Vicente Del Bosque | Spain |
| 2011 | Oscar Washington Tabarez | Uruguay |
| 2012 | Vicente Del Bosque | Spain |
| 2013 | Vicente Del Bosque | Spain |
| 2014 | Joachim Löw | Germany |
| 2015 | Jorge Sampaoli | Chile |
| 2016 | Fernando Santos | Portugal |
(Visited 1,616 times, 1 visits today)
57