LIONEL MESSI TOP 3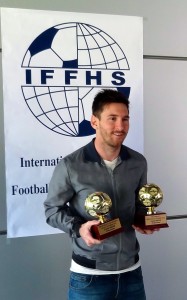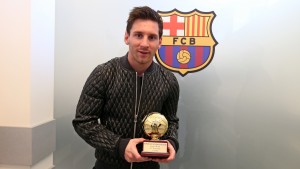 After 2012 and 2013, Lionel Messi has won his third IFFHS Award of The World's Best Top Division Goal Scorer 2017 with FC Barcelona !
He joined Luis Suarez, his teammate (also winner three times in 2010, 2014 and 2016 with three different clubs Ajax Amsterdam, FC Liverpool and FC Barcelona) as the recordman of this Category before the two times winners Cristiano Ronaldo (2014 and 2015) and Mario Jardel (1999 and 2000).
Lionel Messi scored 361 goals in 395 matches in the Liga since 2004 for FC Barcelona and has reached more than 30 goals in six seasons and more than 40 goals in three seasons. Amazing statistics !
RANKING 2017
1 – Lionel MESSI (FC Barcelona) 37 goals
2 – Edison CAVANI (Paris SG) 35
3 – Bas DOST (Sporting Portugal) 34
4 – Pierre-Emerick AUBAMEYANG (BV Borussia Dortmund) 31
5 – Robert LEWANDOWSKI (FC Bayern München) 30
6 – Luis SUAREZ (FC Barcelona) 29
6 – Harry KANE (Tottenham Hotspur FC) 29
6 – Edin DZEKO (AS Roma) 29
9 – Alexandre LACAZETTE (Olympique Lyonnais) 28
9 – Dries MERTENS (SSC Napoli) 28
11- Andrea BELOTTI (Torino FC) 26
12- Cristiano RONALDO (Real Madrid CF) 25
12- Anthony MODESTE (1FC Köln) 25
12- Romelu LUKAKU (Everton FC) 25
15- Gonzalo HIGUAIN (Juventus Torino FC) 24
15- Mauro ICARDI (FC International Milan) 24
15- Alexis SANCHEZ (Arsenal FC) 24
15- Matt DERBYSHIRE (Omonia Nicosie) 24
19- Ciro IMMOBILE (SS Lazio Roma) 23
19- Marcus BERG (Panathinaïkos ) 23
THE WORLD'S BEST TOP DIVISION GOAL SCORER : IFFHS LIST OF WINNERS
| | | | |
| --- | --- | --- | --- |
| 1997 | Hakan Sukur | Galatasaray | Turkey |
| 1998 | Jaime Juan | Kaviedes Guayaquil | Ecuador |
| 1999 | Mario Jardel | Porto | Brazil |
| 2000 | Mario Jardel | Porto | Brazil |
| 2001 | José Alfredo Castillo | Santa Cruz | Bolivia |
| 2002 | Joaquin Botero | La Paz | Bolivia |
| 2003 | José Cardozo | Toluca | Paraguay |
| 2004 | Patrizio Calaz | Calame | Chile |
| 2005 | Clemerson « Araujo » | Osaka | Brazil |
| 2006 | Klaus Jan Huntelaar | Ajax Amsterdam | Netherlands |
| 2007 | Afonso Alves | Heerenveen | Brazil |
| 2008 | Lucas Barrios | Colo Colo Santiago | Argentina |
| 2009 | Marc Janko | RB Salzburg | Austria |
| 2010 | Luis Alberto Suarez | Ajax Amsterdam | Uruguay |
| 2011 | Aleksanders Cekulajeus | Trans Narva | Latvia |
| 2012 | Lionel Messi | FC Barcelona | Argentina |
| 2013 | Lionel Messi | FC Barcelona | Argentina |
| 2014 | Cristiano Ronaldo | Real Madrid CF | Portugal |
| 2014 | Luis Suarez | FC Liverpool | Uruguay |
| 2015 | Cristiano Ronaldo | Real Madrid C.F. | Portugal |
| 2016 | Luis Suarez | FC Barcelona | Uruguay |
(Visited 4,104 times, 2 visits today)
104